After mainstream success 20 years ago, the Pet Shop Boys remain one of Europe's most successful pop duos. On this side of the Atlantic, Neil Tennant and Chris Lowe have gradually settled in to a more cult-like status as indie-poppers. The unfortunate reality is that the gay synth-pop duo isn't likely to gain new fans at this stage in its career, no matter how hard they try.
Even worse, the Boys haven't seemed to try too hard to sustain their original fan base in this new century. Release, from 2002, was a stunner, but not in a good way. Its dull sonics lulled you to stunned silence, if not actual slumber. It was as if Tennant, approaching 50 years of age, and the fortysomething Lowe decided they should leave the dancing to West End girls and New York City boys. That some critics praised the shift away from dance-pop as a sign the Boys were "maturing" into men does not change the fact that it was commercially a step in the wrong direction.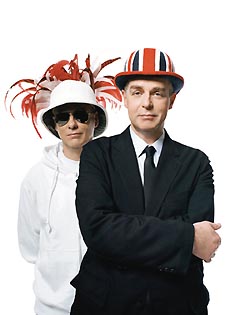 Go West Again: Lowe and Tennant
(Photo by TK)
Now that the band's ninth studio album is upon us, it's a pleasure to report that the Boys did learn from Release. Fundamental shouldn't contribute to any further fan-base decay. It should even bring back most drifters to the fold. The album, available everywhere Tuesday, June 27 (and currently as a download on iTunes), is essentially a return to form, though it's also very much of a progression. Rather than another club-friendly record, Tennant and Lowe have created a mature pop album that builds on everything that came before it.
The album's producer, Trevor Horn, who was responsible for the Boys' 1988 hit "Left to My Own Devices" seems most responsible for the album's notable lush and lively instrumentation. Perhaps because of Horn's guidance, the Boys aren't afraid to move on Fundamental, proving they're not too old to dance. Though there are several lifeless, dull numbers here, over half of the 12 tracks are uptempo, and a couple could heat up the dance floor. Among the best is the richly instrumented and fantastically anthemic closer, "Integral." "If you've done nothing wrong you've got nothing to fear," Tennant sings in his soft, sweet-and-sour voice. "If you've something to hide you shouldn't even be here."
The first single "I'm with Stupid" sounds like the Boys of old, right down to the dated programmed drum sounds, jaunty pace and gleefully sung (yet dour) lyrics. But those lightly veiled lyrics, about the relationship between George Bush and Tony Blair (guess whose perspective Tennant sings from?) make the song very much a reflection of the Boys of new. From one song to the next, Tennant and Lowe are more disturbed and perturbed by the state of things today than they were in the past.
Not that they don't have their fun. As Tennant sings on "The Sodom and Gomorrah Show," "It's got everything you need for your complete entertainment and instruction: sun, sex, sin, divine intervention, death and destruction." On the surface, the song seems to be about clubbing, but it's also about owning up to being different from society's norm — about being gay. "You've got to love," Tennant sings, "to learn to live where angels fear to tread/I did it and I don't regret the day."
The Boys actually rock out to this Hair-styled musical number featuring several guitarists along with several keyboardists, both "acoustic" and "electronic" drummers and a percussionist. Plus there's a full choir, giddily chanting about hedonistic delights, in a similar manner as their grand "Go West." "Sodom and Gomorrah" is every bit as joyful as that gay anthem, and every bit as convincing that you don't want to miss out on its march to a better place.