Call it parallel reality, call it a bizarro universe, call it whatever you'd like, but no one calls the shots better than Stephen Sondheim holding a mirror up to our nation's cultural acne. With a message that rings out loud and clear — we're all just a bunch of lonely misfits capable of pulling a trigger — the genius composer's surefire 1981 musical Assassins blasts off a round of spirited melodies that hit like bullets to the collective American conscience. From a narcissistic John Wilkes Booth to a vulnerable Lee Harvey Oswald, Sondheim re-imagines nine tragic figures, all desperate enough to attempt an assassination on an American president.
They're people, just like you and me. And director Joe Calarco, the force behind last year's much-honored Urinetown, drives home this point from the start with a disarming, disorienting opening that immediately shatters the line between "us" and "them." Without spoiling Calarco's progressive conceit, it's enough to know that the only difference between actors and audience on Signature Theatre's makeshift stage is a few feet of playing space.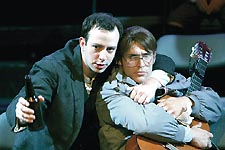 Close range: Sessions and Conner
(Photo by Carol Pratt)
Calarco's high concept production is an experiment in artistic confidence. It takes a while to warm up to the practical aesthetic, and once the visual gimmick wears off, Calarco and company demand full engagement of sight and sound. His staging flickers between players like a musical ping-pong match: sometimes it's a cat and mouse game across the stage, other times it inspires a disjointed duet between two oddball characters. And since Asssassins clocks in at two hours without an intermission, sometimes it seems a terrific exercise in sheer stamina.
Whether they're eager to fight for their cause or greedy for posthumous fame, history has revealed a rather motley crew of dangerous and isolated assassins whose ordinary lives became extraordinary once they settled on such a prominent target. Sondheim uses an all-American score peppered with his trademark style of buoyant rhythms and searing wit to explore the psyche of a band of loners who changed history. There's Lynette "Squeaky" Fromme, the lady love and devoted disciple of Charles Manson who tried to take down Gerald Ford just before Sara Jane Moore's failed attempt. Here's Charles Guiteau (portrayed with madcap theatricality by Mika Duncan), the infamous eccentric who shot James Garfield, headed for a noose with a tune stuck in his throat. And there's Andy Brownstein's mawkish Samuel Byck conspiring against Richard Nixon. All of them horrors in their own distinct ways, all of them human.
Of course the challenge in relaying both sides of an ignored individual who earns the reviled title of "assassin" can be more than a little tricky. Thankfully, Weidman's book is brimming with compelling scenes that work even outside of the show's original carnival setting. Calarco's first-rate cast handles Sondheim's compact score of nearly a dozen numbers with all of the seasoned professionalism expected from a Signature production, but the real joy is wedged between songs in intimate scenes that unite the assassins, bridging decades in a surreal warp of time and space.
It's suddenly a completely different play when Emma Goldman (the excellent Kathryn Fuller) meets future assassin Leon Czolgosz (Tally Sessions) at a train station where he confesses his enduring crush. Or when Fromme and Moore (Erin Driscoll and Donna Migliaccio) realize they share the same "Charlie" and take aim at the Kentucky-fried empire of Colonel Sanders. Migliaccio is known locally for her bracing Broadway belt, but here she delivers a finely nuanced performance between songs. And the most impressive character work comes from Nevermore composer Matt Conner as John Hinckley Jr., the would-be assassin of Ronald Reagan. Conner and Driscoll share lovely harmonies in "Unworthy of Your Love," Hinckley's imaginary love letter to actress Jodie Foster.
Assassins
To July 23
Signature Theatre
3806 S. Four Mile Run Dr.
Arlington, Va.
$31-$55
800-955-5566
www.signature-theatre.org

Finally, it's in Dallas on November 22, 1963, where Booth, smugly recalled by Will Gartshore, meets Oswald (a sullen Stephen Gregory Smith). Until now Smith has been a serviceable everyman as "The Balladeer," strutting around in blue jeans and an untucked oxford, tan suede work boots and a camouflage cap. He's stalked all of these antiheroes of the past, frowning with disapproval upon common men and women choking on their enormous egos. But here, in the Texas School Book Depository, he becomes Lee Harvey Oswald, and he is confronted by all of those unsung villains in American history textbooks, now barking in a loud cacophony, demanding their tribute.
"Attention must be paid," warns Booth, quoting Arthur Miller in an ironic reference to his salesman Willy Loman. And for two hours, we do pay attention, left at the mercy of a patch of seedy, reckless ghouls. They're positively delighted that we're so nervous from their wild gun play and pointless aim, and with Calarco's renovated version of Assassins, you get more bang for your buck.