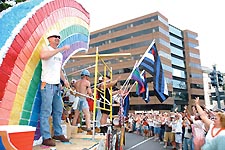 The 2005 Parade curves around Dupont Circle
(Photo by Randy Shulman/Metro Weekly)
Last year, Capital Pride celebrated a milestone birthday, turning 30.
Now it's the parade's turn.
Born in 1981, the Capital Pride Parade turns 25 this year. That's a quarter century of marching, dancing, riding and skipping along the streets of the nation's capital, a surge of the LGBT community's energy pulsing through the city's arteries.
Over the years, the parade has morphed and moved and grown, at one point moving into Adams Morgan past Meridian Hill Park, and in more recent years accommodating the gay community's expansion into Logan Circle. The parade has even become a Saturday night celebration unto itself, rather than a Sunday morning lead-in to the festival.
"We wanted to make it more of a weekend event, and not to exhaust everyone who was participating," says Robert York, who served as director of Capital Pride from 1999 to 2005 and who spearheaded the change to Saturday eve in 2002. According to York, this change — by most measures, the most substantial in the parade's history — was not without controversy.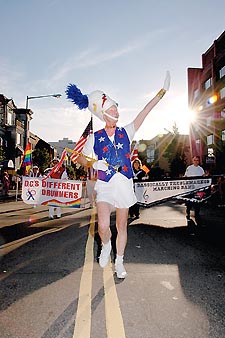 D.C. Different Drummer Ed Wilson has been a iconic vision at the parade for years
(Photo by Randy Shulman/Metro Weekly)
"Community leaders…would approach me and say, how dare I mess with tradition," York recalls. "I said, 'Look, it's not going to hurt us to take the risk. If we have to move it back, we can do that.' I chose not to back down."
Mark Meinke, founder of the Rainbow History Project, says he remembers being initially bothered by the change, but it didn't take long to see a bright side.
"By the second year, I realized it wasn't a bad thing," he says. "I think it did open it to people who couldn't make it on Sunday."
A more powerful memory for Meinke is his first Capital Pride Parade in 1991, following 18 years living abroad.
"I found it very moving," he says. "I particularly was impressed when the [AIDS Memorial] Quilt panels came by and this deep, respectful quiet fell over everyone. I was standing on 17th Street and I was glad that the parade was heading through the rest of town. I was glad the parade was going through non-GLBT strongholds."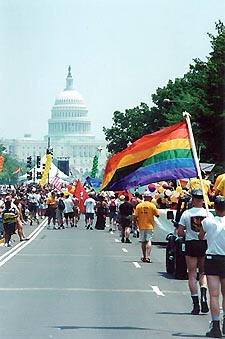 The 2000 parade makes its way down to the festival site
(Photo by Randy Shulman/Metro Weekly)
Though Meinke's first parade weaved its way downtown to the festival site, today's parades are intended to string together the district's gay areas, wherever they may be, as the community evolves.
"We've extended the route. We've moved the reviewing stand. We really try hard to include more of the community," says Allan Dudley, now in his fourth year as chair of Capital Pride's parade committee. He points to the stretch of P Street NW between 14th and 15th streets, as well as portions of 14th Street NW, that have been included as the gay community moves to different areas of the district.
"That's what the parade is about," he says. "Giving to the community."
The Capital Pride Parade will step-off on Saturday, June 10, at 6:30 p.m. For a complete map of the route, including staging area, click here.
For a complete list of participants as of press time, please click here.