THROUGHOUT HUMAN HISTORY, music has been used to make statements that go far beyond stringing notes together for the sake of a pleasing tune. Patriotic marches have been used to drive crowds into nationalistic frenzy, for example, while folk music has been used to promote peace. And for the past 25 years, the Gay Men's Chorus of Washington has made music its method of outreaching to the wider community, challenging homophobia, healing hurt and fostering a familial bond.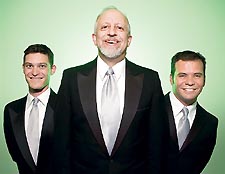 Charlie Mountain, Steve Herman and Daniel Clavel
While the GMCW has been marking its silver anniversary during the course of the year, the highlight comes this Sunday, June 25, with an anniversary concert, Singing Free!, featuring special guest Barbara Cook. The combination of Cook, a Grammy Award winner with numerous Broadway credits, and the chorus is bound to offer concert-goers the cascade of the emotional highs for which GMCW is renowned. But this anniversary also offers a few chances to explore where the chorus has been, and who the chorus is today.
PUTTING IT TOGETHER
ON JUNE 18, 1981, Ronald Reagan was president. Lady Diana Spencer was a little more than a month away from marrying Prince Charles. Pope John Paul II had been shot a month prior. And the San Francisco Gay Men's Chorus performed at the Kennedy Center.
"For me, it was an incredibly big deal," says Steve Herman, a non-singing, support member of the GMCW since the beginning — earning him the title Grande Dame. "By the time all this happened, I was 39 years old. I'd been out most of my life. I was very comfortable with my life, my relationships, my family…. At the same time, our lives were really in the bars, kind of behind the scenes. It was 'inner circle' things. Then, all of a sudden, you hear that a group with 'Gay' in its title was going to be at the Kennedy Center for all to see and hear. For people like me, this was an incredibly major thing to happen…. I remember a lot of proud people on the stage, and a lot of proud people in the audience. Several hundred gay men were up there singing. For me, it was a major turning point."
Michael Baker, a singing member of the GMCW and fellow Grande Dame, echoes Herman's recollection that this performance went far beyond an evening of entertainment:
"I was at the Kennedy Center for the San Francisco [Gay Men's] Chorus show. It was, 'Wow — I just want to be part of an organization like that.' I was in awe by the quality of the music, and the sheer sight of that many gay men on the stage of the Kennedy Center, of all places. And I recall my apprehension about going to the concert hall and perhaps being seen by work colleagues. In 1981, there was certainly a large gay presence in D.C. I felt comfortable, but still guarded. [After the concert] I felt that a huge step had been made culturally for our city. I was so uplifted by having witnessed such an historic event. We all knew that something significant had happened."
While many agreed that this concert needed an encore, it took a straight woman to get the ball rolling. Marsha Pearson, a friend of the gay community who had a knack for getting things started, took it upon herself to organize an initial meeting for locals interested in following in San Francisco's footsteps.
"[Marsha] was somebody with a lot of gay friends in the community," says Herman, adding that it was Pearson who approached him about running for the chorus' first elected board. "She just believed that D.C. should have something like this. She took it upon herself to develop these fliers and get people together."
Adds Baker: "She was an organizer and a doer. She got the ball rolling and left it up to the guys to finish it. She never really wanted credit. She was just very modest about it."
Pearson's efforts led to the first organizational meeting of the chorus just 10 days after the San Francisco Gay Men's Chorus Kennedy Center appearance. And Baker, then 36, was among the first to audition for the new chorus.
"I was certainly apprehensive. Any audition makes one apprehensive about making the cut," Baker admits. "My singing goes way back to childhood, singing in church choirs in Key West, where I was raised. And I had, prior to auditioning, been singing with a small group of men. When the larger group formed, it sounded like more fun."
Herman, on the other hand, was drafted, albeit gladly. He says he took his partner at the time to the first rehearsal, but he didn't stick around. He did stay for the second rehearsal and was asked to help out, starting the GMCW's long history of recruiting those who may never sing, but whose dedication has been instrumental in helping the chorus reach the quarter-century mark.
"I got very, very involved that first year," says Herman. "I really wanted to be part of this. It was so incredibly different from everything in my life as a gay man at that time. I remember the backroom bars. There was not this kind of pride."
An ominous coincidence in the GMCW's June 1981 founding was the initial discovery that same month of five gay Los Angeles men with a rare form of pneumonia found only in people with weakened immune systems. As Herman talks about the Gay Men's Chorus of Washington offering a new kind of pride, nobody could have known just how valuable that would be as this new illness began ravaging the gay community. Scores of members would soon die of AIDS-related illnesses.
"The first year, it didn't really hit. Then it started to become far more in our consciousness," says Herman. "We began to have members — and friends, partners of members — coming down with AIDS. At that point, the chorus wanted to do something for the community, so we sang at AIDS services.
"I consider us family," he continues. "We really, really support each other."
Baker's recollection attests to the confusion and uncertainty surrounding the first wave of AIDS-related deaths, as well as the solace offered by this relatively new chorus.
"It was a huge impact," Baker says flatly. "We seemed to be losing all these people in the early days, and we really didn't know why. They were just getting sick and dying. We were singing at a lot of memorial services…. In a very short period of time, the chorus became a comfort zone for us to be together. Members were dying, and we would come together to sing and heal through our music."
"We've lost lots of members to AIDS," adds Herman. "But there's also been incredible caring, and outreach to the community…. There is the chorus 'Care Corps,' supporting anyone who needs help…. We've extended our reach into the community, and internally, caring for our members. Over the years, we've been very, very active, cognizant that we're part of the community."
CHORUS FOR THE COMMUNITY
WHILE KNOWLEDGE AND technology have done their part to slow the deaths that follow in HIV's wake, the Gay Men's Chorus of Washington has not lessened its role as a community builder. In fact, the community component remains integral to the GMCW mission. The mission includes affirming gay people's place in society. To that end, the GMCW regularly supports other non-profit organizations, offers free tickets to people with AIDS, sings Christmas carols for patients at the National Institutes of Health, and hosts an annual toy drive.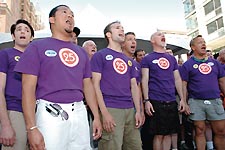 The Chorus sing at the 2006 Capital Pride Festival
(Photo by File Photo by Randy Shulman)
Charlie Mountain was a small child when the AIDS epidemic began. The epidemic is not what brought him to the chorus, but the sense of community and philanthropy borne of those early years is easily as important to him as the music. Mountain, 30, a baritone in the group, came to the chorus after serving in Americorps — testament to his desire to contribute to the common good.
"I saw the GMCW spring concert in 2002," recalls Mountain, who sang with the gay Spruce Street Singers in his native Philadelphia before settling in D.C. "They'd done a production of The Wizard of Oz. It was really creative, really fun, very professional. It really impressed me. That got me interested."
Following an audition where he was asked to sing "My Country 'Tis of Thee," and his first rehearsal — fairly intimidating, he admits, to walk into a room of 200-plus gay men who all seem to know each other — Mountain now has four years with the chorus under his belt. While the Grand Dames have the history, Mountain is no freshman. He seems to have found his place, singing with both the chorus and one of its two smaller ensembles, Potomac Fever.
"I've made some wonderful friends, and it fulfills a need of mine to serve a community," he says. "The chorus has multiple roles. It's an arts organization, but they also have a really strong outreach mission. That's really something I enjoy.
"With Potomac Fever, we've sung at a [Parents Families and Friends of Lesbians and Gays] gala. We sang at a retirement community in Maryland. One resident was a PFLAG mother, and she formed a chapter. She planned to have Potomac Fever come sing. It was a huge success for us to reach out to these retired people. They all came out and loved it. The feedback we got from them was overwhelming. These are the types of things I really like."
Though Mountain may have a generous soul, that's not to say he hasn't also gotten a kick out of some of the chorus' more glamorous undertakings. Singing for the elderly may help his karma, but singing to Elizabeth Taylor from the Kennedy Center Stage isn't too shabby, either.
"One of the most significant things in my time with GMCW was in my first year, the Kennedy Center Honors," Mountain says of the nationally televised December 2002 performance honoring Elizabeth Taylor, which included President Bush and Vice President Dick Cheney in the audience. "I thought, 'Wow, I just jumped into this chorus, and here I am singing on the Kennedy Center stage…. It was huge for the whole gay and lesbian chorus movement."
The thrill of that performance transcends generations, as Grand Dame Baker counts the memory among one of his fondest with the chorus as well. "The fact that we sang and George Bush and the vice president and Mrs. Bush had to applaud gave me a great sense of satisfaction and pride," he says with a laugh. "But there have been so many wonderful musical moments."
Herman points to one of those other moments as his fondest — a memory Mountain is too young to have been a part of. It's of the GMCW performing on the steps of the Lincoln Memorial during Labor Day Weekend, 1983.
"It's not the most glam highlight," says Herman, "but standing in front of the Lincoln Memorial, holding the banner and singing to passersby. Maybe because it was somewhat new to be able to do that. I couldn't have imagined doing this in the '60s. That really was an emotional high for me. Then again, every year it's something new. Every time there's a new high, it will be with me for the rest of my life."
CHORUS FOR A NEW WORLD
DANIEL CLAVEL HAS just begun making his own GMCW memories that will follow him through life, and all the way back to his native Argentina. Moving to D.C. three years ago to finish his graduate degree, the 27-year-old began questioning his sexual orientation. It wasn't long before he concluded he was gay. As a stranger in a strange land, he found the online gay community the easiest to enter. At home in Mendoza, Argentina, for a visit, he says his family was accepting when he came out. They just wished he'd find some flesh-and-blood community, rather than his computer screen.
"My family wanted me to do something with singing," he says, adding that his family's push got him to the GMCW 2005 Capital Pride concert. "I'm picky, but I really liked them."
Clavel may be a poster child for the next generation of chorus members. After all, no one in 1981 was using the GMCW as a healthy substitute for an online chatroom. Clavel's nationality is also indicative of the 21st century's shrinking world.
When Clavel made his second step toward joining the GMCW — an audition — Artistic Director Jeff Buhrman took Clavel's nationality into account, offering to forego "My Country Tis of Thee," allowing Clavel to instead sing whatever he might be more familiar with. But Clavel stuck to the script, literally, singing the chorus' standard audition tune as he read the lyrics.
He passed the test.
"I was nervous, but Jeff was friendly," Clavel says. "He asked me why I wanted to join and I told him I'd heard them singing and liked them. And I wanted a social life. It's a nice social group. At this point, I have quite a few friends from the group…. I'd never experienced 200 gay men in one room, except at a bar. It was a shock, but I liked it. It's helped me be out, and I'm very happy about it. I'm not doing the online thing so much anymore."
Though he was born on July 4, U.S. immigration authorities do not regard Clavel as a Yankee Doodle Dandy. As it stands, his visa will expire in 2008, meaning he has limited time with the chorus. With what he's learning from the GMCW, coupled with his musical contacts in Argentina, perhaps there is a chance that the gay choral legacy may migrate to South America.
"It would open up minds, definitely," Clavel offers. "Maybe in a big city like Buenos Aires where people are more open-minded, they would be welcoming. But they don't know the concept of a 'gay chorus' there. It would have an impact…. A gay men's chorus in Buenos Aires would face the same atmosphere that the GMCW faced in the '80s. It would start small, but it would grow."
Till then, Clavel is left to enjoy what time he has left with GMCW, learning about the particularly American invention of musical theater, leaving his own cultural stamp on the chorus, and explaining to his family what an honor it will be to sing on the Kennedy Center stage for Sunday's concert.
"It will be a lifetime experience to sing at the Kennedy Center. I tell my family it's like singing at the Teatro Colón in Buenos Aires," says Clavel, before moving onto what he has learned in his five months with GMCW. "Musicals are not my first choice, but I did Showboys. I had my own misconception about musicals and American theater. I'm still not going to go out and buy musicals on CD, but I learned it could be fun. And I learned I could dance, too — a little."
To return the favor, he suggested a holiday song popular in Argentina. "For the holiday concert, we're going to sing a chorale movement from my country, in Spanish," he says, with apparent pride. "They said yes to that, and it will be a part of Memories and Mistletoe. The chorus is not closed to new ideas."
MAKING MORE THAN MUSIC
EACH OF THE GMCW'S 200-plus singing members and nearly 100 support members undoubtedly has his or her own tales to share about the chorus, be they from center stage or behind the curtain, as do all those who've seen the performances or found comfort from the chorus in a time of need.
Any sense of community aside, however, the GMCW can stand on its talent alone.
"That they've been here for 25 years, that they have the large audiences, I think that speaks for itself," says Kathleen McGuire, artistic director and conductor of the San Francisco Gay Men's Chorus — whose members, she adds, cherish the special bond established between the two choruses in 1981.
But if those audiences and longevity are not enough, there are accolades aplenty to mention, including four WAMMIES awards from the Washington Area Music Association. The GMCW is a choral powerhouse.
Still, the sense of community and family the chorus fosters seems to overpower the music. No matter the technical acumen, this bond between members, and between the chorus and the rest of the community, will be the group's legacy.
As Herman says, "It's my home. It's my family…. There have been several times when things have been tense. But I never thought the chorus was in jeopardy. Like any group, there've been disagreements and financial challenges. You get 200 people together, and there will be challenges. But every time we've had one of these things, we've come out stronger. You can see it in our numbers and in our pride."
So it is with Baker, as well.
"It is like my family," he says, "as trite as that may sound. That's why I've stayed these 25 years. I've had their support when my siblings and parents have died. And a lot of my chorus friends came to [my son's] wedding…. There is always someone to be there for you."
For more information about the Gay Men's Chorus of Washington, visit www.gmcw.org or call 202-293-1548. To purchase tickets for the Sunday, June 22, 25th Anniversary Concert, Singing Free!, with special guest Barbara Cook, call 202-467-4600, or purchase tickets online at www.kennedy-center.org.