Remember that little brat in grade school who always had to have her way? Bullying, blackmail, even bruises wouldn't stop her from hogging all the attention she demanded. In Lillian Hellman's classic The Children's Hour, that little she-devil is Mary Tilford, and the malicious lies she dispenses fatally damage the heads of her Southern all-girls boarding school.
Mary is a nasty little force, lying to her grandmother about what she did and didn't see and how the entire world is out for her innocent blood. And while she should be the focus of Hellman's feminist drama, Mary all but blends into the background in H. Lee Gable's sanitized revival for Washington Shakespeare Company.
With a faulty conceit that casts two men in key female roles, Gable explores gender identification within Hellman's revised 1953 script about a pair of schoolmarms who may or may not be gay. Originally penned in 1934, The Children's Hour has long been a staple of the theater circuit. The entire drama hinges on the relationship between teachers Karen Wright (Cam Magee) and Martha Dobie (Christopher Henley), and here the deliberate male casting contradicts the very intent of Hellman's play.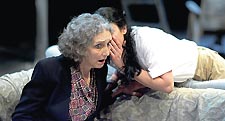 Tattle-tale: Houston and Wood
(Photo by Ray Gniewek)
Cross-gender and non-traditional casting is a bold and innovative device when it serves to illuminate the characters or content of a story. Here, Henley's Martha and Jay Hardee's pubescent Rosalie divert attention away from the possibility of Sapphic desires between two women and re-position The Children's Hour somewhere between paradox and parody.
Henley's coquettish Martha is a wistful, woeful willow of a dame who seems genuinely titillated — rather than repulsed — by Karen's fiancé. She's masculine in skirts, feminine in trousers. And in Henley's busy, restless hands, it's never quite clear how fond she is of her female companion. Sure, there are longing glances and lingering gestures, but the emotions are muddied since you never once forget this is a man portraying a woman.
Had Gable cast two men as his leading ladies, the choice would have seemed inspired, perhaps a bit postmodern and timely. But not only does his irreverent production of The Children's Hour inspire confusion, it has also been the source of some recent flap over WSC's gender-bending liberties. A rather inconspicuous sign in the Clark Street lobby and inserted into the programs states: "The casting for the production was done without prior authorization from the Hellman estate and does not reflect their wishes, but they have graciously allowed the production to continue."
And continue it does, with Hardee's ultra-femme Rosalie screeching on about "sudsy grits" and buckling under pressure from Abby Wood's innocuous Mary. The cast seems plagued by inconsistent dialects that span everywhere from Virginia to Alabama, which results in sluggish delivery of dialogue, as though the actors believe that by meting out the lines it somehow renders them more effective. Magee is a soft and sentimental Karen, and Annie Houston is an effective Mrs. Tilford, clutching her Bible with the righteous defense of a God-fearing churchophile. And while Wood delivers all of Mary's lines with iced-over vitriol, she appears as little more than a troubled child motivated by sheer boredom, rather than a vindictive monster on a mission to destroy her teachers.
The Children's Hour
To July 2
Washington Shakespeare Company
Clark Street Playhouse
Arlington, Va.
$22-$30
800-494-8497
www.washingtonshakespeare.org

Surprisingly, the most intriguing performances come from Dana Edwards and elisha efua bartels [sic] in two minor roles. Edwards and bartels garnish Gable's production with interesting character choices. They're the evening's most rewarding assets.
Michael Kachman's set includes a giant, desiccated tree center stage, a reminder of the current production in repertory, Julie Jensen's Two-Headed. Perhaps Jensen's play about the Mountain Meadows Massacre better examines the pain and tragedy of lies and how they affect the accused than Gable's bend on Hellman's straightforward script. Because despite a flawed concept and awkward miscasting, The Children's Hour serves as a stark and ugly reminder that in some parts, lesbian is still a dirty word.