Within the gay community, years of so-called "ex-gays" falling off the wagon, assessments by the American Psychiatric Association, and plain commonsense have relegated the whole notion of "reparative therapy" — gays and lesbians willing themselves into heterosexuality — to be regarded as bunk. This might, however, be another instance of gays being social trendsetters, still waiting for much of America to catch up.
And how much catching up is there for America to do? President Bush invited the president of the largest "ex-gay" group in the country to join him June 5 at the White House to promote efforts to pass a constitutional amendment banning same-sex marriage. That's a dangerous sign, says Wayne Besen, author of Anything but Straight: Unmasking the Scandals and Lies Behind the Ex-Gay Myth.
"Mr. President, do you endorse these dangerous, so-called cures?" Besen asked at a June 7 press conference launching his new organization, Truth Wins Out. The name mocks the "Love Won Out" ex-gay conferences sponsored by Focus on the Family — one of which was held in the D.C. area on June 10, coinciding with Capital Pride festivities.
Besen, a former spokesman for the Human Rights Campaign, has long had the ex-gay movement in his sights. In addition to his writing, he's the man who photographed ex-gay posterboy John Paulk coming out of the D.C gay bar Mr. P's. While Besen has based himself in Florida for the past few years, a new front on the ex-gay battle has prompted him to return to Washington — namely, the new efforts by ex-gay activists to force their message into school systems.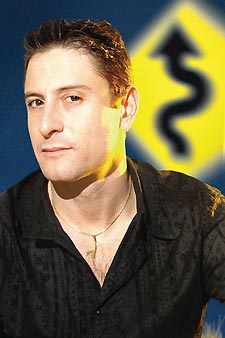 Besen
"It's the equivalent of starting a 'smoking club,"' said Besen, of legal efforts to force schools to include information about reparative therapy whenever they include information about the GLBT community in diversity education. Ex-gay propaganda, he explained, could be as dangerous to students as persuading them to take up tobacco. To push the point, he offered a number of speakers at the June 7 press conference who've been through the ex-gay wringer.
Lance Carroll came out to his parents as gay in January 2005, during his senior year of high school. By summer, his parents offered the option of attending an ex-gay boot camp for two months, or being completely cut-off financially.
"I didn't want to go. I was forced to go," said Carroll, adding that the experience boiled down to week after week of "negative reinforcement of shame." He added that it didn't work for him, and that he didn't see it working for any of his fellow campers, either. His parents, he concluded, got more for their $10,000 — it helped reinforce their homophobia.
Mark Perriello spent his high school years working after school at TCBY. The money he earned went to the 700 Club, a homophobic product of Pat Robertson's Christian Broadcasting Network. He'd hoped his tithing might "cure" him of being gay. He advanced along an ex-gay path, finally meeting the leaders of the movement.
"I told John Paulk he was an inspiration to me. And we all know how that turned out," said Perriello, adding that he found a group of straight men to befriend, believing that a heterosexual environment would help him become straight himself. Instead, he said they instilled him with the self-confidence and self-respect he needed to accept his sexual orientation. One of those straight men offered him the first "true acceptance" he'd ever received upon coming out as gay.
Perriello said he hopes Truth Wins Out will be able to free others from the same ex-gay path he was on. "I think [ex gays] have lost their way, that that they're being misled by false prophets."
While allowing people to deal with sexual orientation any way a person sees fit may seem like a central tenet of the gay civil-rights movement, Besen warned that the ex-gay movement is far more political than its proponents state. He offered statistical evidence indicating that Americans are much more sympathetic to equal rights for gay people when they believe sexual orientation is innate, rather than a choice. In turn, homophobic political organizations such as Focus on the Family need a viable ex-gay movement to offer evidence that sexual orientation is a choice.
"They're really about keeping persecution alive and well," said Besen. "This really is not about people, but about politics. They talk about love, yet they compare us to Satan."
On the Homosexuals Anonymous Web site, for example, this group states: "The Homosexuals Anonymous Fellowship, rather than perpetuating the homosexual subculture, contributes to its decline."
While Besen couldn't offer specifics, as yet, on how Truth Wins Out will be funded — though he lamented his organization will never be able to match the funding levels of the ex-gay movement — he did offer a strategy that includes establishing legal and religious resources to counter proponents of the ex-gay ideology, Web activism, college speaking tours, and organizing a network of affirming therapists. And though Besen will lead Truth Wins Out from Washington, he says the organization will maintain a presence in Florida to more easily keep tabs on Orlando-based Exodus International, the largest of the ex-gay organizations.
"I'm excited about this unprecedented opportunity to set the record straight," said Besen.
For more information about Truth Wins Out, visit them online at www.truthwinsout.org.