On July 19, 2005, two teenage boys were hanged by Iranian authorities, convicted, according to some reports, of raping a 13 year-old-boy. Doug Ireland, a highly reputable gay journalist, has gay contacts in Iran who told him that the two were actually executed because they were lovers, as he reported in New York's Gay City News in August 2005.
Photos of the hanging quickly spread across the Internet, further raising alarm in some quarters about the treatment of gays and lesbians in the theocratic nation.
Another gay journalist, D.C.-based Rob Anderson at the The New Republic, followed Ireland's reporting with a column of his own, "The Quiet Americans: How America's Gay Rights Establishment is Failing Gay Iranians."Learning of rallies scheduled to take place around the world this July 19 marking the one-year anniversary of the hangings of Ayaz Marhoni and Mahmoud Asgari, Anderson offered to organize one for D.C. It's set to begin at 5 p.m. that Wednesday in Dupont Circle.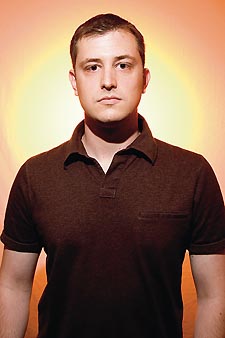 Anderson
"I saw that Mike Petrelis was promoting the San Francisco protest on his blog, and I noticed that there wasn't one in D.C.," says Anderson, a 23-year-old graduate of Georgetown University. "As someone who had publicly written an article condemning people for not speaking up, I figured I might as well put my money where my mouth is."
In his October 2005 piece for The New Republic, Anderson allowed some leeway to the National Gay and Lesbian Task Force and the Human Rights Campaign for not maintaining pressure against Iran, considering their agendas are domestic. He was less forgiving of the U.S.-based International Gay and Lesbian Human Rights Commission (IGLHRC), writing:
"If the IGLHRC truly is doing work under the radar of the media, then good for the organization. It certainly is necessary work. But is it sufficient? I would argue that it is not. Public protest can increase support and, ultimately, political pressure. Vast social problems usually don't change through the work of one or two activists or diplomats. It takes legions."
IGLHRC has announced is will be organizing a public action this year, calling it a "vigil against the death penalty." Granted, they are holding it at the site of Iran's permanent mission to the United Nations in New York. IGLHRC Executive Director Paula Ettlebrick, the only person authorized to speak on the organization's behalf in this matter, was unreachable in Amsterdam by Metro Weekly deadline to offer clarification on whether her group is taking issue with Iran's treatment of gays specifically, or the death penalty in general. Anderson says, however, he is disappointed in IGLHRC's choice of words.
"Yes, this is a protest against Iran's use of the death penalty, but it is also a protest against a pattern of brutal, state-sanctioned, anti-gay hate crimes," says Anderson. "Gays and lesbians in Iran are jailed, tortured and executed because of their sexual orientation."
Anderson insists that gay community protesters in this case shouldn't have any hesitance taking Iran to task. As far as Anderson is concerned, condemnation of Iran's treatment of gay people transcends other political considerations.
"One of the amazing things about this rally is it should be the least controversial thing that gay people can do," Anderson argues. "Anyone with any political beliefs should be able to muster up the courage to say, 'Iran, stop executing your gay people.' So you have Andrew Sullivan in Provincetown [organizing a July 19 rally]. You have Mike Petrelis in San Francisco. You have Peter Tatchell in London. You have Doug Ireland in New York. These are people who don't agree on a lot of things when it comes to politics and policy. But this transcends that. I have a really difficult time understanding people who are taking issues with the stance we are taking."
Within this political mix, Anderson labels himself a liberal, aligned with "lefty, radical queers." Despite these political leanings, he is not worried about any perceived hypocrisy when it comes to Americans — racially biased executors of the mentally ill, it is easily argued — protesting executions in another country. Anderson's protest, after all, is not a protest against the death penalty, but of Iran's treatment of its gay citizens.
"My plan is to gather in the middle of Dupont Circle, in the middle of one of the most powerful cities in one of the most powerful countries, and simply represent ourselves in solidarity with these [gay] people in Iran," he says. "I want to send a message that we support them, that we are listening to them. I want to send a message to the leaders of the U.S. gay and lesbian movement that we care about this, and we are watching what they say and do about this, and that we want them to say things about this. Though I doubt President Mahmoud Ahmadinejad cares much what a bunch of gays and lesbians in the United States has to say about his regime, we're sending a message, hopefully, to him. But the point stands… the United States government should be sending a message to other countries, saying, 'If you abuse your gay and lesbian citizens, we'll notice and we won't be happy."'
For more information about the July 19 rally in Dupont Circle, e-mail Anderson at rcand@mac.com.