Never mind that you've probably never heard of them. The New York Dolls have helped inspire much of the punk and hair-metal music you have heard over the past couple of decades. But don't blame them for what you didn't like, the band's leader David Johansen pleads. "A lot of the mess people are listening to gets blamed on the Dolls, but we've always been just a stupid R&B-based rock-n-roll band," he says.
A "stupid" band whose influence on rock music happened outside the mainstream's notice. The band's two albums in the early '70s went nowhere commercially, and until now, there's been nothing else. But the band developed a strong cult following among pop music's cognoscenti. In fact, it's only because of that cult following that the band has returned this year with a new studio album. The Dolls' one-time fan club president, Morrissey (yes, the ambiguously gay Irish crooner), encouraged the band to reunite in 2004 for a one-off performance. That soon turned into regular festival performances with other musician fans, including The White Stripes. And now we have the fun and frivolous album with the self-deprecating title, One Day It Will Please Us to Remember Even This. The album features guest appearances by Michael Stipe and Iggy Pop, among others.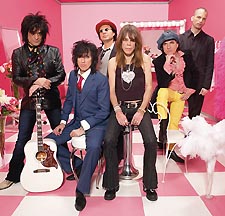 Guys as Dolls: The New York Dolls
The sextet reunited for little other reason than to have fun. Musically much of the album is straightforward rock 'n' roll. And some of it is actually boring, too. The kind of music you'd expect from out-of-practice aging rockers, whose years of hard-living have finally caught up with them.
Most of the Dolls' music is just plain silly, and I mean that in a good way. Johansen has practice at making silly music, after all. You surely did hear his '80s alter-ego Buster Poindexter, the lounge-singer with the annoyingly overplayed song "Hot Hot Hot."
Nothing sounds quite that over-the-top silly here. But the band does convince you to "Dance Like A Monkey" on its party-starting current single. And toward the end, the band gets boozy and bluesy with Iggy Pop on "Gimme Luv and Turn on the Light."
As it turns out, being boozy and bluesy is the perfect state of mind to listen to the Dolls. It makes you appreciate the silliness all the more.
Like the New York Dolls, Hot Chip is a band that aims to make fun music. And like the New York Dolls, this British quintet could inspire a whole new generation of bands — in this case, electro-pop bands devoted to making people smile and feel good as much as dancing or noticing their skills with synthesizers.
But one listen to the band's latest album, The Warning, and you can't help but hope they do more than inspire other succeeding artists, and that they develop more than just a cult following. This band deserves mainstream attention.
Hot Chip has learned a lot since 2004's Coming on Strong. On that debut, the band tried too hard to distinguish itself from the rest of the pop lot, but not hard enough to win listeners over with captivating music. Except for a few songs at album's end, slightly quirky lyrics were mostly lost to music too mellow and too experimental to keep your attention, much less encourage you to listen again.
The Warning starts strong right from the beginning. The first single "Over and Over" spoofs, in lyric and music, the most common kind of pop music — the repetitive kind that gets stuck in your head and that, at least for a while, you don't mind listening to again and again. Hot Chip has succeeded here in spades, making repetitive music that manages to be just unpredictable enough, and to repeat itself in just the right proportion, that you keep going back for more.
"Like a monkey with a miniature cymbal, the joy of repetition really is in you," they sing. And they're right: You can't help but sing right along with them. Over and over and over.