I can honestly say that, in all my years in journalism, I've never encountered an editor like Miranda Priestly, the powerful wicked witch at the helm of Runway magazine, a monthly fashion bible along the lines of Vogue. With a silver, upswept coif, a deceptively soft-spoken demeanor, and a commanding domination over her subject matter and her subjects — from the harried, terrified minions who do her bidding to the designers who desperately seek her approval and who will scrap an entire fall line at the soured purse of her lips — Miranda lords over Runway with the ego-fortified confidence that she (and only she) is capable of doing what she does. She resides under the premise that everyone wants to live her life, to wield her power, to be her.
Miranda is a work of fiction. But she is fiction modeled on fact, after Vogue's similarly dispositioned Anna Wintour. And she is one of two central figures in The Devil Wears Prada. The other is Andy Sachs (Anne Hathaway), a doe-eyed, fresh-out-of-college journalist who accepts the thankless job of Miranda's second assistant with hopes that her servitude will one day fling open doors at serious magazines like The New Yorker or Vanity Fair. What Andy doesn't realize — and what she quickly learns — is that, in its own universe, Runway is as serious a publication as those for which she aspires to write.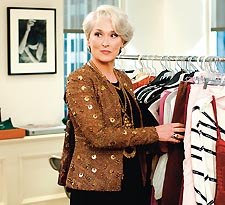 Couture dominatrix: Streep
"We need to find someone who can survive here," barks Emily (Emily Blunt), Miranda's first assistant, who regards Andy, who exhibits no interest whatsoever in fashion (she wears lumpy blue sweaters), with unflagging disdain and full-throttle condescension. Attitude trickles down the stilettos at Runway. But the story is about Andy's survival — at the expense of her ideals, her boyfriend, her friends, her life. This earthen girl becomes the fashionista that, up until now, she hardly realized existed. Andy's transformation is hardly a Cinderella story; she must, at some point, examine her own qualities, her own ethics, and weigh them against those of Miranda.
Based on the novel by Lauren Weisberger, who in turn based her book on her personal experience serving as Wintour's assistant at Vogue, The Devil Wears Prada tries to spin gold from straw. But the movie, which features a stunning performance from Meryl Streep as Miranda, never amounts to more than a heap of lovely little scraps. Directed by David Frankel, who has what might be called a montage fetish (there seems to be a new montage every 10 minutes), Prada's satirical fangs aren't very sharp nor penetrating, and its dramatic pull is more of a gentle tug.
That's not to say The Devil Wears Prada doesn't have its enjoyable moments — its spirit is largely blithe. And it appears to capture a whiff of what it must be like to move within the world of haute couture. But like so many other movies released this year, The Devil Wears Prada ultimately amounts to a waste of time.
I'm not going to put the entire brunt of Hollywood's increasing ineptitude on The Devil Wears Prada, but clearly something is seriously wrong at the studio level when a script this undernourished gets a go-ahead. You really want the movie to plunge, like a neckline, into some good old-fashioned hijinks, yet Andy's realization that she doesn't fit into the fashion world, even after a crash course in all things Dolce & Gabbana and Gucci, seems obvious from the start.
Two decades ago we had the story of Working Girl, in which an overworked, underappreciated underling got the respect she deserved as she took down a scheming, nasty boss. Prada contains no such dynamic — to the contrary, Andy tries to protect Miranda at one point. Because for all of Miranda's heinousness, for all her unreasonable demands (her twins want the unpublished manuscript for the new Harry Potter book and Miranda gives Andy four hours to achieve the impossible or be fired), she commands an enormous respect on top of the fear and loathing she already gets. Miranda may be a tyrant who ends every conversation on her terms with a withering glance and a curt, dismissive "That's all," but we are — as is Andy, inadvertently — briefly privy to the vulnerable woman behind the power monger. The moment, which breezes in and out of the movie like a brisk wind, humanizes Miranda. And as played out by Streep, it leaves a lasting impression, enhancing Miranda's character by leaps and bounds.
Though Miranda is essentially a comic character, Streep never plays her for broad, base laughs, inhabiting the persona as fully as her finest dramatic characterizations. If you're a Streep fan, there's no harm in plunking down $10 to watch how effortlessly she steals the movie away from not just Hathaway, but Stanley Tucci, as Nigel, Runway's prissy, this-side-short-of-prancing gay fashion director, and the terrific Blunt, who has been shaped into a mini-Miranda of sorts. Adrian Grenier as Andy's sweet, earthy, bland boyfriend and Simon Baker as a persistent, bland romantic fling, merely take up space on the screen. They are unwelcome, dull intrusions.
Could there have been a better movie in The Devil Wears Prada? Without a doubt. Could any movie ask for a better asset than Meryl Streep? Not on your Bill Blass.
---
Strangers With Candy is a comedy of a different sort. It doesn't even strive to be sophisticated — it's too happy wallowing in the gutter.
Based on the short-lived Comedy Central series of the same name, Strangers With Candy stars Amy Sedaris as Jerri Blank, a 46-year-old social misfit who, upon release from prison, returns home and attempts to pick up life where it left off before her incarceration — which is to say, she returns to high school. The movie is a half-hour sketch with an hour of padding. Still, it's those isolated moments of glorious, shocking, inappropriate hilariousness that see it through.
Working with writing partners Stephen Colbert and Paul Dinello (who also directs), Sedaris has concocted the ultimate parody of an after-school special, where archetypes are given a good, hard skewering and where a group hug in the final scene is the custom. A bursting firecracker of a performer, Sedaris provides the movie's momentum. Her Jerri, with a chipmunk-like overbite and perpetually in-gear-for-action sexual overdrive, is a magnificent comic concoction, a child-woman driven exclusively by both id and idiocy. There are cameos galore — Matthew Broderick, Ian Holm, Allison Janney, Phillip Seymour Hoffman — but they do little to bolster the limp plot, which involves Jerri's attempts to help the school win the state science fair.
If you do go — and I'm not advocating that you do, since the DVD is bound to be out in a few months and the movie will be far more enjoyable if taken in short, interrupted bursts — then at least stay through the final credits. They feature a silhouetted dance sequence, set to a '70s-inspired "soul" song, that is the highlight of the film.