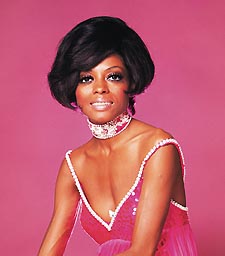 Lady sings the blues: Ross
Now that Beyoncé Knowles is done with Destiny's Child, and especially since the group ended on mostly good terms, comparisons to Diana Ross and The Supremes may finally die down. Then again, maybe not. Later this year, after all, Beyoncé will star in the movie adaptation of Dreamgirls, as the lead singer in the musical loosely based on the story of The Supremes.
Soon after Ross left the real-world Supremes, she pulled a similar move, starring in Lady Sings the Blues, the biopic about jazz and blues legend Billie Holiday. With her solo career already in ascendance, critical acclaim followed her star turn, earning her an Oscar nomination. Ross also channeled and reinterpreted Holiday classics on the film's soundtrack, which was such a success that she recorded a companion album of jazz covers, Blue. But Ross's handlers, foremost among them her lover, Motown president Berry Gordy, worried that too much jazz would dampen Ross's pop career. So another album was quickly recorded — the successful Touch Me In The Morning – and Blue was quietly shelved in Motown's vaults, never to be heard until three decades later.
Many of Blue's 16 tracks are not closely associated with Holiday. They are simply jazz standards popularized during Holiday's era. Nonetheless, Holiday's influence is stamped throughout. Several songs on Blue are the original versions recorded for the Lady Sings the Blues soundtrack. (Alternate versions replaced them there, because the originals were considered too jazzy and, according to Gordy, not "relatable to a general audience.") Ross covers the songs on Blue in a Holiday-esque relaxed way. As the music historian David Ritz writes in the album's liner notes, Ross relaxes behind the beat, expressing gentle sensitivity and excitement, and exuding a refined sense of class and decorum. You never mistake Ross's clear, reedy voice for Holiday's cloudier, brassier sound, but Ross does show herself to be an expert student of Holiday's style — and it certainly helps that both Ross and Holiday have small voices that force them to express emotions with care and subtlety.
The fact that Blue has been finally released to the public is a miracle. Little beyond the rough recordings were saved, and they were only minimally identified in Motown's extensive archives. There was no paperwork attached, and no information included about the musicians in the band or other plans for the album. But it's only a small miracle at best. As smart and sophisticated as it is — and as sharp and lively as the musical arrangements are — Blue never involves the listener the way a truly forgotten classic should. The cuts never fully draw you in, making you forget everything else going on around you. When Holiday sang "Easy Living," you couldn't help but share in her blissful, carefree state. When she sang "Solitude," you couldn't help but momentarily feel as lonely as she.
Ross sings both songs with a polite reverence that makes you sympathize with her emotions, but you don't necessarily empathize with her. Put another way, you simply enjoy listening to her. With Holiday, by contrast, you feel Holiday's joy and pain.
It's a somewhat strange state of affairs, when you consider the expressiveness that Ross has displayed throughout much of pop repertoire. On "Love Hangover," you too get lost in her post-orgasmic lustful haze; on "Missing You," you also pine for her lost love. What it suggests is not that Blue is too jazzy exactly, or even that Ross strayed too far from her natural pop element. The problem seems to be that Ross didn't push herself far enough. Ross seems a bit too reverent, too beholden to Billie Holiday's style, not allowing enough of her own style to shine.