Just so you know, I never read Little Women as a child. And I haven't read it as an adult, either. Not that the adventures of Marmee and the Sisters March weren't fervently recommended to me by my own dear mother — it's just that I lost sight of Louisa May Alcott's ode to sisterhood somewhere between my Judy Blume years and V.C. Andrews.
For those who also missed (or avoided) the classic novel of life in Civil War-era rural Massachusetts and fear having their feminist card revoked, you're in luck. Alcott's tale is now set to an entirely non-descript score of melodies in Little Women — The Broadway Musical. Adapted by Allan Knee with all of the annoyingly cheerful optimism and glazed-over tragedy we've learned to expect from a title followed by "The Broadway Musical," Little Women engages the audience with a plot so strictly formulaic that it might as well come with flashing applause cues.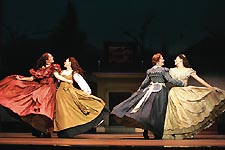 Driven to dance: The cast of 'Little Women'
(Photo by Joan Marcus)
Susan H. Schulman directs with robotic precision — every word is followed by a corresponding gesture, every moment fabricated with relentless tedium. The storybook sets from Derek McLane are exaggerated and ineffective, and scenery flies to and fro like Cupid's arrows without aim. Jason Howland's music is barely memorable, with the exception of "Off to Massachusetts," a chirpy little parlor song.
Knee's saccharine-sweet version plods through all of the dramatic highlights of what happened to Marmee and the gals during the four years Pa March was off fighting for the Union. The "dreadful little March girls" — Jo, Meg, Beth, and Amy — sing through comedy, tragedy, romance and rainstorms as they draw ever closer to that divine ideal known as Womanhood.
Little Women
The Broadway Musical
To July 23
Kennedy Center
Opera House
$36-$94
202-467-4600

At the epicenter of the story lies Josephine March, an aspiring writer with sky-high ambitions and a heart of gold. She's portrayed by actress Kate Fisher, who spends a large part of the evening on stage, pretending to be incensed about one thing or another. Whether it's another rejection letter from a publisher or battling little Amy's jealous fits of rage, Fisher is forced to ride one note from beginning to end: passion. And while such a strong emotion comes with a few artistic merits, three hours of pubescent will proves more than a little wearisome.
The rest of the backdrop cast — Renée Brna's dreamy Meg, Autumn Hurlbert's biddable Beth, and Gwen Hollander's prissy Amy (who claims the evening's best line, "Men are so amazing") — tarry on until Maureen McGovern's Marmee is there with a hankie, a shoulder, or a word of encouragement. Though it appears she was written in as a mere afterthought, McGovern is a warm maternal figure and her voice rich and full in a pair of solos.
Ironically, the most delightful performance isn't from a woman at all — it's Andrew Varela's charming Professor Bhaer. From the intimate solo "How I Am" (where he makes the most out of the lyrics "Life is muffins and jam") to his tail-end duet with Jo, "Small Umbrella in the Rain," Varela proves a much-needed tonic after digesting so much artificial sweetener.
---
It's fitting that Roland Schimmelpfennig's The Arabian Night is Rorschach Theatre's entry in the upcoming Capital Fringe Festival. Lauded in Germany, Schimmelpfennig's weird fantasia takes place in an urban apartment complex on the "hottest night in history" and boldly experiments with space and time.
Roommates Fatima and Franziska (Nelina Giridhar and Jessica Hansen) live together in unit 7-32. Every night Franziska falls asleep on the sofa and loses herself in a fit of nightmares. Tonight the water is somehow lost above the seventh floor and it's up to their building superintendent Lomeier (Edwin Xavier) to find the missing water. As Fatima anxiously awaits the arrival of her boyfriend (Matt Dunphy), Franziska dreams of being abducted by a mysterious sheik in an Istanbul bazaar, and a neighbor (Jason McCool) visits with a kiss he hopes will awaken her. Combining the legend of Brier Rose/Sleeping Beauty with exotic Turkish fancies, Schimmelpfennig's story intersects five lives in a strange fairy tale for adults.
The Arabian Night
To July 30
Rorschach Theatre
$18
1-800-494-8497

It's a clumsy, abstract piece of theater that is only occasionally amusing with its overlapping, self-aware dialogue. Translated by Melanie Dreyer, the scattered adaptation doesn't ultimately congeal into a whole story, and the result is that the essence of Schimmelpfennig's message feels hopelessly lost in translation.
Director Jenny McConnell Frederick's production is mercifully short at 60 minutes without an intermission, and her actors utilize nearly every inch of Tim Getman's creative scenic design. Matthew Frederick's unsettling sound design highlights the dominant themes of water. But Rorschach's solid technical design isn't enough to justify such a weak and crumbling drama.