It's summertime in D.C., which means humidity reminding us that we are a city built on swampland and the Metro bulging with tourists trying to see as many monuments as possible. It's on the Metro one sees the annual culture clash. On one side of the train are the tourists, dressed in cargo shorts and tank tops. On the other, the Hill staffer in crisp shirt and pressed suit, the men in ties and the women in hose. And to many a D.C. visitor this becomes their idea of Washington: A city reluctant to loosen its collar even when threatened with near suffocation.
There could be no better antidote to this image than a trip to the Actors' Theatre of Washington to spend an evening with the company's "Tramps and Vamps." This is ATW's first time pairing two one-acts into a single night of theater, with artistic director Jeffrey Johnson teaming Joe Orton's 1960s The Ruffian on the Stair (the tramps) with Charles Busch's 1980s Vampire Lesbians of Sodom (the vamps). That doesn't mean an evening free of problems — Orton's dark comedy suffers somewhat from proximity to Busch's campy horror-comedy.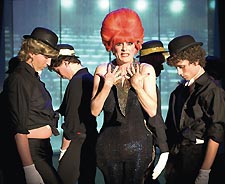 Vamping It Up: Hammerly, center, and ensemble
(Photo by Ray Gniewek)
In Ruffian, Ashley Ivey plays Wilson, a hustler who appears on the London doorstep of Joyce (Rosemary Regan) and Michael (John C. Bailey). What develops between the three is an increasingly sharp-edged triangle that ends in tragedy. Or, sort of ends in tragedy, which is one of the quirks that makes Ruffian so difficult to embrace. Nothing in this brief piece can be taken for granted. The actors must be so strong, so convincing, that the audience can accept whatever direction the play takes.
In this regard, Ivey is a standout. While Bailey delivers a solid performance as Joyce's bullying husband, Ivey's Wilson is haunting, moving fluidly from self-assured swagger to suggestive sashay, from homicidal anger to near heartbreaking sorrow. Ivey draws in the audience in the same way his character seduces both Michael and Joyce.
Regan, on the other hand, seems a bit lost in her role. Her performance often feels too large for the intimate Church Street space, occasionally veering off into a seemingly unintentional comic performance that breaks the rising tension Ruffian needs to support its final scene.
Playing large, however, is the name of the game in Busch's Vampire Lesbians, which also makes the show difficult to truly describe. The humor is corny, the plot intentionally terrible and the acting hammy and overdone — and that's what makes it so wonderful. There is nothing to be taken seriously in this one-act that stretches from biblical Sodom to silent-picture era Hollywood to 1980s Vegas as two vampire lesbians dog one another through the centuries.
This does not mean the job of the actors is any less difficult than the cast of Ruffians. In fact, with a cast of characters built from a grab bag of B-movie stock, the players are constantly working to manage that difficult line between being incredibly funny camp and being simply bad actors.
VAMPS AND TRAMPS
To August 13
Church Street Theatre
1742 Church St. NW
$25-$30
www.atwdc.org
Rick Hammerly does more than walk this line — he maneuvers it like a tightrope walker. Playing the drag roles of Virgin Sacrifice, Madeleine Astarte and Andrews (the various incarnations of his vampire character), Hammerly never loses touch with the audience and seems almost personally determined that everyone have a good time. His fellow vampire, played by Nanna Ingvarsson, delivers her own standout performance. It's striking how easily these two very gifted actors play so outrageously large on such a very small stage.
So while the fit of these two pieces is perhaps less inspired than the clever punch of "Tramps and Vamps" might suggest, ATW takes a risk that ultimately proves successful. They deserve a firm round of applause for reminding us that D.C. is sometimes less buttoned-down pinstripe and more beach-party bikini.