He doesn't look much like the Duke, with his coarse dreads pushed back and an empty buttonhole crying on his shoulder. But make no mistake about it, when Jimi Ray Malary opens his mouth and ribbons of silky smooth jazz come floating out from a deep river of song, his proximity to the sophistication and elegance of Sir Ellington cannot be denied.
It's that inherent gift of grace that showers Ellington: The Life and Music of the Duke with sweet little notes and hot rhumba beats at MetroStage in Alexandria. Carolyn Griffin's quiet, converted-warehouse stage swings into a cool-cat club as Malary dispenses songs and brief biography from the legendary, Washington-born-and-bred Duke Ellington.
But this isn't Ellington on fire, the hip-slapping bebop à  la Ella Fitzgerald at "Duke's Place" or the late Gregory Hines and Judith Jamison in Sophisticated Ladies. There are no traces of Phyllis Hyman or Lena Horne to be found. It's just pure, uncomplicated, lovely streams of days-gone-by jazz.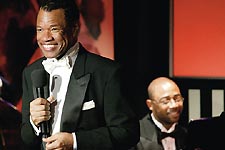 Ellington: The Life and Music of the Duke
With a touch of melancholy underneath his wink and smile, Malary performs David Scully's chipper book, which reads a little too precious with its ingratiating rhyming couplets of chronology. Detailing how Ellington evolved from selling peanuts at Washington baseball games into the revered "architect of jazz," Scully explores his royal Dukedom in a manner that is both affably elementary and wholly underwhelming.
Snippets of anecdotal history is patched in with the politics of American jazz, and Ellington's personal life is glazed over with mentions of Billy Strayhorn — his frequent collaborator — and sidebars about Duke's family life. The evening sprawls out over 30 of Ellington's classics, highlighting the original arrangements by Strayhorn and gliding along on Malary's rich baritone. The familiar numbers are all here — "It Don't Mean a Thing (If It Ain't Got That Swing)," "Satin Doll," "Don't Get Around Much Any More," and "Hit Me with a Hot Note and Watch Me Bounce" — but they are by no means spun into signature slam dunks by Malary.
No, Malary is too self-aware in his rapport with the audience, too conscious of the shoes he has to fill to worry about making those instantly recognizable tunes his own. Instead, he shines in a handful of more sustained melodies, from the soft and lilting "Caravan" to a sleepy "Day Dream," a troubled "Everything But You" and "I Ain't Got Nothin' but the Blues," and an inspired version of "I'm Beginning to See the Light."
Director David Hunter Koch ensures that the evening is a refined affair under the musical direction of pianist William Knowles, who plays with happy panache. The sedated arrangements by John Engerman are spiced up by Knowles's charming musicians – Yusef Chisholm thumping bass, Gregory Holloway beating up the drums, and Ron Oshima on saxophone.
So while there's no suave flora for his suit, no top hat or clever tap dancing, Malary and company still deliver the inimitable Duke for 21st Century audiences, passing on the legacy of Ellington's songbook with a little bit of substance and whole lot of style.