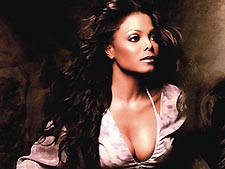 Jackson
WHAT ABOUT THAT, WHAT ABOUT THAT… Janet Jackson's new album, due Sept. 26, will be reflective of the music she's created over the past 20 years. And it will feature songs that will make you want to dance. I know, I know, that's not saying much. You probably already expected that. In fact, that much has already been reported. Still, Jackson thought it was enough new information that she came all the way to Washington last week just to say it and precious little else. She came as part of an unusual media push in several large markets to drum up attention to the forthcoming 20 Years Old. But not too much attention: The reporters gathered at the press conference did not get any advance information about the album, much less anything about Jackson herself. Nor did she preview tracks from the album. So 15 or so reporters were forced to sit in silence until she and her entourage, including her boyfriend, Virgin Urban executive Jermaine Dupri, finally strolled into the room, some 40 minutes late. After several minutes of posing for pictures, Jackson sat for about 15 minutes to field questions about the album, as well as about her life with Dupri. Her answers were often mumbled and vague, and produced nearly the exact opposite effect as her barely-there blouse — a tight, cropped vest held together by a single button that proudly revealed for all to see her generous bosom and her once-again-rippled mid-section, further accentuated by a silver belly ring.
"It's definitely more uptempo than Damita Jo," Jackson said in response to a Metro Weekly question about the new album. But how much more uptempo was left unclear, and perhaps there's a reason. The first single "Call On Me," featuring rapper Nelly, is a mid-tempo number that hasn't gotten much traction. Chances are you've only heard it once if you've heard it at all. You can't help but wonder if that's causing Jackson and her handlers to reconsider plans for 20 Years Old — after all, they've saved themselves that right by avoiding identifying the album's final track list. Maybe they'll add even more uptempo numbers than originally planned?
Jackson said that the next club anthem to come from her should be a track called "Clap Your Hands." At least she hopes so. "If I get my way," she said, before adding, "and I always do." But does she? If there were any time when she might not get her way, it would be now, after the poorest-performing studio album of her career and a news media that still doesn't know how to present her after the Super Bowl wardrobe malfunction blow-up.
She said she doesn't feel like she has anything to prove, nor does she feel a need to keep up with the Beyonces and the Ciaras of the world — though physically speaking she is doing that just fine, of course.
"I want people to enjoy it," the affable but coy artist said about the new album. "I want to be remembered for making people smile." How, or why, will people feel like smiling after listening to the new album? She didn't say. Instead, she went right back to smiling for the cameras, enjoying the fact that the conference had come to an end, and the fact that ultimately this time, she had gotten nothing off her chest….
NEO-NEW WAVE TO RETURN… Two of the leading new-wave revivalist bands are working on new albums, and you should begin hearing at least one of them very soon. Of course, by now you were supposed to be very familiar with both Interpol and The Rapture, given all the overheated press that greeted their last albums. They were released around the time dance-rock was just beginning to come into fashion, three years ago. And the bands did become pretty popular in the United Kingdom, original home of new wave. But stateside, the Brooklyn-based Rapture found favor with a happy cult following and remained unknown to everyone else. That could change September 12, when the band's new major label home, Motown/Universal, releases the dance-punk group's second album, Pieces of the People We Love. The Gorillaz-member Danger Mouse is one producer of tracks on the album. The first single, "Get Myself Into It," is a horn-punctuated gem that sounds like something The Police would have concocted in collaboration with Men at Work. You can hear how dreamy and screamy the track is by streaming it at www.myspace.com/therapture.
Interpol faced even more pressure than the Rapture to hit big with its 2004 sophomore album. Several New York publications touted them as the saviors of the New York rock scene. Reaching the top 20 on the Billboard album chart and selling over 400,000 copies of Antics are not exactly feats to complain about. But they don't add up to widespread success either, or meet the expectations the band's label obviously had set for it. As such, Matador is still deciding whether it will release the band's next album. In any event, the band is currently writing for that album, though it doesn't expect new material to be ready for release until "sometime next year," according to its Web site….