Even on LOGO, the nascent gay-focused digital cable channel, the sight of Jason Warner and deMarco DeCiccio cuddling, canoodling and cavorting is a bit shocking. Gay couples may appear with some frequency on LOGO, but often they show little more than platonic affection or implied longing. Not Warner and DeCiccio, who sing and cling to each other in the music video to "This Is Love." It's just the latest song to come from Jason & deMarco, a romantic duo who have also gained fame due to the uniqueness of its professional partnership.
Also unique is their musical approach: what the boys call "spirit pop" and everyone else calls contemporary Christian music. They mostly make only indirect reference to God in their lyrics ("I thank God you are in my life"). But even that's enough to help them stand out within the gay community and its usually secular listening choices.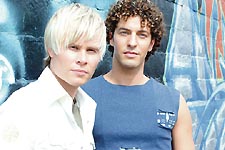 Touched by God: Jason and deMarco
It's not enough to make you care, though. With their latest album Till The End of Time, the boys sound like they haven't listened to pop radio since they were impressionable pre-teens some 15 years ago. And they didn't even learn from that period's best. Wilson Phillips is one obvious guiding light, with the boys' dramatic harmonized vocals, serious overproduction and annoying sound effects. On "This Is Love," they sing about being together at the beach at night. "I can see the waves," they sing. You hear the waves, too — the digital waves ever-so-tritely wash ashore each new musical element, from acoustic guitar to vocals to keyboards. Thanks for spelling it out, boys.
Jason & deMarco turn toward more of an edgy rock direction than 2004's Spirit Pop. As a result, when the boys really get dramatic on Till The End of Time, you hear the influence of some of the original contemporary Christian crossover artists. Remember the hard-rock band Stryper? Things start out sweet and slowly on "Falling," but the song soon descends into late '80s electric-guitar, power-ballad pop hell, never to see the sweet light again. Nothing like explosive and responsive electric guitars, Jason & deMarco seem to think, to show they're not just privileged goodie-two-shoes with lives to envy.
The boys do a decent job of not getting cloying about their relationship throughout the album's 12 tracks. For every "Just In Time," in which they sing about one another that "there is no doubt in my mind that God has brought to me an answered prayer," there's an "I Found the Number," about searching, losing and arguing over love and fidelity. They seem too young, too inexperienced and too naïve about the world, but they do seem to be putting themselves out there and not just looking down from their God-ordained relationship pedestal.
But singing from that pedestal has clouded their view of things and encouraged cornball ideas. Foremost among these is channeling mid-20th Century country crooner Jimmie Davis on "Stormy Weather." The chorus is a whiny, rock-charged replay of the chorus from Davis's biggest hit: "You are my sunshine, my only sunshine/You make me happy, when skies are gray." The thunder sound effect rolls in and out of the song, but the one thing missing is lightning: Jason & deMarco were clearly not struck by a good idea.
Despite the name, the only thing new these days about the Brand New Heavies is its album, Get Used to It. But that's enough to make any fan of neo-soul and funk — not just established Brand New Heavies fans — feel weighed down with delight. The band, part of the British acid jazz movement, has been credited with helping propel neo-soul, having come to prominence before Eyrkah Badu, the Roots, Alicia Keys and others. But even if that's just publicity hyperbole that means nothing to you, you should know that the Brand New Heavies are just about the liveliest, most soul-pleasing musical act out there, on par with (though not as adventurous as) Prince. That's as true now as it was 15 years ago when they burst onto the American R&B scene.
On "Let's Do It Again," American singer N'Dea Davenport sings triumphantly and convincingly about her return to the British band after a near-decade absence: "We're gonna do it all again…a little dancing, to the music." Drummer/keyboard player Jan Kincaid, bassist Andrew Love Levy, guitarist Simon Bartholomew and their invited guests playing string and brass instruments sound just as excited to be back. Together they create a richly orchestrated, jazzy, disco-y sound that takes you back to the '70s but doesn't leave you stuck in time.
Throughout Get Used to It, the band celebrates its central purpose, to "put back the funk in music" (on the James Brown-worthy "Right On"); stresses the reason for being ("Music"); and musically nods to the styles to sprout from the blues, be it rock ("I've Been Touched"), hip hop ("We Won't Stop") or their standard funk. There's not a dull moment in 50 minutes of music, and that's no light feat.