Throw out the name "Sedaris" in the community and the gay writer David is often who pops into people's minds. But his older, straight sister, Amy, may be stealing some of her brother's queer thunder — particularly so with her on-screen persona, Jerri "I like the hole and the pole" Blank.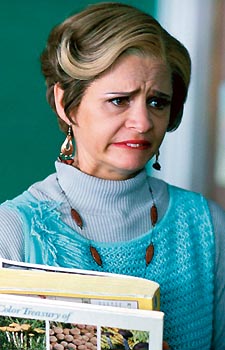 Sedaris
Following a 2005 Sundance premiere, the Strangers With Candy movie, is finally set to hit local theaters this weekend. The movie is a "prequel" to the cult-favorite Comedy Central series, in which Jerri, a 46-year-old ex-con, returned home to suburbia to complete high school, learning After-School Special-esque lessons along the way.
"It's like the TV show: It's not for everybody," Sedaris says. "I grew up with a father yelling, 'It doesn't matter what other people think!' I like the audience that we have. They discovered Strangers. They're dedicated. But there's never anything for them. It's always about the pretty people."
That hasn't stopped a few of the "pretty people" from signing on for appearances in the movie. There's Sarah Jessica Parker as grief counselor Peggy Callas, while hubby Matthew Broderick plays a slimy science teacher. And fashion's fabulous gay renaissance man, Todd Oldham, has a cameo as a wood-shop teacher. Sedaris says Oldham's role is not too far from reality.
"I have a crafting club with Todd Oldham, called the Crafty Beavers," she says, offering that the club favors felt as its medium.
With three seasons of the Strangers series on DVD, and now the movie, fans of Jerri may wonder if there's anywhere left for this misfit with an overbite to go. Sedaris promises, however, that Jerri is one character she can't shake.
"Like Paul [Dinello, the director and art teacher "Geoffrey Jellineck"] says, she's like a little rash that can always pop up," Sedaris says sweetly. "I can bring her wherever I go. She's in me. As queer as that sounds, she's on my back."
Strangers With Candy opens this Friday, July 7, at the Landmark E Street Cinemas, 555 11th St. NW. Call 202-452-7672 for showtimes.