The relationship between gay Washingtonians and the city's religious establishment frequently feels contentious. While gay churches such as Metropolitan Community Church offer succor, and the mayor's liaison to the gay community, Darlene Nipper, is an ordained minister, they don't demand attention. Whatever a gay resident's spiritual leanings, it's difficult to ignore news of forcefully homophobic sermons, or of a turf war between a church and a gay bar. It is the friction that always comes to the fore.
For years, at the other end of the spectrum, Rev. Alvin O. Jackson worked to make one of the city's prominent churches an "open and affirming" church for gay Christians. But Jackson's relationship with National City Christian Church ended in 2004, amid friction with some of his congregants over his style of preaching, as well as an incident of plagiarism, for which Jackson apologized. When he left, some of his devoted congregants left with him. Charles Keener, chair of the church's Gay and Lesbian Fellowship, was one of them.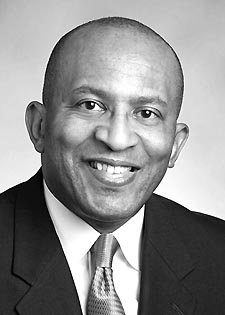 Rev. Alvin Jackson
The atmosphere at National City was maintained by its congregation, which was predominately white when Jackson arrived and about 50-50 with people of color when he left, says Keener. During Jackson's tenure, the number of gay congregants also rose, another change that led to some tension with the old-line members.
"A lot of opposition had to do with how far he went in support of gay folks," says Keener. "There was a sense of, 'This is our church and he doesn't understand our ways."'
Still, Jackson stayed on his inclusive path, heading toward a confrontation with "the old-time white people [who] just came to feel they didn't want this level of change," which also included more gospel music and shouts of "amen!"
The plagiarism issue, says Keener, simply gave that group the vehicle they needed for removal.
As Jackson left National City, now he's preparing for a bigger departure, to New York City's Park Avenue Christian Church. Jackson — one of the few African-American clergy to speak on Capitol Hill against the proposed constitutional amendment to ban same-sex marriage — will be offering a farewell sermon Sunday, Aug. 6, at Lincoln Temple United Church of Christ.
"I love New York City, the energy of this place," says Jackson. "This congregation, it's the biggest part of their mission statement: to be open and affirming to everyone. It's extremely exciting to be part of that."
The choice of Lincoln Temple for Jackson's farewell is fitting, as that's where some of his National City congregants, including Keener, have settled.
"Maybe half the congregation left when Dr. Jackson resigned. We tried with him to start a new church," says Keener, though that effort was ultimately unsuccessful.
Keener says a "good chunk" of former National City members made the jump to Lincoln Temple. The atmosphere at the historically black church has been welcoming for the National City newcomers, in part because of Lincoln Temple's Rev. Nathan Harris's efforts to build a multi-cultural and multi-racial church.
"Almost not a Sunday goes by he doesn't mention homophobia," says Keener. "It's part of his perspective. He includes justice for gay folks."
Adds Jackson: "What's being attempted at Lincoln Temple is very similar to what we were trying to do at National City. I'm very pleased people have found a place there."
Where Jackson's exit from National City — and now to New York — may seem like a loss of one of the D.C. gay community's most reliable allies in the religious mainstream, that's not what Harris sees.
"I don't think of it as a loss," says Harris. "Rev. Jackson is continuing the mission. His locale will be different, but his work and actions will continue to have an implication for D.C., and the Christian church in general. Being in New York doesn't mean we'll have any less contact with him. I'm sure that we'll partner on many projects along the way."
Jackson promises that despite the move, he'll continue to do what he can to dispel homophobia among his ministerial peers in Washington.
"D.C. is just a short train ride or shuttle flight from New York. I'll be in D.C. a great deal," he says. "I think there has been some healing that has taken place in Washington. I see some attitudes have changed. But there is still a lot of work to be done."
While work may remain, Jackson says he's not discouraged.
"When people really get to know people in the GLBT community, it's out of those relationships that positions are changed," he says.
Lincoln Temple will help fill any possible void, says Harris, noting that Jackson and he share the same dedication to social justice. It makes sense, considering the church's history — it was founded in 1860 by former slaves and freed men.
"We've had a historic involvement in justice, from the time of Jim Crow up to the modern Civil Rights movement to the present," says Harris, who points to the contributions brought to the table by the church's longtime members and newcomers like Keener.
"It's like they've always been here. At the same time, they're taking us somewhere new. The chemistry is good. They became a part of us."
Keener adds that though Jackson is departing D.C., his legacy will continue to counter homophobia in local churches — especially so, considering Jackson was once on advocate of such homophobia.
"The interesting thing for me, very moving, is that when [Jackson] was in Tennessee with what was at the time our largest congregation, he used to be homophobic," says Keener, referring to Jackson's time at Mississippi Boulevard Christian Church in Memphis. "He used to preach that homosexuality was an abomination. He had an ex-gay ministry. So he knows the other side. He knows the mindset."
That mindset changed for Jackson when a gay congregant's spiritual questions prompted him to re-read the Bible and scrutinize his understanding of scripture.
"I admire him for that," says Keener. "He was able to have a change of heart. It gives you hope that some of these other ministers in D.C. will get a clue."
Rev. Alvin Jackson offers his farewell sermon Sunday, Aug. 6, at Lincoln Temple United Church of Christ, 1701 11th St. NW. Service begins at 9:30 a.m., sermon at 10 a.m.