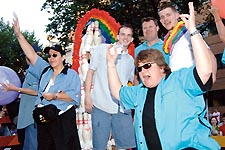 CARA members on their 2006 Capital Pride Parade float
(Photo by Henry Linser/file photo)
MISSION: Founded in 1995, CARA coordinates and promotes the sport of bowling for men and women in the Washington, D.C., area gay community. CARA currently has about 600 members.
COMMON ACTIVITIES: With a number of leagues throughout the area and various bowling seasons, CARA provides year-round opportunities for competitive bowling.
HOW TO JOIN: CARA is open to bowlers of all skill levels, with weekly fees dependent upon a member's specific league.
BACKGROUND: James "Hawk" Crutchfield, fourth-term president of CARA, says he took up league bowling in 1970 while stationed in a remote, blustery corner of Northern Japan. He's loved it ever since. "On a weekend, we'd go in and bowl 18 or 20 games," he recalls. "There wasn't much else to do." But with plenty to do in D.C., Crutchfield still devotes about 50 hours a month to bowling. The sport's popularity is growing — CARA recently added leagues in Dale City and Falls Church, Va., as well as Columbia, Md. "We're a place anybody can feel comfortable," he promises. "All the members are looking for something that's fun, without being overly serious."
CONTACT: E-mail bowlhawk@starpower.net or visit www.carabowling.org.
NEXT EVENT: CARA will participate in the Chesapeake Pride Festival, Saturday, Aug. 26, in Edgewater, Md. For more information, visit www.chesapeakepridefestival.org.