| | | |
| --- | --- | --- |
| | Two is a magic number in Logan Circle with this 2-level, 2-bedroom, 2-½ bath and 2-master-suite condo — with 2 walk-in closets. Plus, feel on top of the world with a rooftop deck that welcomes both human and canine friends. | |
With the addition of a spacious rooftop deck, D.C. graphic designer Nancy Saiz turned her two-floor condo into a three-floor, taking her entertaining and relaxation to a whole new level.
NANCY SAIZ: I bought this in October 2001 right after Sept. 11. There was a lull in the market and no one was buying — I lucked out. It's a fairly new building, but the spot that it's on used to be two buildings, so we have big, wide spaces, which you don't usually get in D.C. By adding new features, I've designed it to be my own — the colors, the wood floors, the stairwells, and now the deck.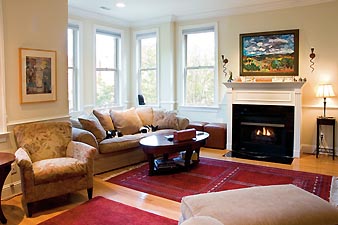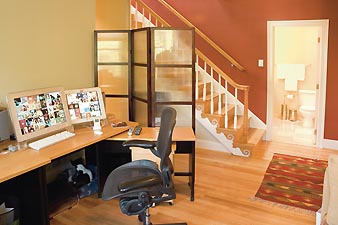 [In the living room] It's one big, giant room, which I love because I've lived in D.C. for so long and I was just tired of cramped spaces. That drew me to this place, how big the spaces are and how high the ceilings are. There are hardwood oak floors throughout the house. I wanted to keep this room light and airy but I also wanted the moldings and the details to pop out. It's kind of cream colored, but [with] a green hue. Above the fireplace I have a landscape portrait that I picked up in a gallery in Santa Fe, N.M. I always want to be able to see Santa Fe, and the painting lets me see it every day. The couch and chair are from Storehouse. I wanted a nice comfy space to sit and watch movies and relax and read, especially in the wintertime.
[Top of the stairs] This is a beautiful painting I bought in San Miguel de Allende when I visited Mexico. San Miguel is well-known as an artist colony. This particular painting is a blow-up of a Moteria card that's popular among Mexican children — it's kind of like Concentration and Bingo combined. I love it because it's weathered on the edges like it's really a giant card. I rolled up the canvas and hauled it around Mexico for a few weeks until I finally brought it back home.
[In the bedroom] It has lots of windows, which I love. This color is a deep red called Spiced Rum. Depending on the light, it will look red or orange or brown. I like the changes. The rug is from a Tibetan rug store in New York. All my rugs are either from Mexico, India or Tibet — I guess they can't be from Tibet now. They can be Tibetan, but not from Tibet. They all have rich, warm, earthy colors.
[In the office] This is a light, mossy green paint. A friend told me it's good to paint your workspace green because it's the color of money. The stairwell to the deck is off of this room too, I can take a break during the day and go up and chill out. Let the creative juices start flowing again.
[On the deck] The deck actually shares a footprint with one my floors downstairs. So basically I added a third level to my house. It's 730 square feet, and I have it irrigated so there's a lot of vegetation up here: trees, bushes, flowers, herbs. I found this great furniture with really thick cushions at Pottery Barn. It's like indoor furniture, you wouldn't even know the difference. I also added a fountain — I think the water feature is really important on a deck because it does get very hot. Psychologically, just having the water running makes you feel like it's cooler.
It's nice to come up here in the morning and drink your coffee and read the paper. The deck is also good for the dogs, Oscar and Lucy. They're rat terriers — they look like miniature Guernsey cows. They love coming up here, and in the corner I have a place for them to go potty. I think it's a brilliant idea for dog owners — a shower base laid into the deck and filled with pea gravel, no pun intended. It all drains into the sewer. I wanted the dogs to have this space and be comfortable. The man who put it in had dogs so he understood.
The other thing we have is an outdoor shower which I have used on several occasions, especially when it's really hot outside. You can go cool off but still hang out so it's great. I also have a teak bar with four bar stools and a sink, which I love. My neighbors said they didn't think I'd need a sink but I use it every day — that's one of the best things on the deck.