BAD ENGLISH… To this day it still gets club play. Kim English's eight-year-old bombastic hit "Unspeakable Joy" still appeals to gays, as do many of her follow-up club hits, including "Higher Things," "Everyday" and "It Makes a Difference." Oh sure, anyone who pays half a mind knows she's nearly always singing about God. And yes, there is serious irony in such churchy music getting shouted sing-alongs and dancing ovations at very secular, not to mention gay, spaces where nearly anything goes at all hours of the night, from Saturday on into Sunday. It makes churchgoing a difficult proposition, to say the least. But it's a paradox we've grown used to, ever since the days of Deity-devoted disco divas.
Still, English obviously hasn't gotten used to it, and she hasn't learned to get out or put up with it either — unlike, say, Donna Summer and Gloria Gaynor, both of whom these days generally stay away from dance or stay quiet about the gays. Not English. In promoting her latest collection of dance remixes, My Destiny, English cited the Bible in casting aspersion on our way of being. In an interview with New York's gay Next magazine, English says of homosexuality: "I don't believe it's a lifestyle God agrees with.
"From my understanding of what I've been taught," she continues — after attempting to soften her unspeakable blow by saying, you know, she doesn't know for sure and that anyway we're all sinners — homosexuality "is not God['s design]; it's a personal choice." Well. That presents gay English fans with a whole other choice, now doesn't it? On her latest chart-topping dance single, "C'est La Vie," English sings, "When you're hot, you're hot. When you're not, you're not." Am I the only one who doesn't feel so hot for English anymore?….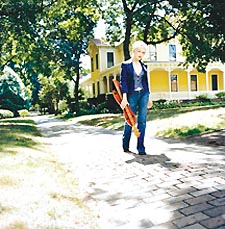 Cyndi Lauper
CYNDI'S COLORS, EVER-TRUE… Cyndi Lauper's true colors on gay rights, on the other hand, have always been beautiful like a rainbow, to quote a phrase. The long-standing performer at gay and AIDS benefits has also made a big deal of publicly supporting her lesbian sister. Next year she'll co-headline a tour with Erasure that will include other gay and gay-friendly artists. The tour, dubbed the "True Colors" tour, will make stops around the country during June 2007, otherwise known as Gay Pride Month.
By the time of the tour Lauper may be ready to release her next album, or at least preview tracks from it, since she plans to begin recording in November. She's aiming to go back to her dance-pop roots for this one, according to a press release. Meanwhile, she's launched a second leg of touring in support of last year's remarkable album of acoustic reinterpretations of her biggest hits, The Body Acoustic. Baltimore is the closest she'll get to us this time around, appearing Oct. 17 at Ramshead Live….
WATLEY'S MAKEOVER… Jody Watley is another dance-pop diva who has repeatedly stood up for gay rights. Another regular at Gay Prides, Watley also performed at this year's Gay Games, and the Los Angeles resident trekked up to San Francisco early last year of her own accord to serenade the thousands of city-sanctioned gay newlyweds. Like Lauper before her, Watley has reinterpreted some of her classics for a new album, Makeover, which actually features more covers of other people's songs than it does her own. Watley sticks to the dance/electronica genre, though these days her sound is more soul-house or chill-out, more mid-tempo and leisurely. Makeover isn't nearly as accomplished as Lauper's set, in part because Watley sounds bored too often, uninspired by her own work — or more precisely, the work of others. She zaps the life completely out of Diana Ross's "Love Hangover" and Madonna's "Borderline," refashioning both as bland, emotionless smooth jazz ballads.
And yet, when Watley reinterprets her own work, or offers new songs of her own, she wakes up and shines. The new "A Bed of Roses," featuring 4Hero, is a plush and uplifting neo-soul jam to make Jill Scott jealous. The remodeled version of her 1989 hit "Friends" — originally with Eric B. and Rakim — respelled "Friendz," bangs with an updated hard staccato beat and a sassy rap from Voshaun Gotti. Just don't go "Looking for A New Love." The remix EP of that song released last summer and featuring her re-recorded vocals may have reportedly inspired this Makeover collection. But either she wanted to make consumers buy both sets, or she had trouble deciding on which "Love" remix to include: Chus & Ceballos' percussive and emotional popper, Chris Joss's chunky funky Remix 1 or Heinrich Z's robotic electro-soul. There's no wrong answer. Yeah, yeah, yeah….
GLITTERING GOLDFRAPP… Alison Goldfrapp and Will Gregory, known together as Goldfrapp, have remixed their own 2003 hit "Strict Machine." It will appear as part of a full-length album of remixes in October. Goldfrapp's music is mainstream in its home country of the U.K. and increasingly prominent in U.S. advertising. And now, on We Are Glitter, Goldfrapp's music provides the duo's European electro-pop contemporaries, including Benny Benassi and Alan Braxe & Fred Falke, with luscious material to remix. Except for "Strict Machine," all of the songs are drawn from Supernature, the duo's third album, released earlier this year and including the dance hits "Number 1" and "Ooh La La"….