Paris, 1904. Albert Einstein walks into the Lapin Agile hoping to see his sweetheart, whom he has planned to meet at the Bar Rouge at some other predetermined hour. But time and space are all relative, and by the time she arrives, late, he has already acquainted himself with Pablo Picasso and sundry other characters in Steve Martin's Picasso at the Lapin Agile.
In case you're wondering what a 90-minute play by Steve Martin feels like, think Saturday Night Live meets Time magazine. It's a witty blend of light sketch comedy with literary spark, an intelligent nod here banged up against silly slapstick there. What if Einstein met Picasso in an illustrious Montmartre bar at the dawn of the 20th Century? How would they have interacted with each other as ambitious 20-somethings? Would they have shared their most intimate ideas on art and science?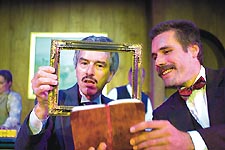 It's all relativity: Mick Tinder with Lucas
(Photo by Ray Gniewek)
All the stock characters of comedy make an appearance — the naïve bartender and his hussy hag of a wife, the smitten young lover and the philosophical barfly, the brazen clown in mismatched plaid and the pretentious art dealer. (This is Paris, after all.) Even Elvis appears on the scene, waxing poetic about stars and life and fate and stuff.
Martin isn't at all concerned with historical accuracy and under Scott Pafumi's stifling direction, you get the sneaking suspicion that the material could be a lot funnier than what is presented. Clever lines are thrown away in an instant ("No pun intended," remarks one character; "No pun achieved," comes the reply), and although the delivery is meant to be all very tongue-in-cheek, some actors struggle with when and where to draw the punchline.
Out of a dozen actors of varying talent, Eric Lucas is a bumbling "Albie," portraying the 25-year-old Einstein with dignity and a modicum of jest. His performance is thoughtful and nuanced, honest and even joyful in moments of revelation. Mark Rhea is less successful in his larger than life role — his Picasso comes straight out of a spaghetti western with his cowboy swagger and shameless bravado, an unconvincing portrait of the father of Cubism.
Picasso at the Lapin Agile
To Aug. 19
The Keegan Theatre
2700 South Lang Street
Arlington, Va.
$25
703-892-0202
www.keegantheatre.com
The rest of the cast barrels through Martin's juicier bits, until the late arrival of Mike Kozemchak's Elvis, stepping out in blue suede shoes to deliver a few words of wisdom from the future. Here Pafumi choreographs a surreal, celestial moment that lends a bit of art to what is, ironically, an artless play.
The exception, of course, is in Picasso's stunning work, which is at last illuminated by the realistic French saloon setting from George Lucas. The Keegan Theatre's technical standards are all top-notch, from Maria Vetsch's period costumes to Dan Martin's effective lighting design, and while it proves irredeemably pointless and unabashedly slapstick, Picasso at the Lapin Agile is a valiant effort from one of the leading masters of contemporary American comedy.