It's the most amazing thing: DJ Roger Sanchez can sing like Gene Simmons and Beyoncé. Heck, even Ciara. Don't believe it? Well, just listen to the first 20 minutes or so of his new artist album Come With Me. And then look at the listings for the four tracks you just heard: "1. Turn on the Music 2. Take A Chance 3. Not Enough 4. Lost." See any vocalists listed?
Nope, only DJ Sanchez makes the cut.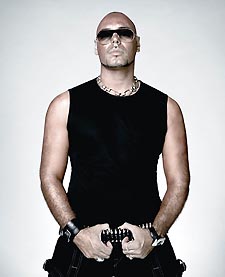 Tribal-flavored trackster: Sanchez
(Photo by Eva Mueller)
DJs Andy Caldwell and Ferry Corsten pull the same trick on their new studio albums. If you didn't know better, you might think there's an emerging class of gender-bending singing male DJs. But, of course, you know better. Super-straight Sanchez would not sing like Beyoncé on record, even if he could. And Caldwell and Corsten don't sound like women.
Today's DJs, not content with club- and compilation-based recognition, are becoming artists. That is, writers and producers of actual songs, for which they take sole credit, in the process slighting the vocalists they obviously see as expendable but whose voices give their productions an identity. How much does it matter? Results are what count, right?
---
Well, it does matter. But the fact is Sanchez and Caldwell have each created an accomplished set of pop music that could and should find mass appeal.
Sanchez, a New Yorker of Dominican descent, is a DJ held in high regard by the cognoscenti in the house music meccas of New York and Ibiza, the Spanish resort. He impresses with fervor, producing a banging tribal-flavored track, such as album opener and first single "Turn on the Music," with GTO on vocal duties. He serves up a passionate, bittersweet song right up Deborah Cox's alley, the new dance single "Lost," with the Ciara-esque Lisa Pure on vocals. Sanchez also creates two breezy, Latin-pop tracks, for which he breaks tradition and actually gives feature credit to his vocalists — Latin pop stars Omar and Alejandro Sanz are too popular to slight.
Like Sanchez, Caldwell is well-regarded among a subset of dance-music followers, in this case the even smaller category of soul house. But instead of the more churchy sounds, the San Francisco-based Caldwell creates an updated dance version of the secular music popular 15 and 20 years ago, from new wave to disco-colored pop/rock to uptempo-R&B. Universal Truth is an exceptionally solid collection of chunky, melodic songs that charm with strong guitar work, courtesy of Philippo Franchini and Gabriel Rene, and strong vocals from a rotating cast of female vocalists — Omega, Gina Rene, Latrice Barnett, Amma and Lisa Shaw, credited only in the album's liner notes.
Meanwhile, the DJ with perhaps the biggest ego in the business, Paul Oakenfold, bucks the trend and gives credit where credit is due on his new studio album, A Lively Mind. He identifies every vocalist, and not just those that are well known (Pharrell Williams, Grandmaster Flash). Of course, two of the newcomers he features, Spitfire and Bad Apples, are signed to his own Perfecto label, so he has a vested interest in giving them recognition.
Again, it's the results that matter, right? In that case, Oakenfold focused on the wrong thing. A Lively Mind suffers from serious A.D.D. Oakenfold got his start remixing rockers (New Order, and especially U2), but he's worked with hip-hop artists, including Salt N' Pepa and Ice Cube. As a result, his style — also heavily influenced by pretty, fast-paced trance — has always been a little scattered. That's never been more apparent than on A Lively Mind, a cluttered, unfocused collection of hard rock, hip-hop and trance. It could have been so much better, had he simply followed the template of first single "Faster Kill Pussycat," featuring actress Brittany Murphy.
Ultimately, the problem isn't just that DJs rarely give their singers the credit they deserve, even though that's shameful enough. The practice also hinders dance music's success, since only those willing and able can identify and then seek out the songs they like. A true classic song, of which many of today's DJs are proving themselves capable of composing, is generally remembered, and identified, by its singer, not its writer or producer. Do today's non-singing songwriting DJs really deserve more credit than that received back in the day by such pop master-crafters Burt Bacharach and Hal David? Bacharach and David knew better than to take outward credit — and yet, with time, they've gotten plenty of credit. It's possible we wouldn't even remember or know "Walk On By" if the songwriting team stole the spotlight away from Dionne Warwick, the song's signature vocalist. Unfortunately, carried away with dance culture's adoration of them, DJs are doing just that.