Jake Shears isn't joking when he sings "I Don't Feel Like Dancin'," on the first single from the Scissor Sisters' sophomore album. Sure, the song is a Bee-Gees-styled stomper written in conjunction with Elton John that's destined to become a gay two-stepping classic, but Shears just isn't feeling it: "Don't feel like dancin', dancin'/Why'd you pick a tune when I'm not in the mood?"
That song kick-starts Ta-Dah, setting the bar so high that you don't expect the rest of the album to be as fantastic and as celebratory (in a decidedly non-celebratory way).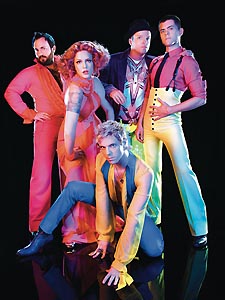 Snip snip: Shears (center) and bandmates
And it's not.
The gay rock band of so many dreams seems to have nearly exhausted its own supply of sweet dreams, some two years after becoming one of the United Kingdom's most popular bands. The Scissor Sisters — three gay men, a straight man, and a woman who considers herself a drag queen — have become one of America's leading underground bands, and have spawned a whole species of campy, glam-rock revival bands.
But not all yellow brick roads are paved with gold. The Scissor Sisters sound spooked by all that success on Ta-Dah, a mostly mellow and melancholy affair that suggests the band members are just about maxed out on fun. The album's cover photo not only suggests that the show is over — was it all just a masquerade? — but that the only way to go is down.
"Tomorrow's not what it used to be, we were born to die," they offer on "Intermission." They sing about love after death — specifically, about waiting for an earthbound lover to join the afterlife — on "The Other Side." And they sing about bringing along others for the post-mortem ride: "I can't decide whether you should live or die," begins the gleeful chorus to "I Can't Decide," on which Shears also sings, "Seems like something I've forgotten, curled up died and now it's rotten."
Thankfully Shears and company haven't forgotten how to appeal and entertain. They may not boogie as much these days, but their music still shows signs of life. There's no singular masterpiece on Ta-Dah in the manner of "Filthy/Gorgeous" — certainly no track gets quite that brazenly or feverishly ecstatic. But there is the band's first matter-of-fact love song, the sweet "I Just Might Tell You Tonight." And overall, Ta-Dah is a more focused effort than the band's eclectic self-titled debut. The brooding sensibility to the set was shaped in part by the band's own admitted stress in working to live up to the debut's success.
And then came Hurricane Katrina, offering another reason for the New Yorkers to be blue. New Orleans is an overriding motif on Ta-Dah — inspiring, as it were, lyrical tales of death and alienation, but also of independence and togetherness. Musically, the album is mostly focused on the early days of electronic rock, when dramatic and otherworldly special effects — not to mention cutting loose with electric guitars — predominated. With a couple notable exceptions, including the first single, the Scissor Sisters have essentially dropped the disco here — even post-disco-style dance music is largely absent.
Elton John, always an influence on the band, isn't the only guest star on board for Ta-Dah. Madonna's latest production wizard Stuart Price provides some vocal tricks on the KISS-worthy, but otherwise unremarkable, "Kiss You Off." David Bowie's guitarist Carlos Alomar adds some electro-funk on a couple tracks — and Bowie himself seems to have inspired the quirky, foreboding "I Can't Decide."
The band gets appealingly weird on "Paul McCartney," an ode to the grand Beatle, based on a dream Shears had in which McCartney told him, in effect, to keep singing. Except for the title, McCartney goes unnamed on this giddy disco/doo-wop confection, though it sounds like something he could have written post-Beatles.
Even here, though, the Sisters can't help but think about death. "When you're singing I'll be with you 'til the exit line," Shears sings to McCartney. Some dream, huh? Actually, it is. Despite all the dark and dour talk, despite every shortcoming, Ta-Dah will likely continue the dream of Scissor Sisters' fans. They'll carry on with their life, even as the elevator on the album cover can only go down.