There are older gay bars in D.C. than JR.'s Bar and Grill. And there are older JR.'s bars in the country than the local namesake. But at 20 years old, this landmark at 17th and Church streets NW has nonetheless earned its spot high in the D.C. gay-nightlife hierarchy. With capacity crowds during the annual High-Heel Races, the bar's Easter Bonnet Contest — and nearly any Sunday evening with $2 vodka doubles flowing — as well as a host of other events, JR.'s has obviously earned a strong following within the community, as well.
Eric Little, who bought the bar 10 years ago, was familiar with the venue even before it opened. Back in the early 1980s, working in the travel industry, Little often found himself in Dallas, home to the oldest of the country's four JR.'s bars.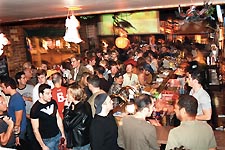 In the neighborhood: JR.'s during its 2005 Halloween celebration
(Photo by File photo/Henry Linser)
"I just loved the bar," says Little. "When I heard they were opening one here, I really wanted to work with them." And so he did, coming on as a bartender on opening day in 1986. With a few months of experience tending the patio bar at the now-closed Mr. P's, Little was familiar with the trade. What was new, he says, was gay bars like JR.'s coming out into the open.
"This was completely different," he says. "JR.'s was the next generation, with windows and bright lights."
Though Little can still be found mixing drinks behind the bar on occasion, he says he's turned over most of the day-to-day business to his manager, Dave Perruzza, who first set foot in JR.'s about 10 years ago after moving to D.C. from Hawaii, where he'd served in the Navy.
"I fell in love with JR.'s," Peruzza says of his first days in D.C. "There were friendly bartenders and the drinks were cheap."
Peruzza started work with JR.'s in the coat check, and within a year had joined the management.
As for where JR.'s will be 20 years from now, Perruzza jokes, "It'll probably be floating on some pad in the air." But long before "hover-bars" become routine, Little says the bar may expand into the adjoining building. A less ambitious, immediate goal, adds Perruzza, is turning the upstairs loft into a sports bar.
In the very short term, however, look for drink specials and giveaways to mark the JR.'s platinum anniversary.