From the first glimpse of the diminutive Owen Meany, a boy with oversized ears and screaming blond hair, we know he's more than a little different. It's not as if we're unaware that he's the centerpiece of A Prayer for Owen Meany, and it's more than the nail-biting expectation that John Irving's epic page-turner will translate well in the theatrical medium. It's that in the hands of actor Matthew Detmer, Owen Meany is no longer mere fabrication from a popular fiction novel — he's real, live flesh and blood.
And he's a little like magic.
The pint-sized hero in Irving's sprawling tale truly comes to life in Round House Theatre's much-abbreviated adaptation. With a screechy falsetto voice tersely described as "wrecked" and "ruined," Detmer intricately weaves the robust, animated edition of an unforgettable life.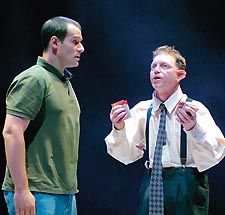 Living on a prayer: Kahn and Detmer
(Photo by Stan Barouh)
If you've never picked up a copy of the 600-plus page novel, don't fret. Director Blake Robison's cogent three-hour spectacle is a satisfying venture. If the audience is willing to invest an evening of three acts and two intermissions for a finely detailed, colorful adventure, then they are richly rewarded with an incredible payoff. A Prayer for Owen Meany lands with a stunning conclusion that is so unexpectedly profound, its lengthy setup seems nothing less than inevitable.
Robison revitalizes his efforts to stage contemporary literature with Irving's intriguing account of a young man who believes that he is an instrument of God. It's a real American fable that cross-examines the personal politics of faith and organized religion. The story is told from the point of view of Owen's friend John Wheelwright (Ian Kahn), an expatriate who grew up in New England with Owen. Wheelwright's own emotional and spiritual journey becomes the backdrop for Owen's tale, as the two are eternally bound through a childhood tragedy and one final, miraculous act that overwhelms Wheelwright with evidence that God does indeed exist.
It's the story of a curious little boy with great faith, a teenager with strong political conviction, and a moralistic adult on a mission to educate his peers. Owen Meany is patriotic to its core, a beautiful, intricate antidote to a country hidden behind a mask of religious piety. Owen believes from an early age that he has a very specific purpose (a privilege that most of us dare to imagine but seldom realize), and through ethereal visions and strange dreams, Owen documents the details of the day he believes he will die.
Irving's novel is given a wholly dramatic treatment by English scribe Simon Bent, and here Robison indulges us with whimsical touches that match the quirky sensibility of Owen's world. Irving is nothing if not a storyteller, and through the vast playing spaces designed by James Kronzer and music from Matthew M. Nielson, the tour moves from an innocent schoolyard in 1948 through the tumultuous years of Owen's short and prismatic life.
It seems that Bent couldn't bear cutting such rich source material down to one unified script. Late in the third act, Owen delivers a surreal monologue addressing the cloudy political climate of our apathetic nation. It is at once superfluous and uncharacteristically didactic, but the rant serves a greater purpose. Bent's heavy-handed patchwork speech allows us to see Owen beyond his Mickey Mouse voice and oddball appearance, offering a glimpse into the play's poignant message of destiny and predetermination.
A Prayer for Owen Meany
To Oct. 8
Round House Theatre
4545 East-West Highway
Bethesda, Md.
$25-$55
240-644-1100
www.roundhousetheatre.org
While Detmer fills the stage with impressive fervor, Kahn turns in a brilliant performance as John. Capturing the wonder of a child alongside the world-weary burdens of an everyman, Kahn anchors the evening with crisp recollections and amusing asides. But the two best friends also share the spotlight with an energetic ensemble of veteran regional actors, including Stephen F. Schmidt, in a titillating round of character performances, and Lawrence Redmond, as Owen's father, a bitter old curmudgeon.
With a dash of black humor to temper its intimate meditation on faith and hypocrisy, A Prayer for Owen Meany proves an irresistible examination of fate and the belief in a higher power. The beauty in Robison's production is how it gently raises huge questions and, however unlikely they may seem, provides equally huge answers.