It's hard to believe that folk-pop mainstays the Indigo Girls have been recording together for twenty years, but then again, who can imagine a summer concert season without them? Despite Our Differences, their tenth studio album, is a celebration of the two distinct personalities and songwriting styles of Amy Ray and Emily Saliers. Emily is the gentle, romantic yin to Amy's rockin', politically-charged yang. Their differences create a unique tension and balance that has endeared them to fans for two decades. Moving beyond their personal differences, the album also addresses the growing unrest in the world, as well as the give-and-take of intimate relationships, placing Despite Our Differences among the duo's finest works.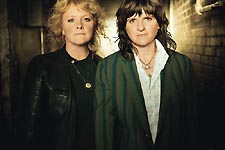 Despite Our Differences is the duo's first album for Disney-owned Hollywood Records, their new home after completing their contract with Epic, where they have resided since their 1989 major label debut. But never fear, the Girls haven't toned down their leftist political rhetoric and occasional F-bombs for their family-friendly parent company. While the new label brings with it a series of changes, the Girls' signature harmonies and heartfelt songs are still at the forefront.
This time around, the Girls pair with veteran producer Mitchell Froom (Suzanne Vega, Sheryl Crow, Paul McCartney, Los Lobos), leaving behind their comfortable Georgia digs in favor of Froom's intimate home studio in Santa Monica. The duo recorded most of the album live in one room, and the recording time was also condensed by half, clocking in at six weeks instead of the usual three months. The result is a stripped-down, organic album that comes remarkably close to capturing the energy of the Indigo Girls' ever-popular live performances.
Once again, Emily explores love and relationships in the moving affirmation of "I Believe In Love" and on "Lay My Head Down," a song in which a partner provides a comforting, emotional center in an otherwise chaotic world. "Fly Away," a serene piano ballad reminiscent of "Leeds," showcases the upper register of her voice.
Amy continues to expand her songcraft as she explores larger social concerns in contemporary America. Her acoustic "Dirt and Dead Ends," a stark portrait of desolation and desperation in the heartland, shines as one of Differences' most brilliant moments. The hardships and harsh realities of bank foreclosures, meth labs, and encroaching suburbia are addressed with frank, detail-rich lyrics. A plaintive harmonica punctuates the somber song like a tubleweed rolling across a forsaken Midwestern landscape. She again takes on suburbanization and the plight of rural, agriarian life in "They Won't Have Me" — "Who's gonna do the planting, and who's gonna pray for rain, and who's gonna keep the farm land from the subdivision man?"
Despite Our Differences also offers a pair of compelling guest vocal turns. Pop badass Pink delivers a full-throttle call-and-response counter melody on Amy's "Rock and Roll Heaven's Gate," which chronicles the demise of several influential punk bands. With driving drum beats and grinding electric guitars in the punk tradition, it's by far the hardest rocking song on the album, and a strong argument in favor more Pink/Amy Ray collaborations. Pink is simply repaying a favor; the Girls joined Pink on the Bush-bashing "Dear Mr. President," an acoustic protest song on her most recent album. On the other end of the musical spectrum, emerging singer-singwriter and recent Indigo Girls tourmate Brandi Carlile harmonizes with Emily on album closer "Last Tears," a mournful pedal steel-inflected country song resolute in moving on after a relationship's end.
Another duo of a decidedly different bent is beginning to make its mark in lounges and clubs across the country. In the Deep, the debut album by D.C.'s own downtempo electronica duo Jette-Ives, is a sophisticated and salacious, if somewhat melancholy, ode to the lust and heartache that linger in the wake of a romantic affair. A jazz-infused late-night soundtrack, it's equally suited to steamy romance or solitary self-reflection.
Comprised of vocalist/lyricist Jette Kelley and composer/producer Holmes Ives, Jette-Ives is stylistically similar to Portishead, Massive Attack and Thievery Corporation, but with a distinct jazz edge. Like the finest dark chocolate, Jette-Ives makes music that is seductively sweet with a hint of bitterness.
Holmes Ives has produced and remixed for a number of leading dance and electronic artists, including Moby, Deep Dish, BT, John Digweed, and Bebel Gilberto, and he has released his original downtempo compositions and collaborations through his independent label, OVA Records. He paired with Jette — though not romantically — to create the melodic songs on In the Deep. A careless affair led Jette, a classically trained, smoky-voiced ingénue, to channel her emotions into letters, poetry and prose. With the exception of a gorgeous, dreamlike cover of Chris Isaak's "Wicked Game," all of the songs on In the Deep are based on those private writings.
Listening to this bewitching album is an almost voyeuristic experience as Jette recounts romance gone awry. From the drunken debauchery of a "gin-soaked first kiss and the disillusionment that will hit hard in the morning" on "E~" to the darkly sexual "In the Presence of…" and the images of darkened alleyways and seedy hotels it conjures, to the vivid, cinematic detail with which the achingly beautiful "Thin Ice" describes the point of no return, In the Deep is nothing if not exceedingly wanton and deserving of your attention.