It's a brave move to stage Sophie's Choice as an opera, considering the popular culture stature of both William Styron's original novel and 1982's star-filled movie version. But such a heart-wrenching story born of historical truths requires a brave audience, too. Unlike the film or book, where one can say, "Not tonight, dear, I just can't cope with it," ticket-holders for the opera are locked into the experience, whether they are up for the horrors of the Holocaust or not. Perhaps that becomes essential to an operatic experience such as this, whether the creators realize it or not.
So with this Sophie's Choice there comes a trepidation, a kind of uncomfortable apprehension and fear, since we already know Sophie's terrible secret — this experience is really about the composer, director and actors unfolding the horror anew. And yet, unlike the usual operatic fare, we will have none of the comforts of a fiction or the calm distancing of time. This is history within "our" time, speaking to atrocities that happened within living memory. So how do we as audience receive it within the operatic milieu? How can composer and director give meaning to this nightmare?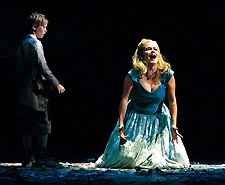 Painful decision: Kirchschlager
(Photo by Karin Cooper)
Certainly with beautiful, soulful music, which British composer Nicolas Maw ably provides. The score runs like a long river moving between rapids and stillnesses, pulsing with deep life, clearly contemporary but nevertheless brimming with accessibility. The sadness and despair are expressed with amazing tenderness and dimension. Conductor Marin Alsop commands these moods brilliantly.
But as textured and melodic as the music is, the voices do not always quite flow. For one thing there is an abundance of what might be called "talk-singing" with barely any arias and duets in the traditional sense. Yes, Maw is a post-war composer and thus "modern," but he has also confidently moved away from some of the more avant- garde concepts. His blend of old and new is wondrous, but nevertheless, every so often the strings soar and one yearns to hear the voices soar with them in a conventional melodic mode. The traditional aria is a cathartic experience and, frankly, that is one of the reasons it has been around for so long, as well as its ability to showcase talent.
Maw also wrote the libretto and it is between this and director Markus Bothe's efforts that the production's other shortcomings emerge. The scenes between Sophie and her two American companions, her lover Nathan and new friend Stingo, have an awkwardness to them that slows the dramatic tension created by Sophie's otherwise powerfully delivered reminiscences and revelations. Yes, these vignettes are memories and thus not meant to be gritty reality, but the staginess is distracting, bordering on the garishness of musical theater. Conversations that would in life be fast-paced, casual banter become long, predictable sequences so drawn out that one begins to wonder if they contain some kind of subliminal messaging. But no. The clues to Sophie's nightmare are dealt with distinctly.
Baritone Rod Gilfry, reprising his role from the 2002 premiere of this opera, sings Nathan with precision and passion, but his high-octane performance adds to the excesses. The erratic injections of Yiddish are not of his doing, but their incongruity highlights the otherwise non-descript characterization. It's very hard to find anything appealing about this Nathan and it weakens the emotional tension in Sophie's unraveling.
Mezzo-soprano Angelika Kirchschlager, another reprise from 2002, sings Sophie in wonderful voice, bringing a touching fragility to her portrayal. One sees at every turn how broken this woman is. Some of the smaller moments are among the best, as when she is left in the near-dark for a moment and the music transports us instantly into her inner Hell.
SOPHIE'S CHOICE
Kennedy Center
Opera House
Sept. 27 & 30
Oct. 5 & 9
202-295-2400
www.dc-opera.org
Gorgon Gietz sings Stingo and delivers a warm, strong tenor. His thoughtful acting helps anchor some of the more flamboyant domestic scenes and he makes a believably solemn witness to Sophie's revelations. The remainder of the cast also bring superb singing and acting to the production.
And thus, we are left uneven. We are brought to this horror again and we see it through new eyes. It is a long, hard evening. Perhaps the entirety of Sophie's Choice could not show us what opera can do with such real tragedy. If nothing else, Maw has given us a wonderful piece of music through which to grieve for the titular heroine.