Shortly after clambering into the Land Rover LR3, I found myself sitting behind the wheel and repeatedly pressing the button that made the big SUV raise up and down to ready itself for rough terrain or provide access to the undercarriage. If I'd just had "Low Rider" blaring on the stereo it would have been perfect.
When it comes to cars, it's the little moments that count.
After indulging my juvenile fascination with pressing buttons I should probably best leave alone — you can just imagine what it was like keeping an eye on me as a kid in my dad's machinery-filled shop — I was able to settle in and start thinking about whether or not I liked the Land Rover.
Note that at this point, I had not started driving yet. But the first test any vehicle has to pass, at least for us more common consumers, is the look and feel test. And the LR3 is a sharp-looking SUV, appropriately enough, given that the grille resembles a new-fangled razor. It embodies the boxy look currently in favor, while still finagling enough stylish touches — interestingly shaped windows, fashionably chunky lights — to keep it fresh.
On the inside, things looked pretty good as well. Felt good, too: It's like sitting in an expensive leather glove. The front and second row passengers both enjoy their own functional sunroofs, and even way back in the third row passengers have a transparent roof over their heads. All the windows make the LR3 feel appealingly open.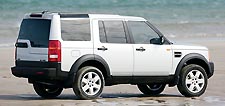 The third row seats are fairly functional as well, once I figured out how to get them open (manuals are only for desperate last measures, you know). Given that I don't have my own full family to put these big suburban haulers through their paces, I was lucky enough one evening to have access to someone else's family — two parents and two kids, letting us fill out every row. We found that the third row is great for kids up to their early teens, though once they get adult-sized they may find it cramped. But they like having their own climate and entertainment system volume controls, though that may likely have been because I was using the satellite radio to indulge my nostalgia for '80s hair metal.
At this point, I was actually driving the LR3. One thing immediately stood out: the long time it took to reach cruising speed. Considering the size and power of the engine — a 300-horsepower V8 — you might expect a little less ponderous acceleration, but the LR3 seems to be more concerned with being able to pull steep hills, navigate flooding creeks, or otherwise traverse the natural obstacles and disasters that are such a part of everyday life for suburban road warriors.
While it was a bit slow to get to speed, the Land Rover handled nicely and rode comfortably. The British-accented navigation system guided me to my destinations with, of course, aplomb. Everyone raved about the ride, and would have gladly come back for another. It's a quality piece of work.
2006 Land Rover LR3
Base MSRP: $52,985 ($56,475 as tested)
MPG city/highway (est.): 14 city/18 highway
Highlights: Luxurious and roomy interior fits like an expensive glove; functional third row
seats.
Lowlights: Ponderous acceleration combined with poor gas mileage.
But then you pull into a gas station and, well, things aren't quite so pretty. The LR3 rates at 14 miles per gallon in the city, 18 on the highway, numbers that aren't that great even when gas is cheap. Perhaps people who are willing to put down about 60 grand on a fully-loaded luxury SUV aren't overly worried about the cost of the gasoline that might as well have its own pipeline from the refinery.
For the rest of us, the Land Rover LR3 is a fine looking and riding SUV that forces us to consider what we really need. Do we really need a sumptuous interior? Do we really need massive off-road capabilities? Do we really need a boatload of gew-gaws and luxuries at the expense of gas mileage?
But even if the answer is no, the LR3 is still a pretty tempting proposition.
To read more of Sean Bugg's car reviews, visit www.metroweekly.com/gears.