Meg and Dia Frampton are not lesbian sisters. But they may make you think of lesbian sisters Tegan and Sara Quinn, leaders of the five-piece pop band Tegan and Sara. The Framptons themselves are leaders of another five-piece pop band, Meg & Dia.
The strange similarity between the two bands' names only scratches the surface. In fact, there are enough similarities to make you suspect Meg & Dia modeled themselves after Tegan and Sara — similarities from their physical appearance to the age when they began to shape their sound: punky but pleasing pop music rich with catchy hooks that wouldn't be half as sweet without the double pleasure of sisterly harmony.
Still, there are clear distinctions to be made, and not merely a distinction between lesbian sisters vs. straight sisters. The Quinns, from Vancouver, are identical twin sisters, while the Framptons, from Salt Lake City, are sisters with two-and-a-half years between them. The bigger distinction to draw between the two is a matter of sophistication, or perhaps simple experience: With three albums under their belt, Tegan and Sara create stunningly original and often achingly heartfelt music of sophisticated pedigree. Meg & Dia, on the other hand and so far, judged solely on the basis of their debut album Something Real, create unobjectionable music of only above-average pedigree.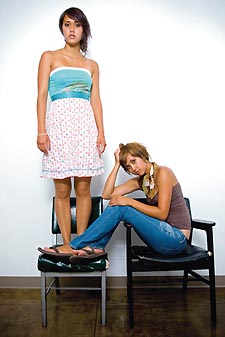 Sisterly harmony: Meg and Dia
That's not to say Something Real isn't sweet and spirited. Meg Frampton handles chief songwriting responsibilities, and she generally fashions punchy, dramatic songs that take unpredictable twists and turns. It helps to hold your interest in otherwise pretty standard-fare confessional pop. And it helps to keep naïve-voiced Dia's occasional whine and not-always-feeling-it emotional delivery at a minimum of annoyance. Lyrically, Meg focuses on love, but also on her love of literature. The first single, "Monster," was inspired by John Steinbeck's East of Eden, and another song was inspired by George Sand's Indiana.
Including literary inspirations and references in pop music is fairly unique, and Meg & Dia do a decent job of pulling it off — "Monster" and "Indiana," for example, are two of the better songs on the album. Still, the whole exercise is a little contrived, something akin to a class assignment in a college musical composition course. Extra credit for overwrought concepts that defy practical meaning to the listener.
In a promotional essay — perhaps assigned as part of the composition course's final project? — Meg readily and refreshingly concedes that the green band learned a lot in the recording process, and will continue to learn as they keep at it. Because the album, even with its flaws, generates enough sparks of interest and creativity, there should be little doubt the band will improve as it learns.
Something Real, in other words, promises something better next time from Meg & Dia.
Tegan and Sara won't release their fourth studio album until sometime next year, but they just issued a live tour DVD, It's Not Fun. Don't Do It! Because Tegan and Sara sound as good live as they do on record, and because their live show is so much, well, livelier than most, you expect this DVD to be more compelling than it actually is. It includes a somewhat tedious tour documentary, but the biggest problem is the DVD's version of a February 2005 performance in Toronto. The band cut out the between-song sassy banter that is the duo's hallmark. The off-the-cuff, of-the-moment banter wouldn't age well, the sisters speciously reasoned.
The DVD does include a fascinating glimpse into the frequently frustrating recording process — in this case the making of the band's brilliant third album, So Jealous. The sisters' differing songwriting styles and personalities are on full display, and despite some serious bickering, it's clear the band is better for their joint collaboration. They suffer for their art to entertain the rest of us.
Speaking of sister acts: Stefy Rae could be mistaken, at least vocally, as Gwen Stefani's younger sister. (Though Stefy Stefani isn't much of a name.) Rae seems to have modeled the band she fronts after Stefani's work in No Doubt — she even name-checks Stefani at one point. Like that predecessor, this four-piece band, Stefy — see a naming pattern here? — hails from Orange County and creates punky new-wave-inspired electro-pop: cold, heavily syncopated music made warmer by virtue of a strong and sultry lead vocalist. Stefy's debut, The Orange Album, is fun and frivolous on the surface, and No Doubt fans just may take to it — as may fans of the many original electro-pop bands with clear influence here, from the Thompson Twins to ABC to Duran Duran.
Ultimately, however, The Orange Album sounds too derivative to register more than passing interest. And it's too derivative to stand up to scrutiny. The sound is so dated and rehashed on even the most appealing songs, you can't help but feel guilty for liking them. On the song "Orange Crush," Stefy sings about a boy as fake as the titular '80s-staple soft drink: "You're flat and stale, I had to bail." It's the perfect warning label to all who would think of imbibing her music.