FERGIE TAKES ON TINA… Stacy Ferguson has had an effect on the Black Eyed Peas something akin to crystal meth. Before Fergie, the Peas were a quirky, left-field hip-hop outfit focused on having small-scale fun. After Fergie, the Peas became a powerhouse of hip-hop focused on world domination. What you think about Fergie will color whether you think, three years on, the sole female Pea was a good addition — or a bad addiction. To be sure, Fergie has become such an integral part of the Peas' pod that, should she leave, it would probably be best for the Peas to disband rather than go on without her. But she's not leaving the band and they're not breaking up, Fergie has stressed in interviews promoting her solo debut album The Dutchess.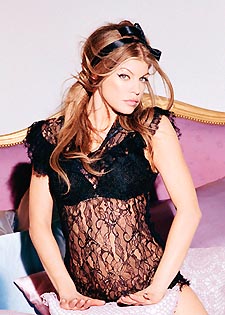 Fergie
In any case, Fergie has also been the one to start the conversation about crystal meth, since she's also been stressing in interviews her past use of the drug. In the process, she's significantly enhanced her likeability, becoming one of the few pop stars to speak out about the drug. Unlike many anti-crystal crusaders, her cautionary message is especially powerful, since it's informed by personal experience. "In my experience, ecstasy led to crystal meth, and I just think that people don't know how addictive that drug is," Fergie, 31, told New York's H/X Magazine. "It's so cunning because it's such a fun drug at first. You lose weight and look great for a while, but I don't care if it takes six months or five years, it will creep up on you. Don't be fooled and think you're special."
Fergie told H/X that she's been crystal-free since 2001 and her days as part of the pop trio Wild Orchid. Five years later, she's out to warn the world of this illegal drug, as opposed to, say, marijuana, which positively inspires her on one of the album's tracks, "Mary Jane Shoes." Fergie actually started work on her solo album three years ago, just before she joined the Peas. In many ways, the album sounds like a Peas album with a bit less rap — and that's because in many ways it is a Peas album with a bit less rap: the Peas' Will.i.am produced most of the tracks here.
But Fergie creates an album that's singularly hers, one that shows an impressive range. It segues from silly, banging hip-hop tracks to serious, lush ballads that sparkle, on account of a genuine theatrical flair to the arrangements. And Fergie repeatedly includes important messages throughout, about inner-beauty and strength, in addition to those addressing her former crystal addiction. She does this on the Christina Aguilera-strength power-ballad "Losing My Ground," and also on the sad-and-sweet swampy-hip hop track "Voodoo Doll." That last track features verses with an incessantly driving bass beat and lyrics familiar to anyone who's seen what meth at its worst can do: "Mind playing tricks on me/I'm paranoid, homie," Fergie sings in a rising voice. "Nobody know what I'm going through/God, I'm so lonely. I know I'm losing it."
Fortunately, she didn't. Instead, Fergie proves that her success is no fluke, that she's not a fly-by-night artist. This woman, warts and humps and all, has a message and a determination. She's got staying power….
THE SUGARCUBES REUNITE, BJORK AND ALL… A different band's female lead singer went solo just as it was becoming famous. Bjork, of course, went on to become both famous and infamous. But on Nov. 17, Bjork will finally rejoin her quirky, alternative-pop band the Sugarcubes to commemorate its 20th "Birthday" — in honor of the band's first single — for what is being billed as a one-time only concert. Proceeds from the reunion concert in Reykjavik, Iceland, will include other to-be-determined bands and will benefit the band's own nonprofit record label, Smekkleysa SM (English translation: Bad Taste), home to most of the other Icelandic rock bands you've heard of, including Sigur Ros and GusGus.
The Sugarcubes had developed a cult-like following stateside by the time of 1988's Life's Too Good. In 1992, they scored a major hit in Britain, with "Hit," with a familiar refrain: "This wasn't, supposed to happen… I'm in love again." That same year they also opened for U2 on the elaborate Achtung Baby/Zoo TV stadium tour. All that attention put them over the edge, so to speak, and in short order they disbanded.
"Our main objective when we started was not to get a record contract and try to make hit singles. We started because we wanted to have fun," trumpeter/vocalist Einar Orn told Pitchfork Media. "[When it came to] the complexity of making music to make money, it became a bit stranger for us." So they stopped. But for one glorious night, they'll start it up, all over again. Don't you wish you could be there? Well, Icelandair is sweetening the proposition, synergistically offering a package deal starting at a cheap — all things considered — $669 per person, which includes a concert ticket, two-nights' hotel lodging and roundtrip airfare. Remember, this wasn't, supposed to happen. And yet it is….