It's always a good sign when audience members exclaim both "Hideous!" and "Wonderful!" as the lights come up at intermission. It means something has stirred the pot, perhaps even a bit of directorial courage and conviction. Such revulsion and awe both followed the first of two one-act operas opening Washington National Opera's fall season. The curtain had fallen on Bela Bartok's only opera, Duke Bluebeard's Castle, as brought to us by director William Friedkin, who certainly went out on a limb — quite literally. Not surprisingly, the reactions came at gut-level.
Best known for such film classics as The Exorcist and The French Connection, Friedkin has been directing opera since 1998. Few film auteurs dare venture into the rich but deeply particular traditions of opera, but there is no doubt that Friedkin belongs in both media. He may not make the coifed set purr, but Bluebeard shows that Friedkin can deliver the genuine innovation, edginess and accessibility that today's opera needs.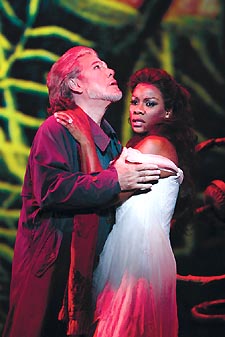 Matrimonial woes: Ramey and Graves
(Photo by Karin Cooper)
Still, one has to smile when the back screen fills with images that would pass muster in one of the more recent (if tamer) horror flicks, the kind of movie that the bejeweled lady in the next seat most certainly won't be seeing. But for those of us who roam without shelter, such images fully succeed within the larger, stunningly rendered metaphorical qualities of this production. In truth, Friedkin is not out to shock, he is simply in possession of an unfettered visual sensibility.
Whether you know the story of Bluebeard from the fairy tale or the B-movie, the bottom line is the same: This is a guy who likes to dispense with his wives on various pretexts. In modern parlance, he's a serial killer. The brilliance of Friedkin's interpretation is his ability to match — indeed enhance — the dark magical intensity of Bartok's score while at the same time courting our disgust at the depravity of the killing. Two supremely different moods and yet Friedkin spins both plates without a wobble. As Bluebeard's newest wife, Judith, insists on opening each of the seven doors within his castle, we experience deeper and deeper facets of his disturbed psyche, first through beauty then through evil.
Interestingly, Friedkin's vision is reminiscent of the much underrated (though flawed) film The Cell — the interiors of a similarly sick mind are brought to bear with unusual creativity and mood. The problem is, in a day and age where the most horrific real and imagined crimes are exploited with voyeuristic fervor can we really applaud yet another version on the theme, no matter how artful? And thus, both patrons are ultimately correct: Bluebeard is both wonderful and hideous.
And at the center of this superbly crafted nightmare is famed mezzo-soprano Denyce Graves, who makes Judith truly her own. It's impossible to imagine anyone else bringing such life and warmth and dimension to this woman. Frankly, it's her best interpretation at the WNO to date, the first in which her star does not outshine the character. Her voice is a perfect match for Bartok's intensity, his play between lyrical longing and pulsing stridency. Graves sings with a lush, round power that forges itself in the music and drives the drama.
Duke Bluebeard's Castle
Kennedy Center Opera House
202-295-2400
www.dc-opera.org
But the performance isn't about bravado — Graves gives Judith an innocence of heart that fills her desperate discoveries with touching despair. Bass Samuel Ramey sings Bluebeard with resonant stoicism, but he moves awkwardly around Graves's fluidly drawn woman. Somehow he doesn't quite connect to the castle. Is he repentant? Stark raving mad? Simply vicious? All three? By the time he claims Judith, he has failed to come fully into focus.
Ramey appears again as Gianni Schicchi, the title role in Puccini's only comedy, which serves as the second opera of the night. He seemed abundantly more comfortable in this well-choreographed and highly physical character, making the stage his own and inadvertently upstaging a few of his colleagues. Unfortunately, the ensemble cast is somewhat uneven with mezzo-soprano Elizabeth Bishop delivering a very fun and strong Zita, but tenor Antonio Gandia and others lacking balance. Everyone seems to have been left to their own devices without much view to the cohesive whole and that falls squarely at the feet of Friedkin, who may have given his all to Bluebeard. There is a lot of running around, but save for a few cute references to Bluebeard and Ramey's charisma, not much going on. Still, if the idea is to send the mainstream home mollified after the horrors of the first half, it works.
Performances on 9/25, 9/28, 10/1, 10/3 and 10/7.