Do you find it sexy for a man to hurl, smash or crack mirrored disco balls? It may sound sacrilegious to gay culture, but there's gay-popular Justin Timberlake doing it on the cover of his new album, FutureSex/LoveSounds.
Along with posing as a stick-up bandit on the album's center spread, Timberlake's point seems to be to put some ironic distance between the past and the present — and by extension, the future. One listen to the album, deeply informed by disco, proves that Timberlake is only pretending to hate the not-particularly macho dance genre. He's also only pretending to threaten any listener with an anti-disco attitude. In his bandit getup, it's two fingers he's aiming at you, after all, not a gun. And underneath that silk bandana you're sure he's smiling.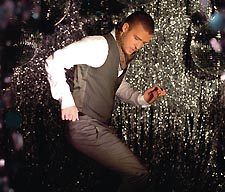 Disco Bandit: Timberlake
Timberlake seems to have near-universal appeal, and his charm and good looks are only the half of it. His music isn't just unobjectionable — it's also progressive enough to please even the most critical connoisseurs of pop. And with FutureSex/Love Sounds Timberlake has outdone himself. Working mostly with electronic wizard Timbaland, Timberlake has created blippy techno and slinky staccato urban tracks with just enough melody to win over diverse audiences. And his undeniable sexual charisma, and the sexual heat he generates on record, is always tempered by a cute near-innocence to what he says and how he says it. You can't help but smile when, on "Sexy Ladies," this skinny, former boy-band singer refers to himself as "big daddy" and to the woman he's courting as "little lady."
Timberlake, 25, draws heavily from '80s-era electro (disco, post-disco and R&B) to fashion his future-pop sound. He falters when his focus is too small-scale, emphasizing simplicity and repetitiveness over complexity and unpredictability. As inventive and rousing as it is, "SexyBack" has a chorus lacking an actual melody to fully hook the listener. And Timberlake isn't exactly clear what to do once lust turns to love — his romantic ballads suffer from rehashed melodies and clichéd lyrics, merely acting out what he's heard before.
Speaking of that, on the otherwise great "Losing My Way," Timberlake loses the convictions of his lyrics about the perils of drug addiction. He lets the listener know right away that he's singing in character as a drug-addled protagonist named Bob. Wouldn't want a listener to think this former Mouseketeer was speaking autobiographically.
But when the Timberlake and Timbaland actually think big, they realize their grand ambitions to reshape pop. At times, they go beyond constructing singular, traditionally structured songs, instead tying multiple songs and song ideas together, through variations on a melodic theme. After about five minutes, the easy-going and jaunty "Lovestoned" segues into a sweet, heavy-hearted interlude, "I Think She Knows." Alternatively, the pained and hurting "What Goes Around…" — which sounds like a sequel to "Cry Me A River" — segues into a grunting and angry karmic rejoinder "…Comes Around."
And that's when you realize another level of meaning to Timberlake's album-art imagery. The disco ball is cracked open not just to move on musically from the past — to "go ahead, be done with it," to use Timberlake's language. Like a metaphorical onion, it's also cracked to reveal layers of unexplored and unexamined ideas hidden inside. And the silk-bandanna bandit is only asking for your undivided attention while the deed is done.
Give in to the disco bandit, and you'll see what you might not have before: It's actually a sexy act.
Lionel Richie also tries to be sexy on his comeback effort Coming Home (Island Records). It's the veteran R&B balladeer's sixth album since his 1983 mega-selling solo debut Can't Slow Down, but you'd be forgiven if you haven't heard about him in some two decades, beyond mention of his role as Nicole's father. Richie hired many of today's hottest producers in a blatant attempt to recapture some of his former glory, but the end result is only modestly successful. He's still got the ability to turn out glorious, timeless ballads that straddle the divide between R&B and light country. But hearing the 57-year-old Richie singing about his "girl" keeping him up all night — and not to play bridge — isn't too exciting. It's just not sexy.