In times of change, it's common to seek out a source of comfort and stability. For some, that means indulging in a favorite childhood food. For others, it means spending more time with friends. But for musicians, it most often means a return to their musical roots.
Virtuoso mandolinist Chris Thile (rhymes with "freely") is one such musician weathering changes these days. His primary band, the Grammy Award-winning trio Nickel Creek, announced it will soon go on indefinite hiatus; he's still feeling the pain of his 2005 divorce; and he recently moved from Nashville to New York City. These changes were the genesis of Thile's latest solo album, How to Grow a Woman from the Ground, his most traditional bluegrass album in years. Self-produced, the album is an amalgam of originals and inspired covers that explore heartbreak and loss, with the occasional glimpse of hope and healing. Laying his emotions bare, Thile calls the album a "patchwork quilt" of the rise and fall of his marriage.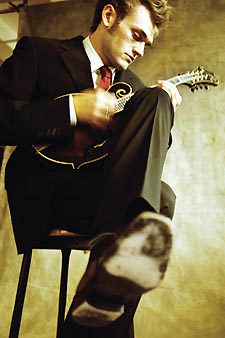 Mandolin man: Thile
A prodigious player, Thile recorded his first solo album at age 12 and was soon receiving national accolades. Now 25, he's an old pro. While Thile played every instrument on Deceiver, his densely experimental album from 2004, this time around he shares the duties with his newly assembled all-acoustic bluegrass band of accomplished young musicians — Chris Eldridge (guitar), Greg Garrison (bass), Noam Pikelny (banjo) and Gabe Witcher (fiddle). Collectively known as How to Grow a Band, the group displays youthful dexterity along with superb and intricately intertwined ensemble playing that would make Bill Monroe proud.
In a return to old-time practices, the album was recorded live in a single room with the musicians sitting in a circle around two microphones. With no overdubbing, the recording captures the energy and reactions of live performance. The boys imbue the album with a nostalgic sound while simultaneously giving it a slight alternative edge marked by Thile's charismatic, rock-star-in-the-making swagger.
Thile's still recent divorce and lingering heartache is fodder for his three original lyrical compositions, all ballads. On "Stay Away," he sounds wounded as he sings, "Just don't ever make me fall in love again." His mood is lifted only slightly on the sweetly sentimental "You're an Angel, and I'm Gonna Cry" and "I'm Yours If You Want Me."
That same sense of loss is the impetus for many of Thile's cover song choices. He transforms The White Stripes' sullied blues-rocker "Dead Leaves and the Dirty Ground" into a back porch jam session, showcasing the band's dynamic range and his own high lonesome tenor. He milks the lyric for all its loneliness: "I didn't feel so bad 'til the sun went down / I got back home no one to wrap my arms around." Thile also gives a radical reinterpretation to The Strokes' "Heart in a Cage." These alternative rock covers aren't such a stretch for Thile considering that Nickel Creek's cover of Pavement's "Spit On A Stranger" is a concert staple.
Thile also covers more traditional country and folk fare, including Gillian Welch's "Wayside (Back In Time)," about a man who wants his relationship to return to its former glory. Jimmie Rodgers' "Brakeman's Blues," a country blues tune by way of bluegrass, offers one of the lighter lyrical moments. True to Rodgers' signature style, Thile even breaks loose with a spirited yodel. What he lacks in vocal precision, Thile makes up for in his freewheeling enthusiasm.
Five instrumentals bring much-needed levity to the album. How to Grow a Woman is bookended by a pair of Thile originals, the lively "Watch 'at Breakdown" and the equally fast-paced "The Eleventh Reel." The most dexterous of the instrumentals is "The Beekeeper." Reminiscent of Nikolai Rimsky-Korsakov's classical masterpiece, "Flight of the Bumblebee," it builds from gentle, jazz-inspired bass noodling to take frenetic flight, sounding like a swarm of bees.
Thile's How to Grow a Woman from the Ground channels his pain into a back to basics bluegrass album that's one of the best of his career. Heartbreak has never sounded so good.
Jonny Lang, another 25-year-old former prodigy, is back with Turn Around, his fourth album. He topped the Billboard New Artist chart at age 15 with his major label debut, the blistering blues guitar-based Lie To Me. His debut and its follow-up were solid releases steeped in covers of blues classics, but as he has matured, he has unsuccessfully attempted to reinvent himself as a singer-songwriter. Turn Around is an insipid mix of roadhouse rock, gospel and R&B, heavy on spirituality and light on hot riffs and licks.
Lang's choice in artistic collaborators is quite telling of his new musical direction. He duets with former Doobie Brother and blue-eyed soul icon Michael McDonald on the smooth jam "Thankful," which is buoyed by a gospel choir. Former Prince and New Power Generation drummer Michael Bland anchors the rhythm section for the album; his last name says it all.
Lang is a first-rate guitarist, and his husky voice is well-suited to singing the blues, but the one-two punch of overt spiritual ideology and sub-par songwriting makes him all but irrelevant. The only selling point for Turn Around is that Lang makes for good eye candy on the album cover.