Arena Stage's new production of Cabaret is a force of nature — a thunderstorm that starts as the rumble of gin-fueled laughter and ends with a darkness so physical and abrupt it feels like a slap.
Cabaret begins without overture or even the sudden hush to which most theatergoers have grown accustomed. The slim orchestra, dressed in a mix of bowler hats and women's clothes, wander in and take their seats. A member of the ensemble slowly circles the theater-in-the-round stage with a bored expression and a sign that instructs the audience, in English and German, to turn off their cell phones. When the cast takes the stage there's an accidental feeling to it. It's as if someone missed a cue or the actors were partying all night and have only just crawled out of bed to perform.
Artistic Director Molly Smith blurs the line between theater and reality in a manner as skillful as the Dada artists she credits as the production's inspiration. She and her artistic team have done away with Arena's Fichandler Theater and replaced it with the Kit Kat Club. Smith's company, an impressively diverse group of actors, move constantly about the stage, clustering in and out of a number of bawdy, silent vignettes. There is always something interesting going on in the periphery, some illicit action in a dark corner that adds to the gorgeous texture of Arena's interpretation. Life is indeed a cabaret and the performers Kit Kat Club's performers are determined not to miss a minute of it.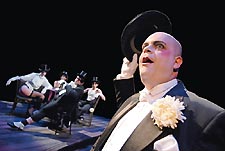 Into this world wanders Clifford Bradshaw (Glenn Seven Allen), an American writer who has been wandering around Europe in pursuit of a novel he never seems able to start. A chance meeting on a train — where Smith draws her first connection between 1930s Germany and the present day by having the border guard ask a passenger to remove his shoes for inspection — provides Bradshaw with a place to stay and an introduction to the decadence of the Kit Kat Club and its star, the fabulous Sally Bowles (Meg Gillentine).
It gives nothing away to say that Bradshaw falls instantly and hopelessly in love with the cabaret singer. It is, however, a great pleasure to say that this is an experience shared by the audience. Gillentine is, quite simply, stunning. Gifted with a voice capable of going from choir loft to beer hall and a fluid grace that makes her every movement both elegant and sensual, Gillentine owns both the fictional and actual stage in this production.
In fact, given that D.C.'s theater season is just starting, the cast of Cabaret has set the bar quite high for whatever comes next. Dorothy Stanley and Walter Charles are lovely and touching in their roles as Fraulein Schneider and Herr Schultz. Sherri Edelen, as the prostitute Fraulein Kost, gives one of the evening's most powerful and wrenching performances with her drunken reprise of "Tomorrow Belongs to Me." Brad Oscar's Master of Ceremonies glides easily between his twin roles of ruthless club owner and father figure to the sideshow-like family he has gathered together.
Only Glenn Seven Allen falls short of the mark, though this may have as much to do with the role he is playing as Allen's performance. His character is, for all intents and purposes, the straight man to the slapstick that is the Kit Kat Club. But there is something missing in Allen's delivery: He has a strong voice but ultimately lacks the distinctive presence of his fellow cast members.
In her program notes Smith writes, "Certain musicals call out to be produced at certain times in history." Everyone involved in Arena's Cabaret has very clearly heard that call and responded with a production that is thought-provoking, nuanced and ultimately chilling. It is a performance to be praised.