For nearly half a century, Franklin Edward Kameny has been indispensable in creating the American gay rights movement. And he saved everything, squirreling away documents, posters and other gay historical artifacts in the attic, bedroom and every other corner of his home.
More than 70,000 of those items have become a permanent part of the nation's historic record at the Library of Congress. The Oct. 6 transfer ceremony took place in a room where rare Stradivarius violins filled display cases.
"The Kameny Papers document the evolution of the gay rights movement from its origins in the 1950s through the 1990s," said John Haynes, a 20th Century political historian in the Library's Manuscript Division. "They are a rich and valuable resource for researchers seeking to understand the movement, its evolution into a significant social and political force, and its impact on American life."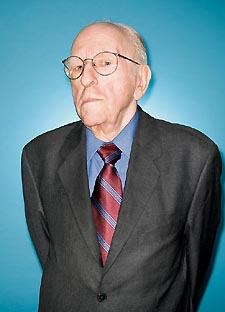 Kameny
File photo by Todd Franson
Charles Francis, one of the organizers behind the transfer, called the papers "breathtaking in terms of [documenting] the animosity that this man faced all by himself, starting in 1957… . Ultimately, he won many, many of those battles."
Kameny, 81, had not intended to become an activist, but that was the fate that life dealt him, and he embraced it heartily. A World War II veteran, Kameny received his Ph.D. in astronomy from Harvard just as Sputnik traumatized the nation and ignited the space race. He was poised to become a leader in that adventure.
But the accusation of "homosexual tendencies" was enough to deny one federal employment at that time. Following a morals arrest in San Francisco, Kameny was declared a security risk and lost his job at the Army Map Service.
He appealed that through administrative channels and then the courts. Broke and sometimes living on as little as 20 cents a day, he taught himself enough law to file the appeal to what is believed to have been the first gay rights case to reach the Supreme Court in 1961. It declined to hear the case.
Francis read from a key document, a 1966 letter to Kameny from John H. Macy, Chairman of the U.S. Civil Service Commission: "To be sure, if an individual applicant were to publicly proclaim that he engages in homosexual conduct, that he prefers such relationships, that he is not sick or emotionally disturbed, and that he simply has different sexual preferences, as some members of the Mattachine Society openly avow, the Commission would be required to find such an individual unsuitable for federal employment."
Kameny fought the Civil Service Commission prohibition on hiring gays for 18 years. In June 1975 he received a call from the general counsel's office; "The government has decided to change its policy to suit you," he gleefully recounts the official saying.
In 1963, when homosexual activity was still illegal in all but a handful of states and police entrapment was common, Kameny testified before Congress, "We are working to achieve for the homosexual minority, full equality with our fellow citizens—nothing more, nothing less."
Kameny formed the Mattachine Society of Washington, an early gay rights group. He distributed their newsletter to some members of Congress, invited the chief of police and FBI Director J. Edgar Hoover to engage in sodomy, and led pickets outside the White House and on the Fourth of July at the Liberty Bell in Philadelphia, all in the name of equality.
One of Kameny's picket signs from the pre-Stonewall days of the 1960s will go on display at the Smithsonian Institution's Museum of American History.
He ran for Congress in 1971 for the newly created and non-voting position of delegate from Washington, D.C. Politicos were stunned that an openly gay candidate could gather the required 5,000 signatures to get on the ballot, and then receive 1,800 votes, coming in fourth in a field of six.
Several gay political organizations sprang from that campaign, including the local Gay Activists Alliance and, nationally, the precursor to the Human Rights Campaign.
When gay activists seized the stage at the 1971 conference of the American Psychiatric Association, Kameny thundered into the microphone, "Psychiatry is the enemy incarnate. Psychiatry has waged a relentless war of extermination [against gays]. You may take this as a declaration of war against you."
Two years later the APA capitulated; it removed homosexuality from the list of mental illnesses.
"It is the great luck of American history that Franklin Kameny's career was ruined early, and that it made him angry," said Dudley Clendenin, former New York Times reporter and coauthor of the gay history Out for Good. "He didn't go anonymous, and pitiful, and quiet. He plunged into life-long patriotism in the form of civic activism."
Former California congressman Michael Huffington, one of the benefactors who helped to make the donation possible, confessed to not having known of Kameny until others approached him about a year ago.
"He has gone through hell and back," Huffington said at the ceremony. "Very few of us appreciate what this man has suffered, and yet today, as I met him for the first time, he is a man with a gleam in his eye and clearly a man who has changed the history of this country for the betterÂ…[not just for gays] because when you end discrimination and hatred and fear, everybody is a beneficiary."
Others who packed the room had more personal accounts of the man.
Gregory King, then a 14-year-old congressional page, was riding a bus down Pennsylvania Avenue by the National Theater in 1971 when he saw a crowd with Kameny's campaign placards.
"I knew from the newspaper that he was gay and running for Congress, so I got off the bus and stayed for his speech and picketing," said King.
"His being open and proudly gay was a pivotal thing in my life. I don't think that I would have ever emerged as a teenager, uncloseted, without the influence of him saying you could do it." King later served as spokesman for the Human Rights Campaign.
"I was in high school here in Washington in 1969 and the only organization I knew of was Mattachine," said Bob Witeck. "So I called, I had no idea it was Frank's house….
"He was very reassuring. Here was an adult talking to a teenager who gave him confidence and reassurance. I had no idea — I couldn't go to a bar, there was no Internet. The only thing you could do was talk to another person who could tell you it was okay. He was my link to sanity, he was my link to maturity."
Witeck went on to co-found Witeck-Combs, the marketing and communications firm that helps companies interact with the gay community.
Francis was the catalyst in organizing and arranging the donation of Kameny's papers to the Library of Congress. He first met Kameny through a mutual friend in 2004 "and the more I learned about him, the more awestruck I was about what he actually accomplished."
Witeck says their motivation was to help Kameny, a man of limited means who seldom had profited from the work he had done for the community, and at the same time, preserve the legacy of documents that he had squirreled away.
Kameny did not have the income to benefit from any tax benefits from donating his papers. But others could purchase them from him, with the stipulation that they be donated to a designated archive, and reap the tax benefits from that donation.
Five truck loads of documents were transferred from Kameny's attic to Francis's residence, where a volunteer group sorted through and organized the papers. An appraiser valued the papers at $75,000.
Francis approached Huffington, who agreed to provide half of that sum as a matching grant, and other individuals and organizations fairly quickly provided the balance. The Library of Congress reviewed the documents and enthusiastically agreed to accept them.
Francis calls it appropriate that Kameny's papers remain in Washington because that is where the man has lived, and much of his activity has been directed toward ending federal discrimination.
"Finally, we felt there was a historic justice that the government that fired him in 1957, was now bringing his collection into the Smithsonian and the Library of Congress as a civil rights pioneer."
Key documents and photos from Kameny's collection are available online at www.kamenypapers.org. To read Metro Weekly's interview with Kameny, visit www.metroweekly.com.