In The Queen, Helen Mirren, portraying Queen Elizabeth II, gives perhaps her most remarkable performance in an already remarkable career. She vanishes completely into the role, embodying the monarch, offering up a portrait of a woman who lives in a self-contained, self-rationalized bubble. Within her insulated existence — an existence in which her subjects and advisors approach her with such cautious timidity you wonder if it's from fear of losing their heads — lies an unflagging belief that she serves Britain as a result of God's will. She's one of the chosen few, and her lifetime of privilege and entitlement has instilled in her a stoicism that masquerades as dignity. You can't help but wonder if somewhere along the way her blood had been replaced by ice water. Mirren works miracles with the character, bringing to the surface a morsel of humanity, helping us to fully grasp the Queen's plight during the week following the tragic, untimely death of Princess Diana in the summer of 1997.
The Royal Family had had it "up to here" with Diana Spencer, who, by this point, had divorced Prince Charles, and yet had continued to loom large in the public eye, putting her warm, care-giving personality into dozens of international causes. Diana was beloved the world over, but nowhere more than in England itself. Labeled the "people's princess," she was a sovereign force who held the attention of an entire nation.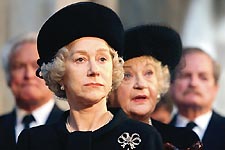 Following the accident in Paris that took Diana's life, the royals — particularly Queen Elizabeth II, her husband Prince Philip, and the Queen Mother — found themselves in an awkward situation. They opted not to publicly comment about the princess, insisting her death be respected by the world as "a private matter." They immediately retreat to their country estate, Balmoral, leaving Buckingham Palace empty, with not even a Union Jack flying at half-mast on the palace flagpole. The mourning British citizens flock to the palace, crowding its entrance with so many flowers, even the traditional changing of the guard is displaced. The people are at first mystified by the cool royal reaction to Di's death, and, stoked by the London press, inevitably find it unforgivable. As scandals go, it's hardly juicy — but it hits the royals right between their delusional eyes.
The Royal non-response to Di's death is a matter that simply won't fade away. And it is largely due to Prime Minister Tony Blair's forceful urgings that Queen Elizabeth finally puts aside her internalized apathy toward Diana, swallows her sovereign pride, and does the right thing. Of course, the papers continue to have a field day: "Queen Bows on Bended Knee to Blair" blares one headline.
How you'll respond to The Queen largely depends on how interested you are in the inner-workings of the contemporary British monarchy. Fortunately, screenwriter Peter Morgan had the good sense to explore this singular and exceptional week of strife in the royal family's life; the story has enough dramatic momentum to keep it engaging as it explores the inability of the royals to adapt with the times. They are so firmly rooted in tradition and protocol, in pious dignity and self-involvement, that it was only a matter of time something rattled open their gilded cage, forever breaking its latch.
THE QUEEN
Starring Helen Mirren, James Cromwell
Rated PG-13
Area Theaters
Opens Friday
Oct. 6 at
Area Theaters


Area Showtimes
Throughout his career, director Stephen Frears has made a handful of extraordinary, highly memorable films — My Beautiful Laundrette, The Grifters, Dangerous Liaisons and High Fidelity — all of which delve into human nature with the hope of extracting a greater meaning. The Queen may just delve deepest of them all, examining how modern circumstances forever damaged a royal line that reached back a thousand years. The blow to the crown over the Di incident was heavy, its dents long-lasting and beyond full repair. And yet, by the end of The Queen, Elizabeth — a woman accustomed to unconditional love from her subjects and who felt the sting of their collective anger over her perceived betrayal of them — seems a bit more human.
"I've never been hated like that before," the queen remarks to Blair, as they reflect on the crisis. After a pause, she adds, a curt chill overtaking her voice, "And one day, Mr. Blair, it will happen to you. And it will happen swiftly and without warning."