In the world of movies, coming attractions are the ultimate sleight-of-hand, a misdirection to make you think that what you will be getting is better than it actually is. Nowhere is this deception wielded more effectively than in the current previews for The Prestige, a film about rival magicians in turn-of-the-century London. The previews make you believe The Prestige is a magical suspense thriller that will knock your socks off.
Well…
It does contain magic.
There are a few thriller-like elements.
But your socks stay put.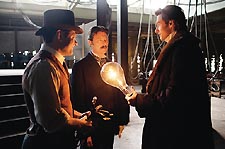 Tricks, but no treat: Serkis, Bowie and Jackman
Co-written and directed by Christopher Nolan, the man who rebooted the caped crusader with the broody Batman Begins, The Prestige is infused with faux intellectualism — it pretends to be more cerebral than it really is, when all it really wants to do is be the new Sixth Sense, a movie whose twists and turns are designed to make us go "Aaaah, I didn't see that big twist coming." Trouble is, we do see the big twist coming in The Prestige — we see it from miles away — something that Nolan has recently acknowledged in interviews was part of his plan. Forgive me for saying this, Mr. Nolan, but gee, what a really dumb plan.
Actually, there is one mild surprise involving a machine that produces a mass of electric firebolts. It's quite nifty, and it creates a searing ethical dilemma for one of the characters that, had it been the absolute focus of The Prestige, would have resulted in a film that truly would have been startling. As it stands, the machine at least serves to mark a contrast between complex science and artful simplicity. Still, the movie remains so firmly fixated on its revenge narrative, the machine amounts to little more than a McGuffin type of distraction. And once the machine's purpose is revealed, the film's endgame becomes too easy to spot, like a massive wine stain on a white carpet.
Here's the basic story: Rupert Angier (Hugh Jackman) and Alfred Borden (Christian Bale) are two up-and-coming illusionists who start out on relatively friendly terms. A tragic accident sparks a battle between the two men that escalates in terms of the amount of harm each does to the other, both physically and career-wise. It's revenge served buffet style.
Obsession is added as a side dish after Borden starts performing a trick — The Transported Man — that befuddles everyone who sees it, including the world's most experienced magicians. It's an astonishing illusion indeed, and Angier becomes intent on learning its secret, no matter the cost.He winds up in Colorado Springs, stalking Serbian inventor Nikola Tesla (played with rich eccentricity by David Bowie), an inventor renowned for his work in the field of electricity. The item Angier ultimately gets from Tesla will not only change his life, but present him with the aforementioned ethical dilemma.
Nolan's not a flashy director — his style is slow, methodical, precise. It doesn't serve him in The Prestige, which has long passages that bore you to the verge of tears. Nolan jumbles the narrative timeframe — bits and pieces of the story are revealed in flashback (and sometimes double flashback) by means of diaries written and read by each of the magicians. To his credit, Nolan keeps it fairly easy to traverse the movie's multiple points of view. But when your pathway is a road to nowhere, following it hardly matters.
The Prestige is steeped in gorgeous, moody production design, the period evoked masterfully by Nate Crowely. And there are a few isolated instances of cinematic bliss, including one set amid a field of glowing light bulbs.
Neither Jackman nor Bale bother to make their characters remotely likable. These are soured, angry, driven men, both harboring their own scornful agendas, and you don't care a damn for either. (Jackman is a talented actor, to be sure, but what does it say about his performances when the best work he's done is as a superhero with a skeleton of steel?) Michael Caine, as a man who devises illusions for magicians, adds a bit of British spice into the proceedings, but Scarlett Johansson is an empty (albeit pretty) vessel as a magician's assistant who — poof! — suddenly vanishes from the proceedings altogether.
There are some nice, brief character turns by Andy Serkis, Ricky Jay and veteran character actors Daniel Davis, Edward Hibbert and Roger Rees, but they amount to little more than window dressing.
When a movie about magic is absent of magic, it's a good idea to stop the trick short. Better yet, don't start the trick in the first place.