It started as a simple challenge between a few drag queens: Run from JR.'s Bar & Grill at 17th and Church streets up to Annie's Paramount Steakhouse, down a shot and race back. Twenty years later, it might not matter that the annual High Heel Race is still an orphan. Even without any sort of official ownership, this Washington institution seems to be standing on its own two legs.
Rain or shine, officially sanctioned or not, the High Heel Race that brings throngs of spectators and costumed runners in pumps to 17th Street NW the Tuesday before Halloween will go on, as it always does. But despite perceptions, this unique event is not sponsored by JR.'s, the city, nor any other entity. The 20th anniversary race, setting off at 9 p.m. on Tuesday, Oct. 24, will be — as of Metro Weekly deadline — no different.
"It's a city event. We need the city to recognize that. It's not like Adams Morgan Day, where people buy booths," says Peter Rosenstein, a local activist who served on Mayor Anthony Williams's LGBT Advisory Committee from 1998 to 2005. "This is a huge event for our community, but also for the entire city. Every year we get more families, kids in strollers…. It's become a citywide festival in essence, and the city needs to take ownership of it."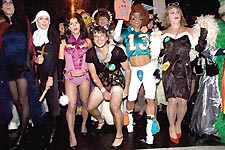 Racers line up at the starting line of the 2005 High Heel Race.
(Photo by Michael Wichita/file photo)
Though no one is officially responsible for the very grassroots street festival, that's not to say there aren't those who regularly commit to pulling it off. And no one can claim to do more than Dave Perruzza, general manager of JR.'s. For years, Perruzza has been the de facto organizer, marshaling volunteers, organizing the signature drive to have local residents sign-off on the race, and a host of other duties.
"Every year I have the same headache," Perruzza says, listing all the hoops he hopes to jump through before the race. As of Monday, Oct. 16, his volunteers had collected about 200 of the nearly 500 needed signatures of support from local residents to deliver to the city. The beer tent has been ordered — at a cost of about $5,000, with beer-tent proceeds going to charity, he says. Perruzza also learned Monday that the cost for adding 30 police officers to the street for the festival is $10,027.80. He says that the police often cut that figure in half as a measure of goodwill, leaving Perruzza, with Rosenstein's help, to begin the process of asking the city to waive the remainder.
"It's too big of an event for one little bar to do," says Perruza. "Everyone thinks we make tons of money, but we usually lose money."
On top of the bureaucratic hurdles, Perruzza says he's still in the process of recruiting volunteers — nearly a hundred of them. To sweeten the deal, this year Cobalt and JR.'s are offering "speed passes" to their High Heel helpers. The passes will allow volunteers to bypass the attendant lines into JR.'s or Cobalt that evening, once they've finished their duties. "You keep people on the sidewalk. It's pretty easy," offers Perruzza. "And you get a cute, little commemorative High Heel Race shirt."
Another new twist to this year's race, says Perruzza, is the "Taste of Dupont Circle," held in loose accord with the High Heel Race. This "culinary-visual experience presented by Historic Dupont Circle Main Streets — on whose board Perruzza sits — will feature a number of area restaurants and other businesses at the Carlyle Suites, 1731 New Hampshire Ave., NW serving up their specialties from 6 to 9 p.m. Tickets are $60.
Though Perruzza grants he doesn't have as many signatures as the city is asking for, he says he hopes that when combined with the support the race has from the local Advisory Neighborhood Commission, it will be enough to get the machinery moving.
"[The city government] is going to make it happen," he predicts. "They know people are going to show up with or without our help. They can either do it our way with volunteers, or they can do it their own way."
Also key to a smoothly run race is the support it's gotten from Sgt. Brett Parson and the rest of the D.C. Metropolitan Police Department's Gay & Lesbian Liaison Unit. Parson promises that the police have got all the race preparations in order from a public-safety standpoint: "We've been way ahead of the ball on this. I think we'll be very well prepared."
Perruzza may have a tougher time negotiating with a lame-duck mayor's office, in terms of getting the fees waived. Adrian Fenty's win in the mayoral Democratic primary, however, may bode well for the race's future. Fenty serves as the grand marshal of this year's race, and Rosenstein was among his most prominent supporters during the primary campaign. With Fenty's November win nearly guaranteed, the High Heel Race may see one of its strongest supporters taking the city's top office.
To volunteer for the High Heel Race, send an e-mail to HeelVolunteer@aol.com. For more information about Taste of Dupont Circle, visit www.dupontcircle.biz/tasteofdupont.htm.