Adapting a Toni Morrison novel to any other medium is at the very least a Herculean task. Most notably, Oprah Winfrey tried turning the author's Pulitzer Prize-winning novel, Beloved, into a film and failed. But playwright Lydia Diamond achieves what Oprah could not: She has crafted a powerful and moving drama out of Morrison's first novel, The Bluest Eye.
Exploring many of the thematic staples of Morrison's novels — claiming one's identity, mothers' relationships with their children, and the desire for freedom — The Bluest Eye is the heart-breaking and magnificent story of Pecola Breedlove (Carleen Troy), a young black girl who longs to be accepted. But that acceptance would be achieved if she only had beautiful blue eyes.
The play opens with young Pecola facing a Greek Chorus-like reading of the classic Dick and Jane story. Jane's simple life of running, playing with Mother and Father, and wearing a new red dress could not be more different than Pecola's own existence in dirty clothes that barely contain her obvious pregnancy. The "how" and "why" of Pecola are slowly revealed, reaching as far back as her parents' (Aakhu Freeman and Jeorge Watson) first meeting and the critical, shaping moments in their lives.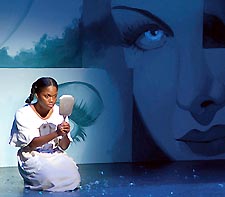 Wish un-fulfillment: Troy
(Photo by Colin Hovde)
Pecola's story is guided by Claudia (Erika Rose) and Frieda (Jessica Frances Dukes), sisters who have everything that Pecola does not — loving parents and hope for the future. They welcome Pecola into their home and their hearts, but are not able to provide the blue eyes that Pecola believes to be her key to love.
One of the most difficult challenges in adapting a Morrison novel is capturing her powerful use of language. Morrison's writing is flowing and poetic, hard to mirror on stage without appearing to be ostentatious. Responsible for narrating much of the play, both Rose and Dukes achieve this feat with exacting precision. Rose, in particular, is able to deliver the most eloquent lines, describing complex analogies, in a manner that is both natural and wise.
Troy is strong as young Pecola, at times bright and excited as she stares longingly at the Mary Jane candies in her hand and other times broken and inconsolable. The rest of the Breedlove family is equally moving. Freeman does an excellent job as Pecola's disheartened-yet-determined mother, while Watson is able to morph from a young, hopeful teen into the despised father who impregnates his own daughter.
Director David Muse presents even the most horrific scenes in a muted and controlled manner, increasing their power and impact. The cast provides the score, singing from the stage and adding more feeling to the show than a recording would have been able to do.
The Bluest Eye attempts to capture every moment of Morrison's novel. However, a tightening of the play would help avoid the faltering in the advancement of Pecola's story. It's understandable to want every facet of Morrison's world included, but symbolism is lost when an audience is anxious.
By the end of the play, we know the fate of Pecola and the "how," if not completely the "why." Rather than being the story of one person, The Bluest Eye is a powerful glimpse into the soul of an entire society and the pain that lies therein. Toni Morrison has finally found a home on stage.