FROM THE SECOND TIME YOU GOT ME BA-BAY… You should already know the name Offer Nissim by now. And Maya Siman-Tov, too — or at least, Maya. You've probably heard Maya's voice, though it's understandable if you're unfamiliar with the name: Maya wrote the lyrics and co-write the music, but she went unheralded on Nissim's debut album, First Time, and on the singles, from "Searching" to "That's The Way I Like It" to the title track. In any case, Nissim's album, released last spring, was obviously released a year too soon. The Israeli-based Nissim only really started generating buzz stateside this year, especially after a dazzling set at New York's legendary, leather-inspired Black Party circuit event, where he actually outshone his label boss and putative mentor, headliner Peter Rauhofer. Now he's spinning bimonthly at New York's Roxy Saturdays, including a New Year's Weekend gig with Rauhofer. And each successive single release charts higher on the dance charts; "First Time" just recently became his first Top Ten hit on the Billboard Club Play Chart.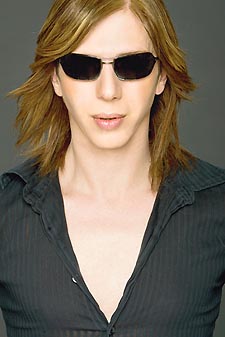 Nissim
And so Rauhofer's Star 69 Records has given the gay Nissim a rare second chance. Or more precisely, Second Time: a re-release of Nissim's debut, packaged with a full second disc of new songs and remixes. And this time, Maya is front and center — the album is listed as "Offer Nissim feat. Maya," and that's her image on the cover. Disc one remains one of dance music's best-ever song-based albums. It's an intensely moody and melodious set of tribal-tipped house, with a serious sense of purpose. Maya says she wrote most of it "with tears" about an old flame that, obviously, burned her. It included a classical music-inspired "Intro," suggesting an alternative title for the album: Offer and Maya's Symphony No. 1 in C Minor. And that makes sense if you've ever seen Nissim spin: he flings and flails his arms around as if he were conducting an orchestra.
So if you didn't get this set the first time around, by all means get it now. But if you did, it's up to you whether you should bother again. Disc two includes the great "On My Own," released as a single earlier this year — but that was included on David Knapp's Cherry 2006 Centaur set, otherwise known as Global Groove. Second Time also includes the good new single "Perfect Love" and the okay next single, "Be My Boyfriend." The songs are getting progressively weaker, suggesting that these latest have been written too hastily. And aside from Nissim's Reconstruction of "Alone," the remaining remixes aren't especially noteworthy. Furthermore, the set doesn't include the Dope Boyz' bouncy electro rework of "Perfect Love."
Let's hope Third Time is just around the corner — and that it's a set featuring all new productions, created with as much care as the first….
WHITNEY TO TAKE ANOTHER CRACK?… Remember Whitney Houston? You probably thought her career went up in smoke, along with her marriage to Bobby Brown. (Houston has filed for divorce.) But reports about her down and out life might not be all they're, er, cracked up to be: Apparently, she's ready to make a comeback. And apparently, she's got enough of her facility left to know who seems like a perfect producer for the project. That would be DJ Premier, the Gang Starr hip-hop presario nowadays best known for helping create Whitney-protégé Christina Aguilera's latest and greatest album, Back to Basics. She's learned from the best, and all that: Billboard reports that Houston reunited with her label shepherd Clive Davis to begin plans for her first new studio album in four years, and that Premier is in early discussions to do the comeback honors. Premier is positively giddy at the prospect. "I know what she needs," Premier told Billboard, without any indication he was intentionally referencing Houston's old hit "Queen of the Night." "I'm not gonna give her a record about rolling on dubs and all that just because that's what's current. That's beneath her. She can go left field as long as the record's banging and she sings it well." Ah, but that sounds like a mighty tall order there, Premier, so forgive us if we're not waiting to exhale….
WARWICK'S WHACK TO WITNEY… Whitney may make a comeback with the help of some friends — that's what friends are for — but not with help from her first cousin, or at least, not just yet. Dionne Warwick will release on Nov. 7 an all-star duets album, My Friends and Me. Her son, producer Damon Elliott, produced the set, for which Warwick has revisited classic hits alongside a hodgepodge of female singers, including Cyndi Lauper, Reba McEntire, Gloria Estefan, the late Latin great Celia Cruz, even American Idol also-ran Lisa Tucker. But no Whitney.
One track sounds like a particular knock-out. Chante Moore and rapper Da Brat are featured on "The Windows of the World," but overpowering them will be two dancefloor divas Warwick tapped: Angie Stone and Deborah Cox. Yes, those two and the rest sing — together! Doesn't it seem like a crime Whitney's gone missing? Same script, different cast….