When Earline Budd and Brian Watson of Transgender Health Empowerment (THE) first discussed plans to commemorate the eighth annual Transgender Day of Remembrance, they originally planned to hold the event on the official date, Nov. 20. Then they discovered the Human Rights Campaign had also planned a gathering for the cause on the same day.
So Budd, THE's drop-in center coordinator, and Watson, director of programs, decided to reschedule the group's first gathering for the day of remembrance to Thursday, Nov. 30.
"There are times that we really need to take time out to remember those who have passed on or have been victims of violent deaths," Budd says. "We decided it would be a twofold for us. Instead of just focusing on those who have been victims of violent crimes, our [gathering] is somewhat different because we've included our ancestors, those who paved the way for us, individuals who we looked up to, who had done important things in our community."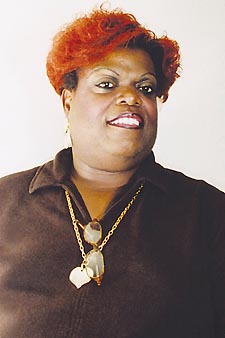 Budd
(Photo by Photography by Michael Wichita/File Photo)
Organizers of the event have not decided on an official title yet, but they will continue the new tradition next year.
Attendants will mourn and remember those who have died by calling out their names, including Stephanie Thomas, 19, a transgender person who was murdered with her friend Ukea Davis, 18, while in a vehicle at 50th and C streets SE. Her mother, Queen Washington, is scheduled to speak at the event.
Other speakers include Calvin Woodland, uncle of Lexix Woodland, who was killed during a robbery last December; and Richard J. Rosendall, vice president for political affairs at the Gay & Lesbian Activists Alliance.
"It's important to pause to have these memorials, particularly because transgenders are disproportionately at risk for hate violence," he says.
"And while it's also important to take practical steps to do something about it, including working with the police, the D.C. Council and the mayor, it's also important to gather and remember those who have fallen, and to remind ourselves of the human reality of these crimes."
Transgender Health Empowerment, a support and outreach organization for transgender people in Washington, commemorates the eighth annual Transgender Day of Remembrance at 6 p.m., on Thursday, Nov. 30, at the Martin Luther King Library at 9th and G streets. For more information call 202-636-1646.