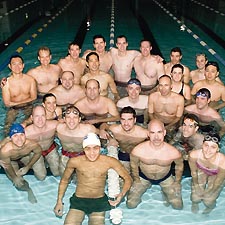 Members of DCAC at a recent practice session
MISSION: The D.C. Aquatics Club (DCAC) promotes competitive and fitness swimming in a social, team-oriented, coached setting.
ACTIVITES: In addition to holding five local swim meets throughout the week, DCAC also participates in the International Gay & Lesbian Aquatics (IGLA) Championships. DCAC will travel to Paris for the May 23-28, 2007 championship.
HOW TO JOIN: Come to any of the weekly meetings and introduce yourself to a coach or board member, who will assess your swim speed and put you in the appropriate swimming lane. After two free swim trials, guests are asked to join DCAC for $35 a year. Group members are also asked to pay for their share of DCAC's pool rental fees, which is $8 for each practice (payable per visit or in advance). Membership applications are also available online at www.swimdcac.org. "I was initially hesitant to join the team," says DCAC member Wonkee Moon, who has met most of his close friends through the group. "I swam elsewhere and didn't get a good feeling from the other groups. I tried out DCAC and it's been a great resource. It's for all walks of life."
BACKGROUND: Formed in 1988 by members of the Washington Wetskins water polo team, DCAC now includes about 200 members. In 1994, DCAC ranked third at the Gay Games IV in New York, and between 1995 and 2005, DCAC won first place every year at the IGLA Championships, except in 2000.
CONTACT:dcac@swimdcac.org