Cooking my first Thanksgiving dinner for my in-laws last year, things were going perfectly up until the point when I sliced off the tip of my finger.
I was in the middle of making a Vietnamese salad of shallots, cucumbers and rice vinegar, a nod to the culture and cuisine of my partner Cavin's family. It required the veggies to be very thinly sliced, so I broke out the mandoline to get the perfect, paper-thin slices.
I couldn't get the shallots to fit into the mandoline's safety guard, so I held them in my fingers and ran them over the freshly sharpened blade: swick, swick, swick, swi-AAAIIIEEE!
Finger cuts being the heavily bleeding things that they are, it looked much worse than it actually was. A few minutes of cleansing water and a tightly placed Band-Aid later, I was back in the kitchen. And I still had to get the shallots sliced. So…
Swick, swick, swick, swi-AAAIIIEEE!
And there went my chance of learning Braille. One of Cavin's aunts staged an intervention and completed the last Thanksgiving side dish without the loss of any more digits.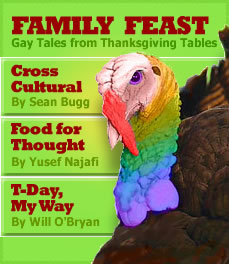 In my own defense, I had been cooking for two days with only about five hours of sleep. After falling into bed around 1 a.m. after a full Wednesday of baking pies and cakes, I rolled out of bed around 6 a.m. to brine the 18-pound turkey and start the complicated giblet-gravy procedures.
My sister, Heather, does the same thing every Christmas. Talking with her about our hectic holiday schedules, it quickly becomes clear what we're doing with our frenzied pursuit of complex holiday menus that combine our old Kentucky favorites (cornbread-sage dressing in my case) with frou-frou and time-intensive recipes designed to impress (cranberry-orange sauce with fennel, anyone?). We're recreating a childhood experience that's only half real in the first place, attempting a Herculean schedule of cooking and organizing that no one in their right mind in our own family would have attempted. Our childhood memories of tables of food and desserts were the result of everyone pitching in with a haphazard array of salads and casseroles and cakes and pies.
Heather and I, conversely, try to exercise strict control over the whole thing. And I know things may be a little out of hand when I put more organizational planning into a Thanksgiving dinner than into the average week of editing a magazine — I had lists, timelines, a sheaf of recipes at hand, an honest-to-god plan of attack to make sure not one little thing went wrong. Thanksgiving turns me into a dictator with a martyr complex. I still feel guilty for two dessert cheats I was forced into by time. First was a Pillsbury ready-to-roll pie crust instead of my own old-fashioned, flaky, lard-based crust for the pumpkin pie. Second, was the use of Cool Whip instead of freshly whipped cream for the pumpkin-gingerbread trifle. When I told Heather what I had done, she said, with only partially mock horror, "You used Cool Whip?"
But I'm comfortable with all that, as long as I get to eat me some cornbread dressing. Because, when it comes down to it, the memories I'm recreating may be hagiographic but the holidays of my youth were filled with actual people eating and drinking and laughing and playing cards and acting like a family.
And that's the experience I wanted — and still want — in my own house. It will never be exactly the same. For instance, pretty much everyone in my house on Thanksgiving these days is speaking Vietnamese, except when someone speaks English to translate for me what someone else is saying about my cooking in Vietnamese.
It may sound overly earnest and woefully un-ironic, but Thanksgiving has gained a lot of significance for me beyond the opportunity to show off around the kitchen. Perhaps it's a function of getting older, but as a gay man who came of age in the '80s and '90s, I'm thankful in many ways to even still be around. I'm even more thankful to have found someone to be around with me.
I try not to spend too much time drawing life lessons from the fact that I've been accepted as Cavin's partner by a family of immigrants, because it's too easy to reduce their lives into a Discovery Channel show. But when you spend some time with people who left behind everything to start a new life here, it's not a big stretch to understand how much you have to be thankful for, whether you owe that thanks to God, Buddha, Allah or just the cold, hard luck of the universe.
But while that may be the underlying reason for the holiday, Thanksgiving itself in my house was filled with people laughing and drinking and eating. Last year was a big first step in feeling like Cavin's family was partly my family as well.
And I'll gladly cook for 24 hours straight to have that feeling again.