The first Thanksgiving dinners I remember were the most conventional. My family was still a nuclear one, living in suburban Springfield. Thanks to my Irish-American father from Upstate New York, as well as some of his — and therefore mine — family tree living in Silver Spring, we'd gather together for the requisite turkey and the expected sides, like hours of football.
The Irish crept in with whipped turnips and mincemeat pie. These were penance, I suppose. For us Catholics, any holiday is a little sweeter if we're made to suffer in some way.
Post-divorce, the flavor changed considerably. My siblings were either married with new families of their own, or in the case of my only younger sibling, part of my Dad's new family. My first (of two) Thanksgiving dinners with them was in Tunisia, my dad's first posting after the divorce. Amidst the date trees and minarets, he managed to pull together a traditional dinner for about 20 guests. Thankfully, turnips and mincemeat and American football are very hard to come by in North Africa.
It's a vivid memory: The "kiddie table" area was set in the maid's rooms in the basement. We handful of youngsters sat on lumpy sofas watching recorded episodes of American Bandstand as we ate. One young girl, about 5, was seated downstairs with us. Either terribly shy or not an English speaker, she sat frozen and quiet till her mother came down to check on her. She leapt to her mother's side, revealing that she'd wet the chair to which she'd clung for dear life. She taught me to always ensure that guests are at ease.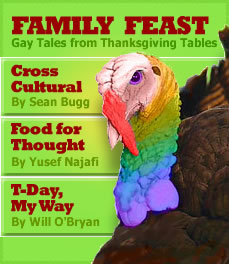 In any case, most years my siblings and extended family were thousands of miles away from New Port Richey, Fla. This Gulf-coast town was my mother and stepfather's retirement Shangri-La, and my high-school home. With my stepfather's Southern roots, mincemeat made way for JELL-O salads and sweet-potato casseroles. All that turnipy bitterness was replaced by sugar on top of sugar, and a mix of guests that included very little family. The closest relative we had in the area was Jean, my stepfather's sister-in-law from his first marriage.
With "broken homes" and a southward exodus, we were doing our best to keep up with America's evolving demographics. In the burgeoning Sun Belt, we followed American trends so closely that my mother and Jean even had the trendy conversation about my 16-year-old sexual orientation. "It's probably just a phase, Dora," Jean offered in her melodious Georgian drawl, as they rinsed dishes.
These days, it's my turn. Thanksgiving is near the top of my favorite-holidays list. I appreciate the attendant humility built into a celebration centered on being thankful. Conversely, I enjoy that it's a cooking holiday, as my kitchen is one of the few realms wherein I feel a sense of control and power. The flavor of the day is not determined so much by sage, baking times or brining. Rather, it's my opportunity to impose my cultural stamp on this uniquely American holiday.
First, there will be no turnips, no mincemeat, and no mini-marshmallows; nothing bitter, nothing air-puffed. Lipitor be damned, I've actually just returned from another Thanksgiving shopping trip with three pounds of butter for one meal.
The second consideration is the entertainment. Following the feast, I instruct my guests to sit around the TV as they digest and await the bourbon-pecan-pumpkin cheesecake. And while most televisions in America might be tuned to football, my guests will be enjoying Patsy and Edina, season five.
Last but not least, let's explore the guest list. Our new tradition is that my widowed mother flies up from Florida for the holiday, helping to firm the matriarchal tone. Then there is Aunt Alex, recently widowed, who lives in town. She'll be coming over with her daughter, who is making the trip from New Mexico. Fresh from a divorce, I'm sure she'll be glad to spend the holiday free of anyone who might be tempted to change the channel to "check the score." (That's a ruse. Don't believe it unless you've got no problem with hours of tedious "overtime" or "time out" or some other physics-defying way to turn four 15-minute quarters into four hours of pain.) Alex's fantastic granddaughter will be coming down from college in Massachusetts, giving us a full three generations of women.
Rounding out the guest list is my partner, Fernando. As I cook, he dutifully keeps everyone's mild buzz fueled with his skillful bartending. And as we sit at the table, it's his grandmother, Carlotta, who likely looks down on us. A vibrant woman in her own right, who raised Fernando's father out-of-wedlock at a time when the social stigma was more than many women could've borne.
In so many ways, our gathering is an insult to patriarchal mores. It's actually Carlotta's table — shipped in from Albuquerque — that we eat upon, and that inspires me. It reminds me that while I cannot control most things, when I have the chance to set the tone, I should take it. It reminds me that my family is whomever I choose. I may never have met Carlotta, who died in 1982, but Fernando has told me great stories. Daily I pass the flirtatious smirk on her face in a photo of her with her stern-looking parents, which sits in the dining room.
To some degree, Thanksgiving allows me a chance to say "no" to all the straight-guy rules that rub me — and maybe Carlotta and my guests — the wrong way so much of the year. Granted, there are some kick-ass straight guys that I'm so grateful to know. But on Thanksgiving, there will be no sports in my house. I will not have to sit through any bikini-beer commercials. We will mock NASCAR and Dick Cheney. I will wear an apron. If my hormones even manage to squirt out a little estrogen, that's fine by me.