At the intersection of P and Ninth streets NW, there is evidence that the gay gentrification of Logan Circle may be creeping ever eastward. On one corner sits Shiloh Baptist Church, some would say a bulwark of the community, as it protests against neighborhood liquor licenses. Across P Street, a collection of recently plastered posters on a liquor-store's wall faces the church. Among the newest additions are posters promoting Jacob & Joshua: Nemesis Rising, a new reality show on Logo about two gay brothers breaking into pop music. The contrast is telling. So is the Nov. 7 vote for this neighborhood.
ANC 2C, a four-member Advisory Neighborhood Commission with borders running from roughly S Street NW to the National Mall, and from Ninth Street NW to Fourth Street NW, including areas of the Shaw and Mt. Vernon neighborhoods and downtown, upped its notoriety in 2006. In March, three of the four commissioners voted to protest a liquor license application filed by the gay owners of Be Bar, which sits at 1318 Ninth St. NW. The vote followed a plea to the commissioners from Bishop C. L. Long of Scripture Cathedral, whose church sits across Ninth Street from Be Bar, which opened in late summer, despite neighborhood challenges to its license. The sole dissenter in the vote to protest the license was Alexander Padro, who is gay. Come Nov. 7, two other gay men hope to join him on the commission.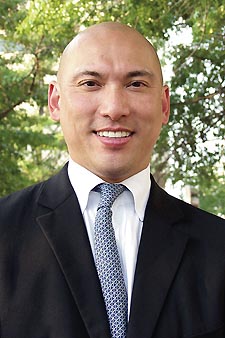 Tinpe
"I decided to run because I saw the growth of the neighborhood, and a lot of misunderstanding between businesses, residents, different neighborhoods," says John Tinpe, who is running for the ANC 2C03 seat held by Doris L. Brooks. Tinpe, who is gay, has lived in the neighborhood for about 15 years and owns Burma Restaurant in Chinatown. "The ANC 2C meetings, they seem dysfunctional. There's no communication, no listening. There's a lot of yelling, screaming, accusations. There's really no progress."
Leroy Joseph Thorpe Jr., the chair of ANC 2C, declined to speak with Metro Weekly, but Padro confirms Tinpe's assessment. "The reality is that because we have such an antagonistic relationship, I don't share any information with Mr. Thorpe or the rest of the commission," says Padro. "Generally, anything that I would bring forward would be voted against."
Evidence of that friction has been apparent on fliers that appear from time to time denouncing Padro. One such flier posted during the Be Bar fight read, in part: "Gay Commissioner Padro is supporting a gay bar to operate across the street from Scripture Cathedral Church Daycare Center…. Commissioner Padro uses blacks and has done nothing to help the poor and senior citizens." Padro, whose ethnicity is part black, says fliers with this sort of veiled homophobia come with the job. So has the challenge for his seat, waged regularly by Mary A. Sutherland, who did not return a request for comment.
"This will be her fifth time," Padro says of Sutherland's candidacy, though he seems confident of his chances. "I think most of the people are pretty open-minded. A lot of them have been pretty upset about what the churches are doing, and they're upset about the flier."
The other gay man running for a seat on this ANC is Richard Rogers, who hopes to take the 2C04 seat from Barbara Curtis. An 18-year resident of the area, Rogers says he's on good terms with both Curtis and Chairman Thorpe, but feels the commission could be more productive.
"The way Leroy runs the ANC, no one takes him on," says Rogers. "He's a friend of mine. He's not homophobic. He's just political. He knows I'm not a phony, and that's why we get along…. He doesn't like the new people coming in who think they know everything…. We can do better. I'm a very inclusive person. Some neighbors are left out. I want to be a unifying factor."
Kevin Chapple, a straight man with his sights set on Thorpe's 2C02 seat, says the ANC's Be Bar protest was misguided. "I wouldn't oppose economic development, gay or straight," he insists. "I am open to everyone, no matter what type of person, however different — nationality, ethnicity, sexual orientation. I have an ear to listening to their problems no matter who they are. Whether they support me of not, I will be there for them."
The issue of support is also key with Rogers, but from a decidedly different angle. For this upcoming election, he says he's angry he hasn't gotten any from the Gertrude Stein Democrats, the city's GLBT Democratic club, of which he's a member.
Mario Acosta-Vélez, the club's president, said the membership voted in March not to get involved in the ANC races. "There were so many races, it would take many days to complete those endorsements," he says, adding that the club may take up the nonpartisan ANC races again in the future. "If you do one [ANC race], you have do all of them, and we wanted to focus on City Council, they mayoral race, and other citywide races."
As it stands, the D.C. Board of Elections and Ethics lists 286 ANC slots. Of those, 66 seats — just shy of a quarter — are being contested, including third-term ANC 6D07 Commissioner Bob Siegel's seat on the Southeast waterfront. Siegel, who served as proprietor or landlord for several of the gay-oriented adult businesses displaced by the city's baseball stadium plans, says this is the first time he's been challenged for his ANC seat.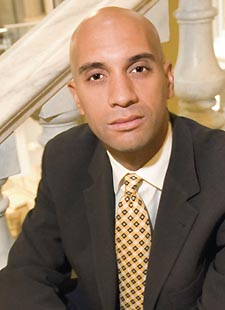 Fenty
Nearly as many seats, 48, have no contestant on the ballot. The political apathy evidenced by these seats that no one seems to want hints at the voter apathy for D.C.'s general election. Some would argue that the big contest was the D.C. primary Sept. 12, which left Ward 4 Councilmember Adrian Fenty as the Democratic nominee for D.C. mayor. The district's demographics make his Nov. 11 win one of the safest Election Day bets in the country. After all, the most current Board of Election figures confirm the longstanding Democratic lock on the district.
Of the nearly 400,000 registered voters in D.C., roughly 292,000 are Democrats. That's about 70 percent of the vote, compared to the Republican Party's approximately 31,000 registered Washingtonians. Add to that about 67,000 independent voters; 5,000 DC Statehood Green Party voters; and 1,500 voters aligned with smaller parties.
Looking to the candidate ratings from the Gay and Lesbian Activists Alliance of Washington, D.C. (GLAA) — as well as Stein Democrats-endorsed Fenty's track record with the gay community — GLBT voters may feel gratified that Fenty scored far better with this nonpartisan group than did Republican nominee David W. Kranich, who did not submit a questionnaire and earned a 0 out of a possible plus-or-minus 10; or the Statehood Greens's Chris Otten, who earned a 2. Kranich, however, has been endorsed by the D.C. chapter of the Log Cabin Republicans, a gay group. The GLAA awarded an 8.5 to Fenty.
Another race facing a seemingly foregone conclusion is the race for chairman of the City Council: Gay-friendly Vincent C. Gray, who earned a 6 from the GLAA and the Stein Democrats endorsement, is running unopposed. Democrat Eleanor Holmes Norton, running to keep her seat as the district's non-voting delegate to the U.S. House of Representatives and endorsed by the Stein Democrats, is also running unopposed.
Gray
There may be slightly more uncertainty in the race for two at-large City Council members. Gay voters — and the rest of the city — will likely choose former Republican, gay independent David Catania and Democrat Phil Mendelson, who is largely responsible for the breadth of the city's strong domestic partnerships, as both share the advantage of incumbency. The GLAA scored both candidates as perfects 10s. Another candidate in that race, Antonio "Tony" Dominguez, an independent, scored a negative 2 from GLAA. The group cited a past record of homophobic comments. Metro Weekly attempted to contact Dominguez for clarification, but the phone number he lists with the Board of Elections has been disconnected.
Similarly, in the nonpartisan race for the president of the Board of Education, the GLAA rated one candidate with a negative 3: Sunday Abraham. Although Abraham declined the GLAA's questionnaire this year, she did file one in the 2002 race, when she earned a negative 6. As an indication of her sentiments, she answered a question about students taking same-sex dates to proms, in part: "Is not the sanctioning of same-sex dates to school proms and other public school functions actually the promoting of an alternate lifestyle?"
Though today Abraham says she would defer any question of same-sex prom dates to on-site school administrators, she insists that no child should be bullied, GLBT children included.
"My child was bullied in school," says Abraham, who adds she had a gay brother who died of AIDS-related illness. "[My daughter] isn't gay, but she has a birth defect. I know what it's like when people hassle you for being different."
At the other end of the spectrum, the GLAA gave a respectful 3.5 points to School Board Member Carolyn Graham in her bid for top spot, but 6 points each to Robert C. Bobb and Laurent Ross. Bobb also earned the Stein Democrats endorsement. And while this race is nonpartisan, it's also worth mentioning that the Statehood Greens are pushing hard for Ross. The Stein Democrats also endorsed Jacque D. Patterson and Lisa Raymond for the school board, in District IV and District III, respectively. Patterson did not submit a questionnaire to the GLAA, nor did any candidate in the District IV race. Raymond, however, earned a 5-point rating. District III's Marc Borbely, also endorsed by the Statehood Greens, earned a 7.5 GLAA rating, the highest rating among all school board candidates.
Getting back to partisan races, Wards 1, 3, 5 and 6 will be choosing City Council members on Nov. 7. Gay Ward 1 incumbent Jim Graham (D) is running unopposed. Ward 3 pits Democrat Mary Cheh against Republican Theresa Conroy. While Log Cabin has endorsed Conroy, Cheh earned 7.5 points from GLAA and the Stein Democrats endorsement. In the Ward 5 race, only Democrat Harry Thomas Jr. answered the GLAA questionnaire, earning 1.5 points, as well as the Stein Democrats endorsement.
In Ward 6, all three candidates responded to GLAA, with independent Will Cobb earning the most points: 7.5. Cobb has actively pursued the gay vote in this race, coming out as a Coast Guard veteran to speak at a September action protesting the ban on openly gay personnel in the U.S. military. Cobb, who is straight, has also made the rounds, visiting venues like Remington's, a Capitol Hill country-western gay bar. He's also been endorsed by Bob Siegel. The Democrat, Tommy Wells, earned 5.5 points from GLAA and the Stein Democrats endorsement. The D.C. Log Cabin Republicans have endorsed Republican Tony Williams
While the GOP candidates may not have fared terribly well with the GLAA ratings, John Tobias, president of the local Log Cabin chapter, says Conroy, Kranich, Williams and at-large Council candidate Marcus Skelton have all spoken to his group, and the members are excited about Nov. 7, whatever the conventional wisdom about Democratic dominance of Washington.
"We've got more Republican nominees than any other year, as far back as I can tell," says Tobias, including Republican "shadow" U.S. House candidate Nelson Rimensnyder. Rimensnyder is running against Mike Panetta (D) and Keith R. Ware (SG). For "shadow" senator, Michael D. Brown (D) faces Joyce Robinson-Paul (SG).
"There are a lot of gays, particularly business people and professionals, who really are conservative on fiscal matters, on how their neighborhoods are being affected by development," says Tobias. "If you really are happy and contented with the status quo, vote Democratic. But if you think things could be improved, vote Republican to shake things up a little bit."
Of course, that same argument could be said for the Statehood Greens, independents and smaller parties.
For more information on the Nov. 7 General Election in D.C., visit the Board of Elections and Ethics at www.dcboee.org. The nonpartisan Gay and Lesbian Activists Alliance complete D.C. Elections Project 2006 is available via the group's Web site at www.glaa.org.