Moms and memories take center stage this year as part of the musical reminiscing on past holidays that makes up the 26th annual holiday concert by the Gay Men's Chorus of Washington (GMCW), Mistletoe & Memories.
"We took those memories and planned our songs around them," says Jeffrey Buhrman, artistic director of the GMCW. "Everything from sledding down a hill during a snowstorm, celebrating the holidays in [another country], sharing a first Christmas with a partner — and those with mom, who is always at the center of every holiday celebration."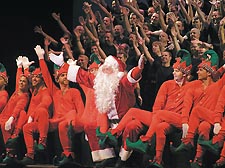 GMCW
(Photo by Skip Koritzer/Courtesy Gay Men's Chorus)
Moms everywhere will get props this weekend when the 185-member chorus performs the tribute tune, "In My Mother's Eyes," while a slideshow displays pictures of singers with their own mothers.
"Some of us were blessed with moms who gave us the confidence and support we needed as we were growing up," Buhrman says. "They told us we could do anything and be anything we wanted to be, and many of us find that as we get older we need to take care of them."
Moms aren't the only special family members inspiring nostalgic memories. The family dog is there in song with "Times Like This." GMCW has also teamed with the Washington Animal Rescue League to promote the adoption of one homeless dog, which will be onstage at the show, during each concert.
Last year, about 3,000 people attended GMCW's holiday show over the course of its three-day run. Organizers hope for an even larger turnout this year. Familiar holiday tunes will be featured, along with more obscure gems, such as "Navidad Nuestra," which will be performed by Argentine composer Ariel Ramírez to reflect one chorus member's memories of Christmas in Argentina.
Buhrman says it's just one of the many special moments at this year's show. "We combine traditional holiday spirit with gay sensibilities," he says. "If you think back to your favorite holiday memory, we're probably going to sing about it [and] dance around it."
Mistletoe & Memories plays at 2 p.m. and 8 p.m. on Saturday, Dec. 2, and 2 p.m. on Sunday, Dec. 3, at the Lisner Auditorium, 730 21st St. NW. Tickets are $19-$49, $15 for children. For more information visit www.gmcw.org.