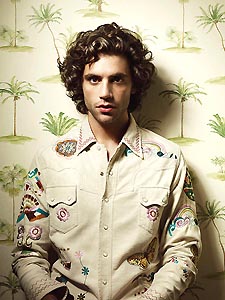 Mika
FREDDIE MERCURY'S SPAWN: MIKA… George Michael. Robbie Williams. Elton John. Scissor Sisters. Up-and-coming pop sensation Mika channels those four contemporary artists, among many others. And that's only the start of Mika's promise. He name checks an even stronger influence on his flamboyant single "Grace Kelly." No, not the late Princess of Monaco, or more to the point, not only the late Princess of Monaco. We mean another forebear with a certain flair for the dramatic: Freddie Mercury, Prince (and Princess) of Queen.Like Mercury before him, Mika is a singing-songwriting pianist who favors elaborate pop-rock melodies over which he sings in a four-octave range, including a fantastic falsetto. Mika's a London-based artist with a multicultural background — born in Lebanon, reared in Paris and London. The British press has been raving about Mika all summer long: "The breakout superstar of the next few years," writes Popbitch. "Pop's new savior," sayeth i-D. But Universal Records won't release the gay 23-year-old's debut album Life in Cartoon Motion until next March. And it's obvious the promotional push is only just getting started. There's currently no entry about him at AllMusic.com, the recording industry's encyclopedia — or for that matter, on Wikipedia. And a search at iTunes only turns up a new podcast, on which Mika introduces himself and his forthcoming album. Mika does have a MySpace page, of course — www.myspace.com/mikamyspace — and from there you can stream several soon-to-be hits, including the glorious single "Relax (Take It Easy)."
"Relax" is a Scissor Sisters-styled dance anthem that also echoes, in its chanted chorus, the Frankie Goes to Hollywood classic. Mika's gem is sweeter though, and also sorrowful. Tony Moran and Warren Rigg have remixed the song in high-drama tribal fashion that you'll be easily dancing to in clubland soon. Meanwhile, celebrated music video-maker Sophie Muller, (Gwen Stefani, Christina Aguilera, Coldplay) has just turned in what Mika calls a "little bit psychotic" video for "Grace Kelly."
Like the above-named influences, it's not clear Mika will find wide success in today's America, even with the coming full-bore major-label push. But he'll no doubt win over the gay market and its affiliated offshoots — and not a moment too soon….
TARGET: GOLDFRAPP… Gay-popular Goldfrapp hasn't had wide success in America — at least not in the sense of widely known. But the music from the electronica twosome of Alison Goldfrapp and Will Gregory is becoming widely heard, having become marketers' music of choice. Since today's sorry state of commercial radio refuses to play much of anything beyond hip hop and hard-rock, artists like Goldfrapp are forced to work around it. The duo hasn't yet gone as far as Moby and licensed for commercial use every track from its recent album, Supernature. But the duo's label reps tell Billboard that that is the intention. And several tracks from the set already serve as the soundtrack to your non-Tivoed television experience — that is, in commercials for Verizon Wireless, Diet Coke and especially inescapable at the moment, Target and its holiday TV campaign.
But Goldfrapp hasn't neglected its home base of clubland. The duo recently released We Are Glitter, on which some of electronica's leading remixers take turns on hits drawn from Supernature and Goldfrapp's previous two albums. The result is a solid set, but one not quite as glittery and great as you'd hope — it doesn't include some of Goldfrapp's best remixes, such as Superchumbo's "Number 1," and few really stir you to tear it up. It's a Target store, say, when you thought you were going to Nordstrom's. But repeated listens (and slightly lowered expectations) help you appreciate the set. And if all else fails, Benny Benassi is on hand to do what he never fails to do: get you bumping and jumping. "Oh La La"….
THE DFA 'SLIDES IN'… The DFA Remix of Goldfrapp's "Slide In" is one standout remix on We Are Glitter. And it's just one of many remarkable remixes to come lately from DFA, the name for the Brooklyn-based disco/punk-inspired label, headed by production duo Tim Goldsworthy and James Murphy. Captivating remixes of gay and gay-friendly acts including Junior Senior, Tiga, Hot Chip and Nine Inch Nails can be found on the duo's recent collection The DFA Remixes Chapter Two….
LCD SWOOSHES, SERVES ANOTHER… Meanwhile, James Murphy is the principal behind LCD Soundsystem, which grievously lost the best dance album Grammy this year for its stunning, self-titled debut, losing to the long-ago irrelevant band the Chemical Brothers. At least Murphy and co. aren't stewing over the tribulations. Taking Goldfrapp's commercial foray a page further, the Soundsystem recently crafted a score commissioned by Nike and designed for runners, "45:33." Any guesses as to this continuous, long-distance track's running time?
Well, it's either too long or too short for at least the Soundsystem's usual audience of dancers and clubbers. The slow-to-rise warm-up intro and the excessively long cool-down ending take away from the nicely paced peak, which sounds lifted from a '70s porn soundtrack — too long. And yet this peak could have been expanded to peak still higher, creating a higher-energy set, for an even better adrenaline rush (and surely an even better money shot). Too short.
But now comes word that on March 20, the Soundsystem will release its major-label follow-up, Sound of Silver. Though not a double-disc affair this time out, the album's nine tracks sport titles every bit as quirky and promising as those that came before. "North American Scum," "New York I Love You But You're Bringing Me Down": even without hearing a note, they sound brilliant. Ahhh, just right, sighed Goldilocks….