"See the sky, see the ocean!" cry Butterfly's friends as they watch her boat approach with surreal slowness. Though they exclaim at the beauty surrounding Butterfly, all is awash in a blood-red light. This seminal moment in Mariusz Trelinski's stunning interpretation of Puccini's masterpiece, Madama Butterfly, takes us right to the emotional razor's edge of the story and never lets up. Butterfly, just as innocent as the glorious nature that surrounds her, will end it all awash in her own blood. And this fantastically stylized production brings exactly the kind of visually symbolic grandeur required of Puccini's awe-inspiring score. We are lucky it has returned to the Washington National Opera.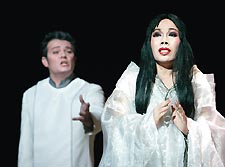 Butterfly kisses: Chacon-Cruz and Sun
(Photo by Karin Cooper)
Every scene delivers a full cadre of emotion, yet the meticulous simplicity is nothing short of mesmerizing. Black, red, blue and white predominate as both vast backdrops and small poignant props. People become moods in motion; a tiny, ancient being bathed in a halo of whites shadows Butterfly and on her wedding night, and as the couple walks off into darkness, it throws a red silk sash to the ground like a streak of blood. Much later, as Butterfly prepares to find honor in the only way she knows how, two fantastically huge Asian statutes look down on her while above them glows a vast, mind-blowing ring of white neon. This is the antithesis of a period piece — it is a mind piece. Praise for such achievement must go not only to director Trelinski but also set designer Boris F. Kudlicka.
Although on opening night Tatiana Borodina was resting her voice, we were treated to a preview of Xiu Wei Sun, who will take over the title role completely later in the run. Sun has a soft, almost mellow soprano with a rather heavy vibrato, but she sings beautifully and brings surprising power and richness to Butterfly's soaring arias. There is, however, something off about her appearance, something not just mask-like, but more ghoulish, and it detracts from her sweetness. Perhaps it's meant to suggest that she has already become a ghost, that she is re-telling her tale of woe for eternity. If it is an intentional ambiguity, it doesn't quite work.
Tenor Arturo Chacon-Cruz sings a strong, well-rounded Pinkerton, giving more than enough dimension to his character to maintain his emotional presence even after he has sailed away. Chacon-Cruz has an interesting charisma, simultaneously boyish and rather serious as he delivers some quite wonderful high notes. Sun and Chacon-Cruz were never meant to sing together (Carlo Ventre is scheduled for the nights with Sun) yet they connect very well emotionally and vocally during the long, heart-wrenching duets.
MADAMA BUTTERFLY
Kennedy Center
Opera House
Sold Out
Free Simulcast on
National Mall
Sat., Nov. 12
202-295-2400
www.dc-opera.org
Kudos must also go to Luca Salsi as Sharpless, Pinkerton's wiser and more culturally sensitive friend. Salsi has an impressive baritone and is a superb actor, giving an intelligent and beautifully understated performance. Tenor Anthony Laciura provides the right blend of comedy and darkness as Goro, the cynical matchmaker. Butterfly's servant and confidante Suzuki is sung by Elizabeth Batton and although in good voice, she lacks the kind of formality of movement that would have made her more convincing. Although they sing with the required mournfulness and strength, the female chorus also suffers from a credibility gap — someone needs to tell them that hips did not move separately from waists back then.
Mention must also be made of the amazing choreography in this staging. Three mimes — Krzysztof Balinski, Michal Ciecka and Tomasz Nerkowski — under the direction of Emil Wesolowski, move through the scenes in spectacular counter-point to the unfolding drama and its cultural ramifications. These men are superb, and they offer a rare ego-free grace and power that draws the eye without ever diluting the work of the principals.