Michele Anne Riley's 7-year-old son cannot understand why his gay uncle disappeared.
"I told [my children] that Donald is missing, that he's disappeared," says Riley, an elementary-school teacher in Arlington, about her discussion with her two children following the disappearance of her brother, Donald Charles Ebe.
It's not the first time that Ebe, 47, an Arlington resident who suffers from bipolar disorder and manic depression, has gone missing. But it's been nearly a month since he vanished. And family members, including Riley, fear that they will never see him again.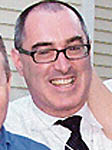 Donald Ebe
"I'm thinking he's feeling so bad about himself that he's living under a bridge somewhere thinking God will take him," she says. "And that's what scares me."
Ebe's disappearance is a familiar turmoil Riley first endured 20 years ago, shortly after the death of their parents. He vanished and was not found until a friend called Riley with information about her brother's whereabouts: He was living on the streets of New York City.
But Ebe's latest disappearance is more troubling to Riley because he left all his belongings behind, including his ID, checkbook, ATM card and most importantly, medications, which include Zyprexa, used to treat the symptoms of schizophrenia and bipolar disorders, and Lamictal, used to treat mood and other psychiatric disorders.
"He has nothing," she says. "This is why it's so scary."
It was sometime in late October that Ebe walked away from his full-time job as a front desk receptionist at a residential building in Northwest. Riley says Ebe, who had a hard time coming to terms with being gay, never sustained a long-term relationship. He did not have any pets and was depressed about a number of things including his medical condition and life in general. Riley says she is "absolutely certain" that Ebe did not have any drug problems, and also did not drink alcohol.
She reported him missing after returning home from a weekend family trip to Rocky Gap State Park, in Cumberland, Md. "I tried to call him on Sunday and immediately had a gut feeling that something was wrong."
After a trip to Ebe's apartment, Riley filed a missing persons report with the Arlington County Police Department. With the help of friends and neighbors, she has posted missing posters around D.C., including Dupont Circle, where Ebe regularly visited. She's also reached out to the district's gay community, after a neighbor recommended contacting Sgt. Brett Parson at the D.C. Police Department's Gay and Lesbian Liaison Unit (GLLU).
Still, it's hard for Riley to not be pessimistic.
"I feel very discouraged," she says. "I could turn a corner and he could be on another corner. I just want him to be found and directed to the right mental facility. There're people out there who would harm him if they found out he's gay."
Shortly after Ebe's disappearance, the GLLU posted a news bulletin describing him as "an openly gay man…with bipolar disorder and manic depression…[who] is known to wear 'cape-like' apparel and also tends to call attention to himself by 'preaching' very loudly to passersby." Riley says her brother would often voice his opinions about Christianity, and how it is wrong to condemn homosexuality.
The GLLU has been working vigorously to find him. "We're certainly doing everything we can to try to locate [Ebe] and to help the family," says Parson. Fliers that include a picture of Ebe have been handed out to local gay bars, businesses and people on the streets in Dupont Circle.
Michael Stoops, acting executive director of the National Coalition for the Homeless (NCH) says it's not difficult to find a person who is now living on the streets in D.C., due to the inadequate number of homeless shelters in the city. Says Stoops: "If you know someone who is homeless in a specific city, I can find them in two days. Everybody has to eat and go to the bathroom, so it's not hard to find them."
The problem is, due to Ebe's mental condition and lack of medication, he may not want to be found.
"When you find people who chose to be homeless, sometimes it's the drugs, alcohol or the mental illness kicking in," says Stoops. "It's clear he's not being treated for his condition and likely not taking the prescribed medical dosage [he needs]."
To help cope with the situation, Stoops says family members should realize that there are agencies that try to make life better for homeless people.
"They should not worry themselves sick because his basic needs will be taken care of. [Ebe] may just need some time."
More than 20 years ago, Ebe led a stable life. He studied political science and history and graduated from the College of William & Mary in Williamsburg in 1983. After that, he studied history at the Catholic University of America in Washington, but never completed the master's program.
"He was extremely bright," Riley says, noting her brother's fluency in Spanish, German, Latin and Greek. "But, because of his condition, he was not practically-minded at all."
After their parents died (within 15 months of each other), Ebe was found in disarray in New York City. Riley brought him back to Arlington. But it was only a matter of time before he left again, this time for California. There he also lived on the streets and taught English to members of California's Latino community who were also living in the streets. Being gay in the '80s also took a toll on Ebe.
"Twenty years ago, society did not accept gays," says Riley. "It's a far cry from nowadays. He announced to us that he was gay 20 years ago, but he just never came to terms with it."
Riley says Ebe tried to commit suicide two years ago by overdosing on Zyprexa. "I called him, he was groggy, so I called for help."
The last time Riley saw Ebe was when he came over to visit her son and 10-year-old daughter. She's hoping it won't be last time they share together.
"Homeless people do have families," she says. "Part of the reason they are homeless is that they're just mentally ill and they don't think their families care about them. Donald has an apartment, a warm bed, a place to stay and family that loves him. That's what is so frustrating."
Anyone with information about Donald Ebe's whereabouts is asked to call the Arlington County Police Department at 703-558-2222, or contact the GLLU at 1-877-495-5995.