It's been more than a decade since Tyra Hunter, following a car crash, died on a street in Southeast D.C. But her story has lived on because her death highlighted the dangerous discrimination faced every day by transgender people.
Hunter's story gained national attention in 1995 when it was discovered that rescue workers had interrupted her medical treatment upon discovering she had male genitalia. Instead of providing treatment for Hunter's severe injuries, rescue workers spent time making derogatory comments.
Many argue that those three to five minutes could have saved the 24-year-old's life. Transgender activists Jessica Xavier and Dee Curry fought back by launching Transgenders Against Discrimination and Defamation (TADD), which would eventually become Transgender Health Empowerment (THE).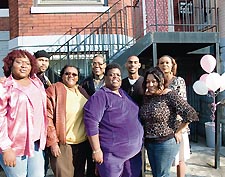 THE staff and supporters at the drop-in center opening: (left to right) Paula Stroman, Marvin Cradle, Carla Petross, Chane'l Sheppard, Earline Budd, Brian Watson, Ruby Corado and Monet Dupree
(Photo by Todd Franson)
Their struggle for equal treatment continues today.
Last week, THE opened the doors to Washington's first all-inclusive drop-in center for the city's transgender community, at 1711 North Capitol St. NE, where THE previously offered a housing program for people living with HIV/AIDS. The new drop-in center bears Hunter's name.
"This is the first of its kind in D.C., and this is a big thing," said THE program director Brian Watson at the ceremony. "You may not realize it right now, but it's a very, very big thing and it's not stopping here. The next thing I'm looking for is housing for the LGBT community — that's my next goal, so from here it's full steam ahead."
Earline Budd, THE drop-in center coordinator, said the services are long overdue.
"[The drop-in center] has been a vision that we've had in terms of wanting to see [advocacy] for transgender and other individuals as a result of what Tyra Hunter went through," she said. "[Including] the fact that she was not allowed to have proper medical care, [and] subsequently died."
Watson said the drop-in center is not limited to the transgender community.
"This is a place for the LGBT community to come to, and not feel like you [are] being stared at, [or] not welcomed," he said. "You're always welcome, [and] we're here to provide you with whatever assistance…we can provide."
Budd expressed similar sentiments earlier in the day.
"We always wanted to have something for what we call the 'homeless transgender' and other communities," she said. "So while our target population is transgender, our doors are pretty much open to anyone who needs services."
Some of those services offered at the three-floor facility include access to showers, laundry facilities, hot meals, clothing, preventative care and counseling.
The Tyra Hunter Drop-In Center currently operates from 1 to 5 p.m., Monday through Friday. In a few weeks, THE plans to expand the hours of operation from 10 a.m. to 6 p.m. Watson hopes THE receives more government funding to further expand the drop-in center's hours of operation to 24 hours a day.
Watson said THE has also made efforts to establish collaborative relationships with other health-related organizations, such as the Children's Hospital in Northwest.
"We've also started doing transgender sensitivity [training]," he said. "I did one session last week at Children's Hospital and then we did another one that was open to providers."
Maceo Thomas of Children's Hospital spoke at the dedication ceremony.
"As Brian mentioned, he came out and did a workshop for our adolescent fellows," Thomas said. "At the end of the day it was a workshop on professionalism, we shared that information with the staff that we have at Children's Hospital and so we're really trying to work with the community to see how we can pull those services together."
Other collaborations highlighted during the open house included one with Ruby Corado, a transgender activist and president of Latin@s en Acción.
"We are so pleased to finally have this relationship with that community," Budd said.
Ken Pettigrew of Us Helping Us (UHU) said collaboration is essential.
"We do provide services along the same lines [for the] GLBT community," he said. "I don't think [there] has to be a separation…. We can always work together. The more things we have going, the better we are. The more tools we have at our disposal the better we're going to be as a community. The divisiveness doesn't have to be there at all."
THE's housing program for people living with HIV/AIDS, formerly located at the North Capitol building, will now move to an undisclosed location, due to confidentiality concerns for clients.
The grand opening of the Tyra Hunter Drop-in Center is just one of many endeavors THE will take on in the next several months. Watson said Monet Dupree, health educator and office manager at THE, is currently working on the upcoming Miss Transgender Health Empowerment Pageant, which THE will use to promote HIV prevention, awareness and some of the positive aspects of the transgender community.
"We always often see 'what's the negative side?"' he says. "But we thought about doing something to show the positivity and why it's so beautiful and unique to be a transgender person."